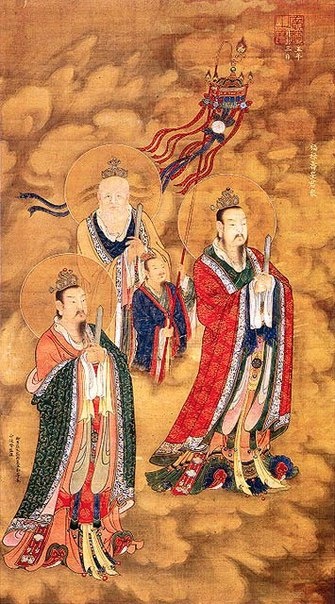 Sacrificer, Porter, Plowman and Coming conversing, said to each other:
- We became friends would those who are able to consider nothingness - head, life - the spine, and death - the tail; with those who understand that birth and death, existence and destruction are integrated.
All four of them looked at each other and laughed. None of them has not arisen in the heart of objections, and they became friends.
But suddenly Porter sick and bring the sacrifice went to visit him.
- How excellent that creates things, - said the patient - that made me bent over!
On his hump opened abscess. Insides had crowded into the upper part of the body, chin touches your navel, shoulders towered above the crown, a tuft of hair on his head was sticking straight into the sky, ether, forces of heat and cold in him came to the confusion, but the heart of it was light, and carefree. Dragged to the well and looked at his reflection, he said:
- What a pity! So I created a hunchback that creates things!
- You do not like?
- No, it may not like it? Let's say my left hand would become a cock and then I'd have to shout at midnight. Suppose my right hand would become a crossbow, and then I'd have to get the bird to roast. Let's say that my sacrum would turn into a wheel, and my soul - a horse, and I would go, how to harness changed? After all, for finding life there comes the time, and it follows the loss of her swing. If satisfied with their time and throughout the process to follow, for you will not have access neither sorrow nor joy. Ancient and called it liberation from bondage. Those who are not able to untie himself, tie things. But things never beat nature. How can I not like it?
But suddenly ill Coming. He choked to death, and his wife and children stood around and mourned.
Came to visit him, they shouted Plowman:
- Out of the way! Do not disturb the one who turns! - And, leaning against the door, said the dying - how excellent is making things! That from now you get? Where do you go? Turned into a rat liver? In shoulder insect?
- Wherever told his son to go father and mother - to the east or west, south or north, it only obeys orders - Coming replied. - The forces of heat and cold person more than parents. If they approach me death, but I disobey, then find myself obstinate. Is their anything in upreknёsh? After all, a huge mass of the body supplied me, my life spent in work, let me rest in old age, reassured me in death. What made my life good, make good and my death. If now become a great caster melt metal and metal zaburlit and say, "I have become a sword Mose!" - Then a great caster, of course, deems him a bad metal. If now the one who was in human form, would be to repeat: "I want to be a man again! I want to be a man again! "- Then the creative things, of course, deems him a bad person. If now we take the sky and the earth in a huge melting pot, and the process of creation of great caster, where would we could not go? Completed and go to sleep, and then wake up calmly.