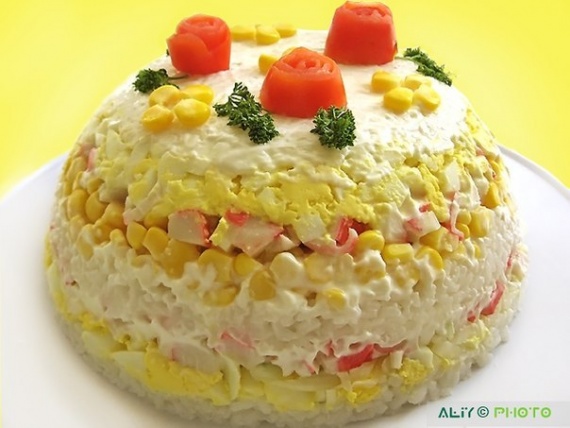 Preparation:
1. set aside some corn for decoration. A rosette made of tomato skins.
2. The first layer - 1/3 of rice (or less), mayonnaise. Each layer of well-trampled, rammed a spoon!
3. Then, half egg, mayonnaise.
4. Half of crab sticks, mayonnaise.
5. All the corn, mayonnaise.
6. Then another 1/3 of the rice, mayonnaise.
7. The remaining crab sticks, mayonnaise. The whole onions, mayonnaise.
8. The remaining eggs, mayonnaise.
9. The remaining rice. Put the dish on top, which will be based on our salad. And turns. Carefully remove the cup. The denser we crush the layers, the more stable will be cake salad.
10. Decorate corn, "roses" and greens.