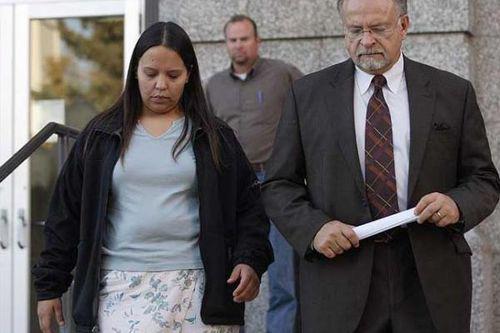 30-year-old single mother from Minneapolis Jammie Thomas became the first American convicted of file sharing on the Internet. According to the Recording Industry Jamie laid out in the Kazaa file-sharing network of about two thousand pieces of music files. However, the court considered a list of twenty-four songs, which last Thursday and the judgment was pronounced: Jamie is required to pay $ 9, 250 for each file, or $ 222, 000 in total.
Here is the list:
Guns N 'Roses - «Welcome to the Jungle», «November Rain»
Vanessa Williams - «Save the Best for Last»
Janet Jackson - «Let's Wait Awhile»
Gloria Estefan - «Here We Are», «Coming Out of the Dark», «Rhythm is Gonna Get You»
Goo Goo Dolls - «Iris»
Journey - «Faithfully» og «Do not Stop Believin '»
Sarah McLachlan - «Possession», «Building a Mystery»
Aerosmith - «Cryin '»
Linkin Park - «One Step Closer»
Def Leppard - «Pour Some Sugar on Me»
Reba McEntire - «One Honest Heart»
Bryan Adams - «Somebody»
No Doubt - «Bathwater», «Hella Good», «Different People»
Sheryl Crow - «Run Baby Run»
Richard Marx - «Now and Forever»
Destiny's Child - «Bills, Bills, Bills»
Green Day - «Basket Case»
List of record labels, who have won a lawsuit against Jammie Thomas:
EMI Group PLC's Capitol Records Inc .;
The Arista Records LLC label as part of Sony BMG Music Entertainment;
Vivendi SA's UMG Inc. and her label Interscope Records;
Warner Bros. Records Inc. as part of the Warner Music Group Corp.
Currently such claims brought 26,000 Americans.