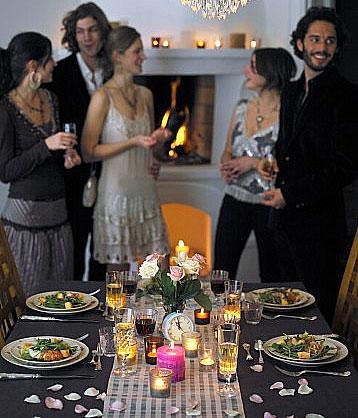 It is possible that you like to receive visitors. Or come from out of town friends whom you have not seen for several years. Or do you want to mark some event and the restaurant can not afford.
In any case, you will have a party. And so it was fun, guests are satisfied, but the house did not require major repairs, it is necessary to carry out properly.
Assess your capabilities
How much time do you have? Maybe there are urgent matters that need to be done on a certain day and a certain time. Make sure that everything you need will be done in advance and decide what and for how long can be postponed.
What is the budget of the party? Can you do without unscheduled fasting after it? You may need the financial participation of your guests (in some cases it is appropriate), then discuss the matter with them.
Where to place the company? What part of your house or apartment you are willing to set aside for sitting, lying, eating and drinking (if he meant), smoking (if among the guests are smokers), outwear storage (if the yard is not summer).
Determine the composition of the
After you evaluate the opportunities, we can confidently say how many (maximum) you are ready to accept guests in the house. However, this does not guarantee that they will be delighted by this idea.
Think about how comfortable will be in the company - whether people talk about? After all, the main motive of the party - is communication, even if in the process you are going to share his impressions of his trip abroad, carried out show a movie or dancing with feathers.
Especially pay attention to conflicting personas and potentially dangerous combinations (for example, you know that Boris can not stand Petya Luba when he was drunk clings to her husband Gali and Fyodor climbs into a fight with everyone) and think about how to neutralize them.
Provisions
Call all the agreements and achieve sustainable - who, when, what, how much, the probability of delay, the communication method in this case, the need for meetings and provozhaniya.
Make sure that everyone will find your street, house, entrance, floor, elevator, call, intercom.
Provide the required number of seats, slippers and other things that may come in handy.
Take away the family jewels, if you are not going to brag about them, and any other distracting items to save yourself and guests from any possible misunderstanding.
Zagotovte products and supplies
Even if you're not going to cook, the public, which will have you in the house for several hours, does not hurt anything to entertain. These can be sandwiches, fruit and vegetables, baked goods, nuts or chocolate.
Destroy them you will be tea, coffee and mulled wine in winter or cool cocktails, wine and beer, dry summer. The juice is useful at any time of the year.
In order to avoid incidents stocks in sufficient quantity of toilet paper, napkins, plastic utensils, if you intend to use it, and large garbage bags.
Write a program
As already mentioned, communication - this is the main motive of the party. But if your guests are big fans of dancing, card games, poetry or pottery of South American Indians, the party can be thematic.
We should also pay attention to musical accompaniment - it can be the background or not to be, but certainly should cause the company only pleasant emotions.
Take care of each guest
As the owner of the house, you have to at least meet each and conduct. And also to show where you can leave outdoor shoes and outer clothing, wash your hands and nose to powder. Offers his help when you see signs of confusion.
Keep "philatelists not wandered." If someone wants to escape unnoticed, provide cover.
If someone needs to stay for a while in a quiet corner of a dark warm, show him a corner (it is better to allocate in advance). Iodine, ammonia, valerian, hydrogen peroxide, bandages and plaster to keep better too rapidly available place for adventurers.
Tidy house
When you finally again be alone, you will explore the perimeter, to collect garbage, sweep, shake, wipe, wash and wash all that need it, mend, glue, sew and repair whatever else be repaired, and tie nodules in the future, to the next party was even more fun.