Thirty-three Bryan Berg (Bryan Berg) received from the Guinness Book of Records title of creator of the highest building of cards built on the Texas Fair skyscraper height of 25 feet 9 7/16 (7 ~ 85 m), and beating its previous record - 25 feet 3 inches (7 ~ 69 m). Construction took about a month. A native of Iowa Berg lives in Santa Fe, New Mexico, and has been for over 15 years has the world record.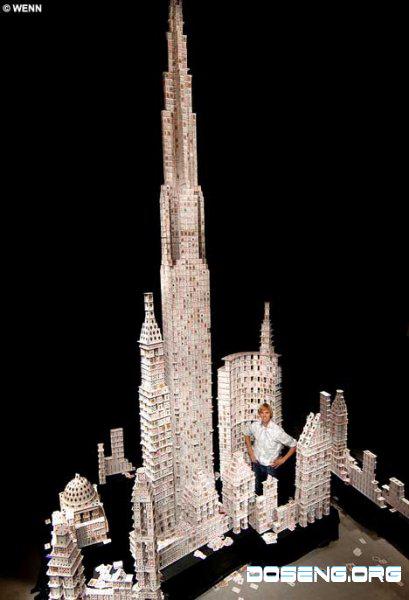 A self-taught artist in his work does not use glue, adhesive tape or other similar means. With the 1800 deck of ordinary playing cards, forests and holes in the ceiling it for 5 weeks to build a tower taller than 7 meters, being limited to only the height of the building where he worked, and time.
For the third time Berg charge to beat his own record, the first of which he established in 1992 at the age of 17 years before the end of the school to build a tower height of 14 feet and 6 inches (4 ~ 41 m). In 2004, to register a record on which Berg worked on the request of the park Walt Disney World, in the book of Guinness, a new category: "The largest structure of playing cards." It was an exact replica of Cinderella's Castle.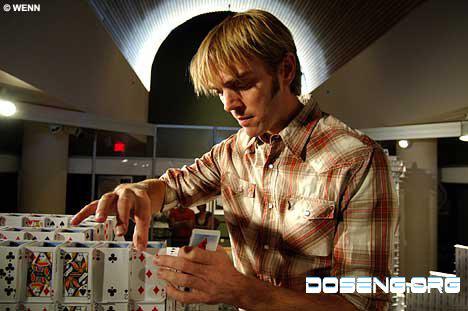 "I like what I'm doing," he says. "For me it is not at all painful and boring».
With the formation of the architect, Berg says he is - the only person he knows who is committed to building a large public facilities of playing cards and earns it.
In 2004, the master of design at Harvard University, he received a master's degree in engineering. Before that, he studied for 3 years at the faculty of engineering department of architecture at the University of Iowa, where in 1997 received a diploma of a professional architect.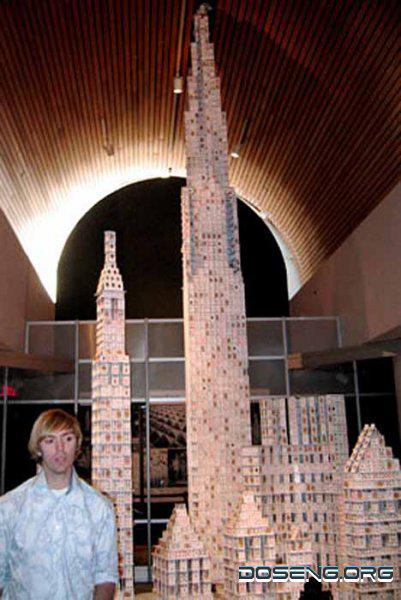 Despite the fact that such occupations as construction of card houses may seem unstable, Berg argues that earned would definitely less if an architect. "I'm fine," he says, and points to the main advantage of their work - all while on vacation.
"Kartoukladchik» (Cardstacker) devoted himself to the construction of card houses, including a stunning card model of the Japanese temple, Iowa State Capitol Building and Stadium Ebbets Field. Regularly driving around the world, Berg was putting cards in almost all major cities in the United States, Japan, Denmark and Germany.
Among his clients are registered Walt Disney World, Star Wars, San Francisco Opera, Neopets / Wizards of the Coast, Fuji Television Japan, Post Cereal, Pinnacle Brands, Topps, Baseball Hall of Fame, DMG World Media and Procter and Gamble
He also participated in projects with organizations such as Coca-Cola, Pepsi, American Airlines, Major League Baseball and the National Hockey League.
Special Projects Berg children demonstrated in the Science Museum of San Francisco Exploratorium and Zeum, the Science Museum of Minnesota, and Iowa Science Center.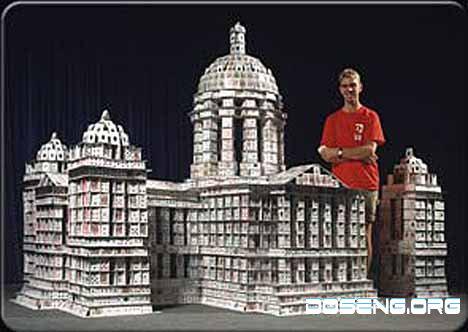 Berg said that the construction of it is not just putting the card at random, and uses a certain methodical system. It is how it will look the structure, and creates it with a recurring geometric shape, resembling a honeycomb.
However card house hold not only because of the geometry. According to Brian, 7 decks weigh one pound (= 0, 453 kg) and the day it uses 10 to 25 pounds (~ 4, 5-11, 3 kg). Weight accumulates. "All this, together with the mass of a particular geometric shape gives an incredibly strong construction».
Despite its achievements, the ability to own the card is not much impress him.
"Actually, I'm a very clumsy person," he says.
Interview with Brian Berg
How did you take the cards?
The first is what I call "kartoukladkoy" I showed my grandfather when I was 8 years old. He did not teach me any of the methods that I use now, he just showed me that it is - fun.
Have you ever stick together, bend, or to make any other card manipulation?
NO. All my work is done without any tricks. They are all "real».
Due to what they hold?
Maps are kept and do not fall, for two reasons. Firstly, in large structures used so many cards that their total weight adds additional stability to the structure. Second, the weight is distributed through special layouts cards, called grids. Maps drawn up in the bars, waffles, or resemble the shape of the ice. They do not give each other to bend and fall.
Education architect somehow helped you?
Yes and no. Much of what I know about kartoukladke came to me many years of experience. I would say that the bulk of knowledge about the actual constructions of buildings and construction materials, I received a card from his experience. Random observation allows us to learn a lot.
Do you ever get bored?
I would not have wanted to do all day long every day cards. However, this process, like any creative activities - such as playing a musical instrument can be very addictive, especially when the most difficult part is over. In my life kartoukladka it evolved from a hobby into a passion, and then the main source of income.
You actually pay?
Yes. I really pay for what I have been doing their favorite thing. I do not yell at each corner of which I am an artist, but I'm a clown, too, am not. Worldwide artists earn, doing his art - no matter what it was. Some call my work "staging art» (performance art).
I have worked with different companies from Post Cereal to Fuji Television Japan. I also do projects for science museums.
Can you remember the most ridiculous questions that you ever received?
You start from the top or the bottom?
How do you stuff them into the plane?
As you are transporting them?
Brian Berg makes no secret of its methods of installation. He talks about them in his book "shuffling the deck: the secrets of a world-class architect card».
Berg reveals the secrets of successful kartoukladki through a simple design of the 4 cards and methods of lattice expansion. With illustrations and step by step instructions it teaches readers to create more complex and incredibly durable design. It also covers a wide range of architectural styles, from classic to whimsical; and various types of structures, including pyramids, temples, stadiums, churches, oil rigs and even the Empire State Building.
If you want to know about Braine more, visit his website or send an email. All photos belong to Brian Berg.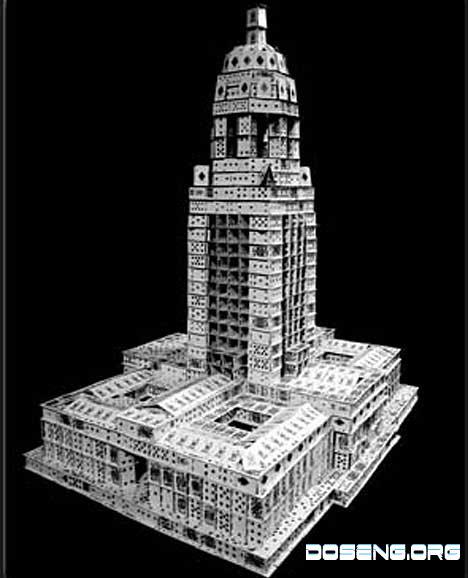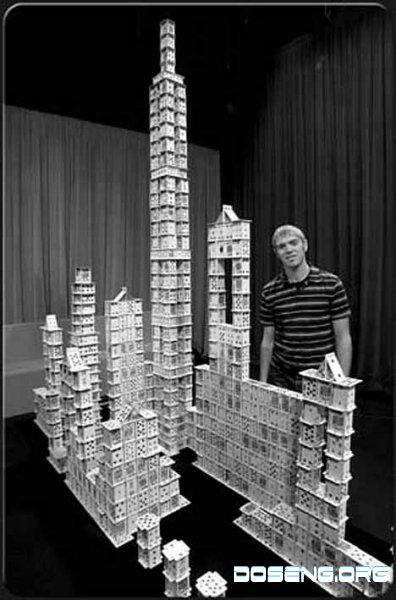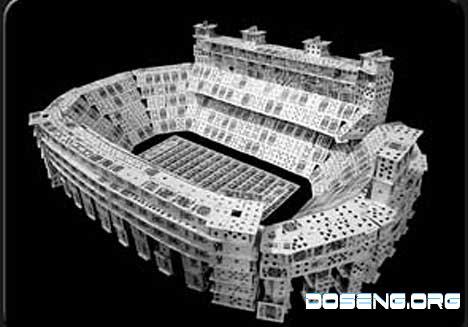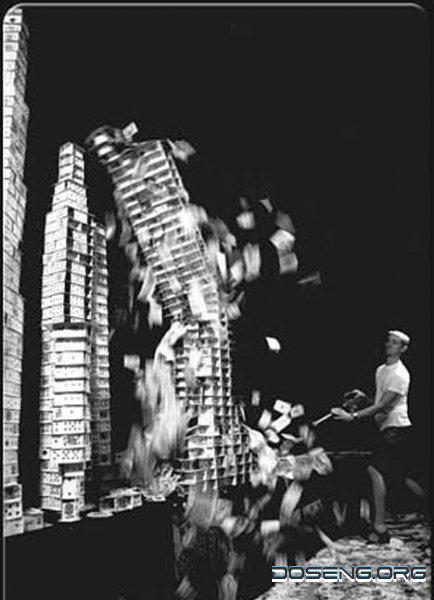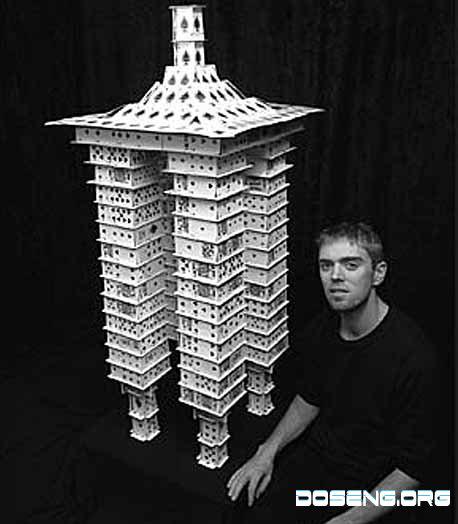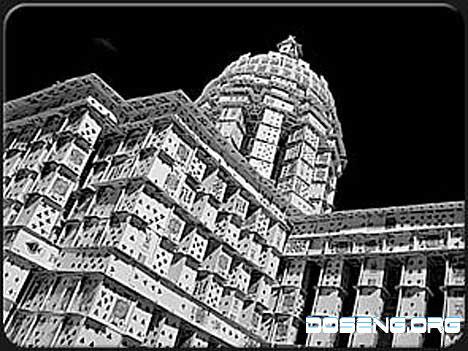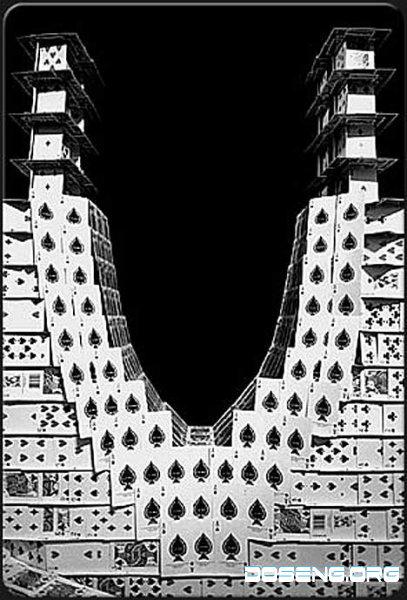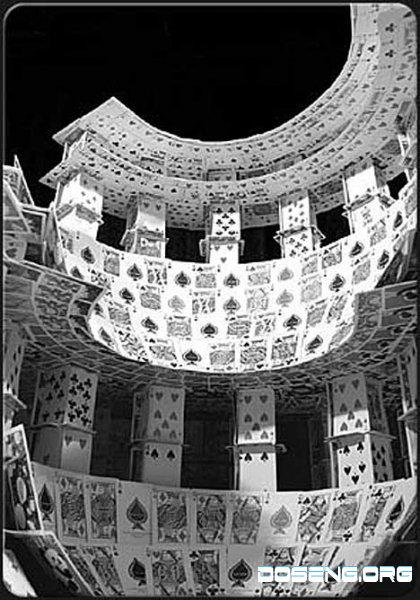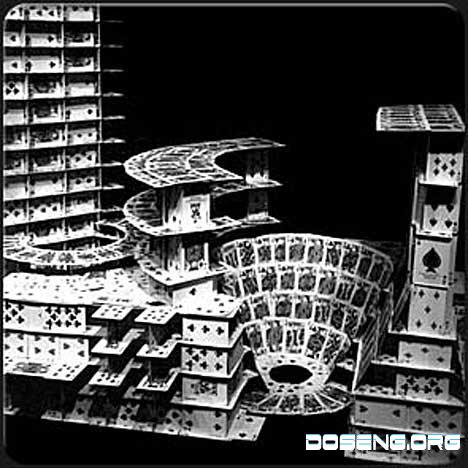 A source