Does size matter? Yes, if we are talking about such a trend gaining momentum estate market as "micro-house».
In the consumer society, where the supremacy of the principle of "more is better", there was a surprising tendency to leave the huge homes and move to a "tiny houses", the area of ​​which varies from 6 to 37 square meters. Advantages of life in the micro-house too numerous to count. Monthly bills are starting to seem ridiculous. The cabins are comfortable and do not require much effort and financial costs of its content, not to mention the benefits to the environment. Their small size makes the owners or tenants to put in order their own lives - to get rid of unnecessary things, gain a sense of minimalism and finally see a purpose in life.
Naturally, all these advantages we wanted to experience for yourself. Recently, I persuaded my mother three days to live with me in the micro-lodge, located in Plattsburgh (town in the district of Clinton in New York, USA). His rental cost us $ 100 per night.
We managed it. We never even had a fight. But I do not know if I can ever repeat the experiment again or not.
26 photos via muz4in.net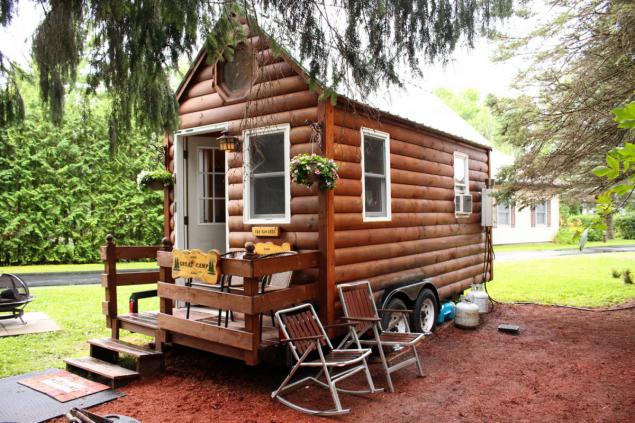 This is me and my mother, Vicki. We are so close to her that every day for hours talking on the phone together experience when watching movies Nicholas Sparks, and both hate the mess and dirt. However, we live 400 miles apart. And just recently, we had an idea to test the limits of our relationship, after spending three days together in the micro-cabin.
The site Airbnb we shot for three days in a tiny house Plattsburgh (NY). Most in this venture mom did not like the lack of the usual restroom. Learning that the composting toilet - in fact, covered bucket - she said: "I think I'll live in the car."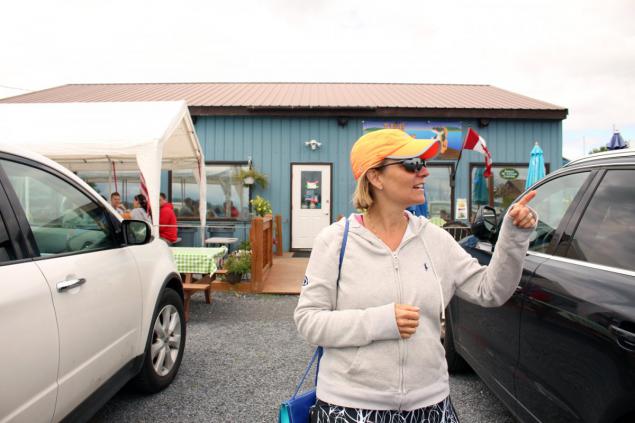 As for me, I was most concerned about the issue of privacy and personal space. It seemed to me that the house was so little space that my mother and I will stumble into each other. I thought, it would be like to live in a dorm with a neighbor who is constantly in the room, and almost did not go anywhere!
Leaving her house in colonial style, and my one-bedroom apartment in Brooklyn, we lived in the house with an area of ​​only about 12 square meters. Yes, this tiny house except sweet not name.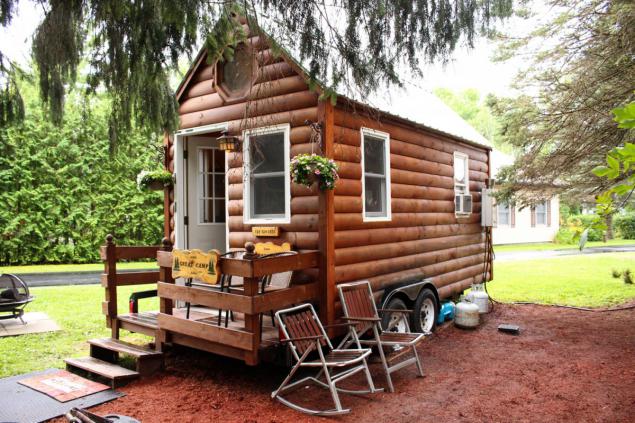 That's how our micro-cabin looked inside. The combination of wood panels and unpretentious furniture gave it a special rustic charm.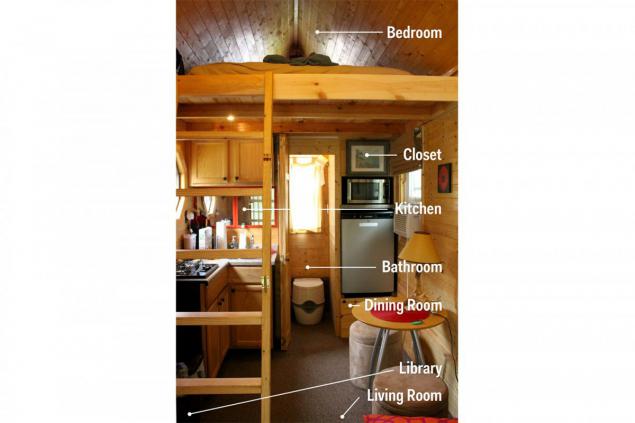 Forest Delorimer - the owner of this tiny shelter, where he lives with his wife. Mechanical engineer and builder retired Delorimer fashioned wonderful micro-cabin five years ago. "I just wanted to see if I can do it or not" - he says.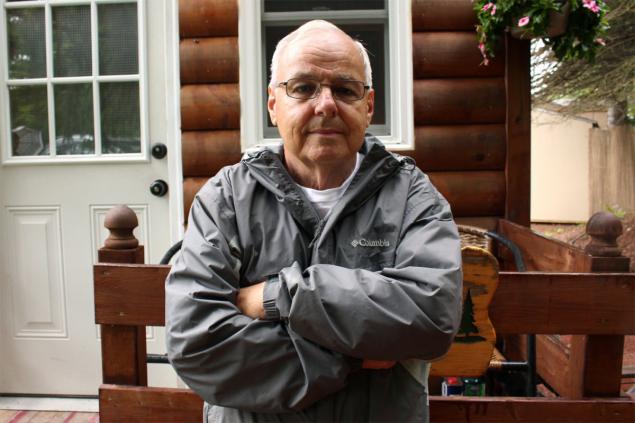 With the help of a hired worker Les built his tiny house that cost him 26 thousand dollars for just one winter. Everything was made-to-order, ranging from octagonal windows and finishing wood siding.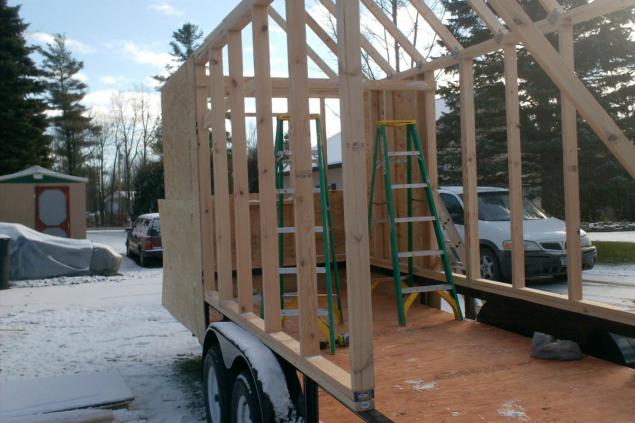 Delorimer Rent a house for rent for $ 100 per day. Most of his clients - a couple who are looking for a relatively inexpensive accommodation for holidays on Lake Champlain, or wish to live in a little micro-cabin to decide to buy / build your own or not.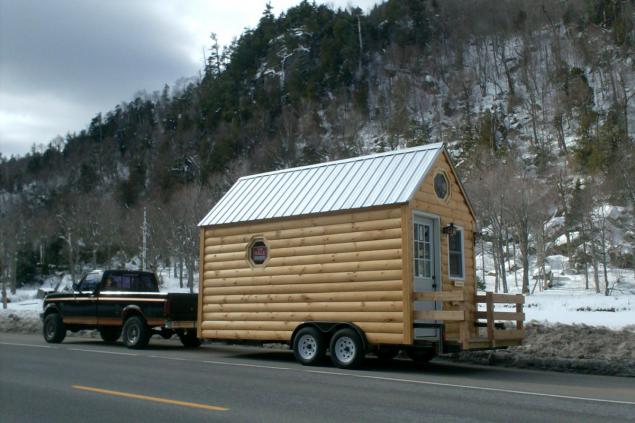 Advantages of life in the micro-cabin not count. They are quite comfortable, easy and not expensive to maintain a clean and tidy. Moreover, such homes are considered environmentally friendly and safe for the environment. Their limited size compel owners or tenants to reconsider the significance of the many things in her life and leave her only what is truly important and necessary.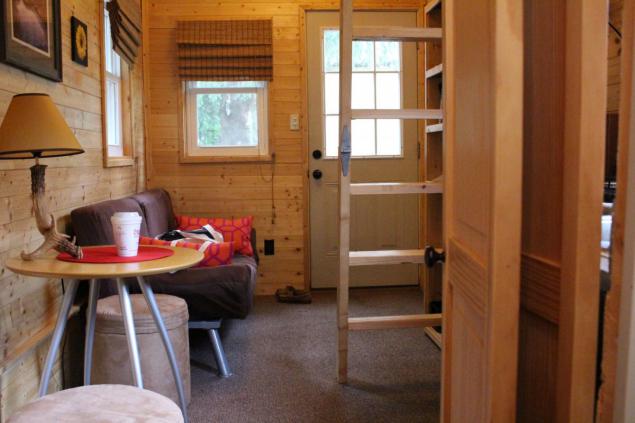 On top of all monthly bills that were previously beyond the clouds, are now starting to seem ridiculous. Wood says that the rate of two people in a micro-cabin (including heating, hot water, gas and electricity) for the year amounts to 698 dollars. These propane tanks connected to the gas stove, and heated water.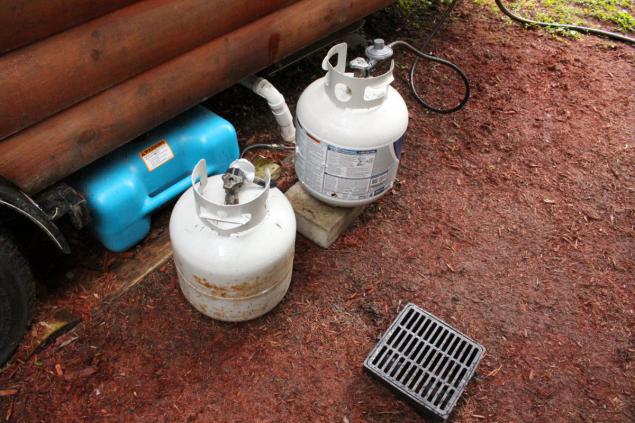 After the first day of residence in the micro-cabin, I was surprised by how rarely my mother ran across each other. As she curled up reading a book on the futon, I lay upstairs in the bedroom, and admire the view from the window.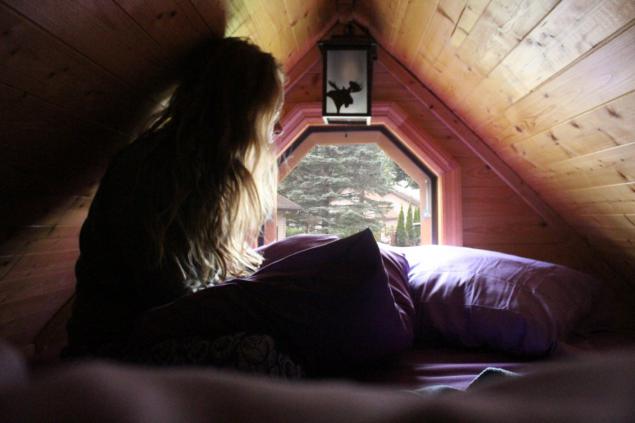 In the micro-house was only six windows. They are good to keep warm and passed enough sunlight into the room. I never had the feeling that I was in some kind of tight box from under the shoe. On the contrary, it seemed to me that I am in a cozy cottage on the tree as a child.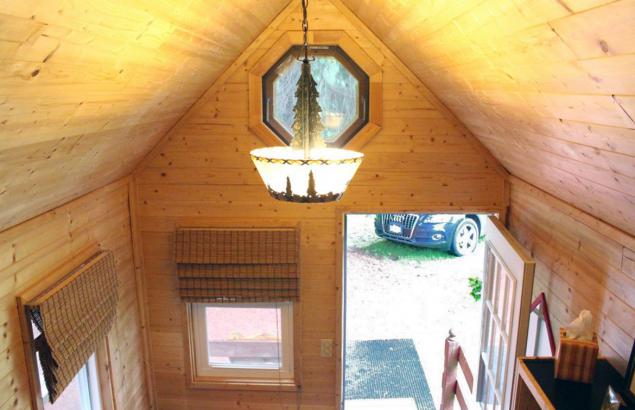 Nevertheless, a few hours after we entered into the house, our belongings strewn absolutely everywhere. People used to constantly carry a vast suitcases stuffed with rubbish mountain. Micro-houses with their minimalism do not fit into our lifestyle. I was somehow not myself when I saw how quickly things turned around in confusion, and housing became impossible to stay because of narrowness.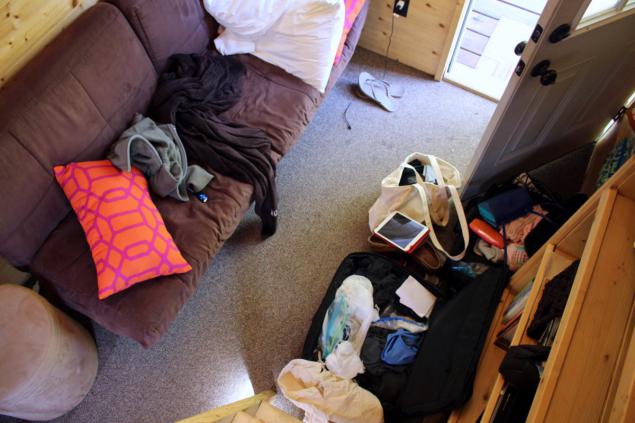 In order to avoid mess in the house, we had to use when laying plates, towels and clothing in place. I pulled my camera and a book inside the sofa. This painting is framed door served as a small closet where we store non-perishable foods and food containers.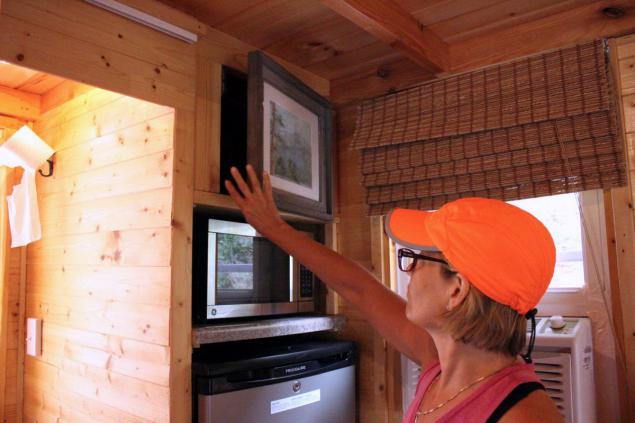 Due to the fact that the micro-cabin is practically impossible to move, we were worried that become inactive. This led us to spend more time together, walking around town or relaxing on the dock.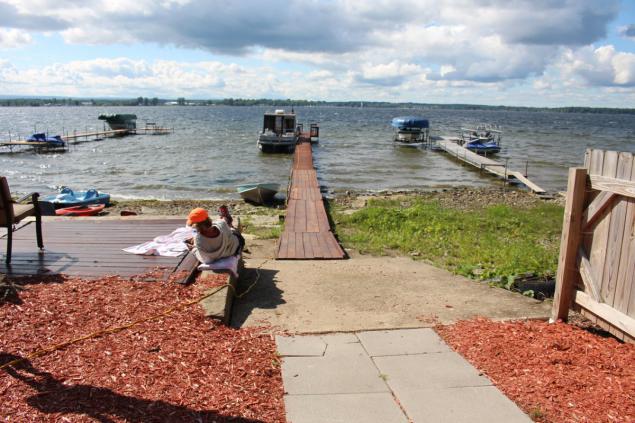 Nevertheless, despite all the advantages of micro-cabin Delorimera still had several shortcomings. Firstly, it was built on a trailer with a flatbed (in fact, instead of property tax Forest biennially to buy insurance and pay a registration fee to the Department of motor vehicles). Whenever anyone of us went on the first floor, the whole house was shaking enormously.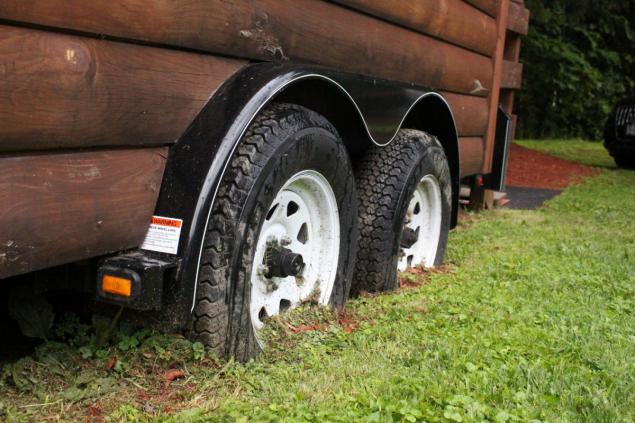 Most owners in the micro-houses prefer to install composting toilets. However, Wood found that the usual guests of this may seem wild and uncomfortable. The toilet in the house is equipped with a lever Delorimera intended for open drain, and a button that helps drain the water. It is always clean it after the expiration of the stay of each guest.
If we are to be perfectly honest, when someone of us went to the toilet, the other had to constantly go out. I also did not like the fact that the bathroom is located directly next to the kitchen. The door shut between them poorly and missed odors. Moreover, in the absence of other exit had to wash dirty hands in the kitchen sink.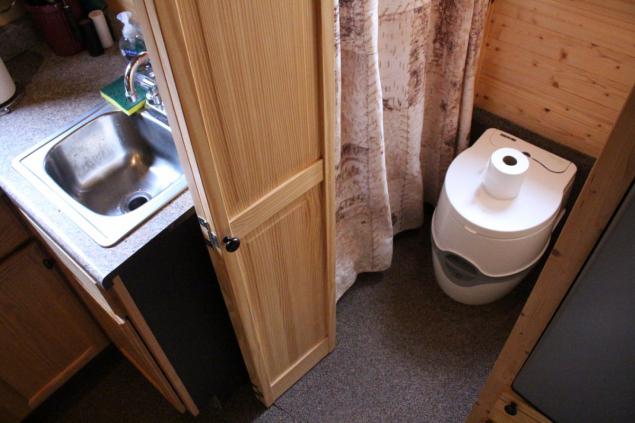 My mother and I were well aware that it is unlikely we will have enough space on the countertop to cook a complete meal, so we decided to take a little bit of macaroni and cheese in plastic containers. We warmed up in the microwave it in turns, because the two of us in the kitchen was not fit.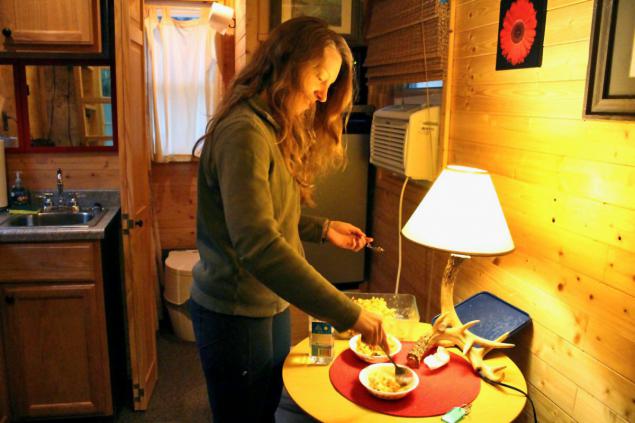 Not to wash the dishes, we ate in the main products in paper packages.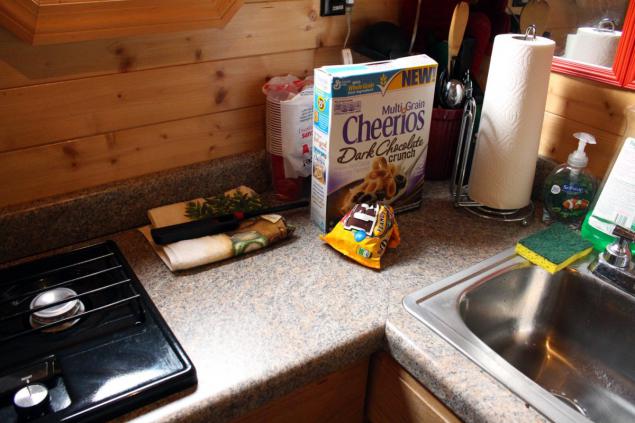 And we do not want to in the cabin after dinner remained smell of food when we went to bed, so mom and I ate at a table for a picnic. Almost always been the reason that we prefer to be on the street and not in the micro-cabin (showering, eating or desire to get rid of mild insanity of being in such a small space).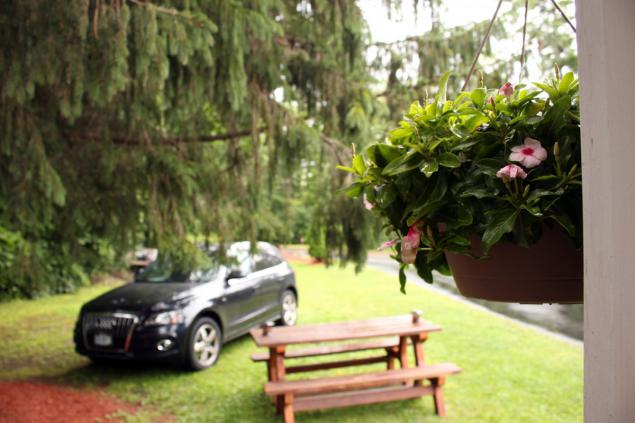 I can not imagine how you can live in the winter at minus twenty. Even if micro-insulated cabin, you still need a portable heater to keep warm.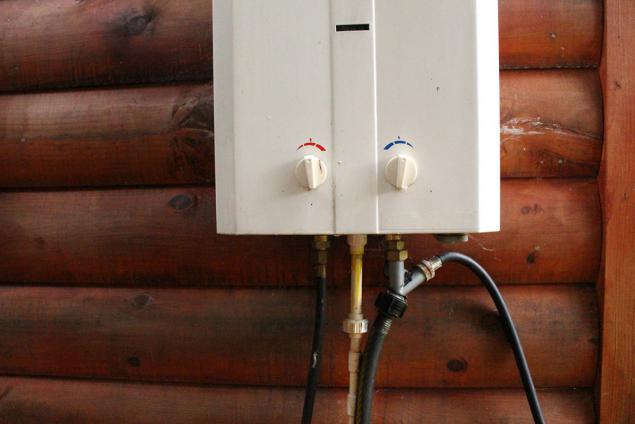 Bed in which we slept, was comfortable and relaxed fit the two of us. Sit on it could only while under the peak of the roof.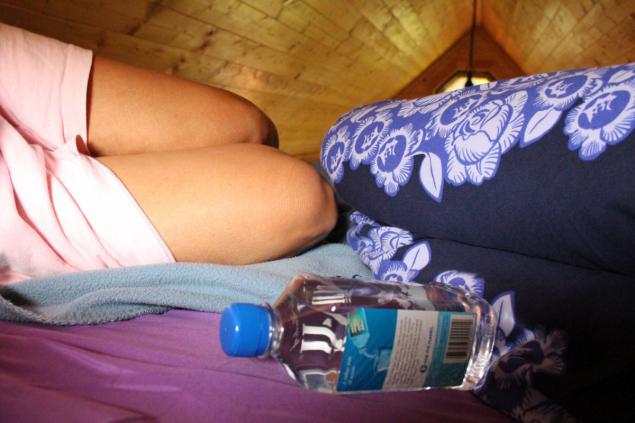 When we called their friends and acquaintances, "second floor" turns us into a private phone booth. To not hear our conversations, we always include a TV, although I like to eavesdrop, as my parents wish each other good night.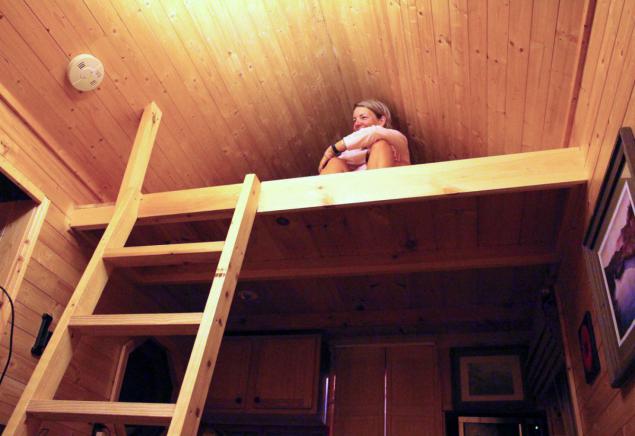 Three days later, we were ready to go home and admit that in fact absolutely not adapted to life in a small space. Mom missed for normal bathroom and toilet; I missed those of ordinary places where I used to have dinner, sleep, relax, keep your things and, of course, take a shower.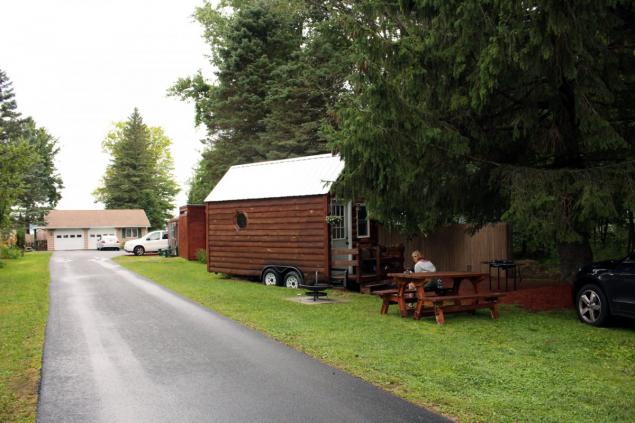 Nevertheless, I want to say that I did not feel a strong need for personal space. In fact, I'm grateful micro-cabin for what he brought us closer to mom. Given its ability to expose our worst habits (and smells), I think that I could not live in it for three days with someone other than my mom.
All