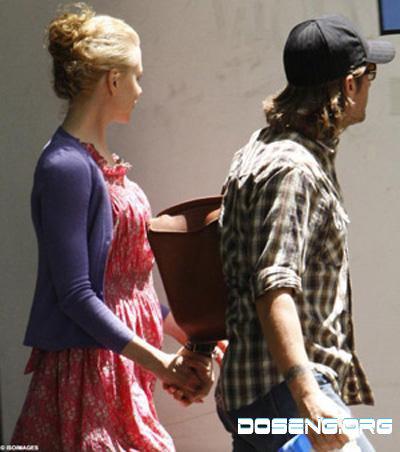 Has photos of actress Nicole Kidman in a free dress fueled rumors that the star is expecting her first biological child. Oscar-winning actress often appears in public wearing a slinky dress that emphasizes all the advantages of her figure, and directly indicates how many hours a day she spends in the gym.
But this time the outfit in which Nicole and her husband Keith Urban came home to have breakfast in Sydney, was much freer than usual. In addition, high-waisted dress with clearly emphasized the emerging Nicole belly, writes The Daily Mail.
Earlier it was reported that on Christmas Nicole allegedly told her relatives that she was pregnant. Since then, new details related to her pregnancy. Friends said Kidman, the actress plans to give birth to a baby in a private hospital in Sydney. Most likely, the child will grow up in Australia so he could preserve the "national identity". And Nicole and her husband Keith grew up in Australia.
The source said: "Nicole and Keith are very proud of their Australian origin and want to raise a child in Australia. They believe that the health and education systems developed here better than anywhere else ».
"For them, it is important that a child growing up in a healthy atmosphere. They want to be sure that their kid grows in a normal family. They would prefer that their relatives are involved in the upbringing of the child. They do not want to rely on nannies "- he added.
Kidman also special diet to keep the baby, the emergence of which is expected in late summer. Recall, after her divorce from Tom Cruise in 2001, Nicole said that during the marriage, in which she has adopted two children (14-year-old Isabella and 11-year-old Connor), she had several miscarriages and ectopic pregnancies. Actress upotreblinet to eat fruits, vegetables and foods rich in protein.