In August 2010, the famous Australian and American actress Nicole Kidman and her husband Keith Urban purchased a luxury apartment in Manhattan. The apartment is on the 12th floor of a high-rise building in the fashionable Chelsea district of Manhattan. Sale apartment was exhibited at a price of 12, 5 million dollars, but the star pair made a substantial discount, and housing cost "only" 10 million.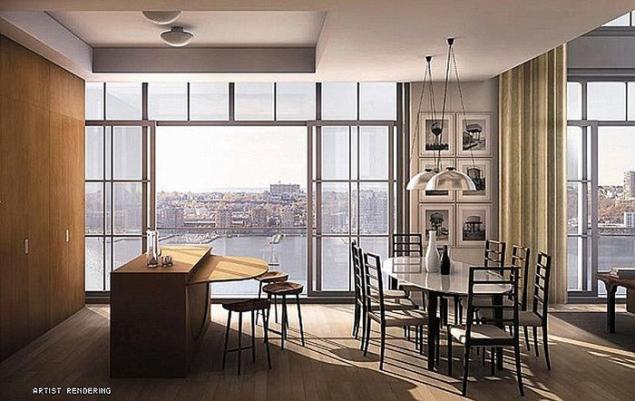 1. One of the unusual and remarkable features of this luxury home is the fact that the house occupants are given the opportunity to call in your apartment (even those who are on the upper floors) on the car. In this picture you can see the construction of a "high-altitude" parking with an expressive name "heavenly garage". With such technologies on traffic jams and parking problems on the ground, you can forget.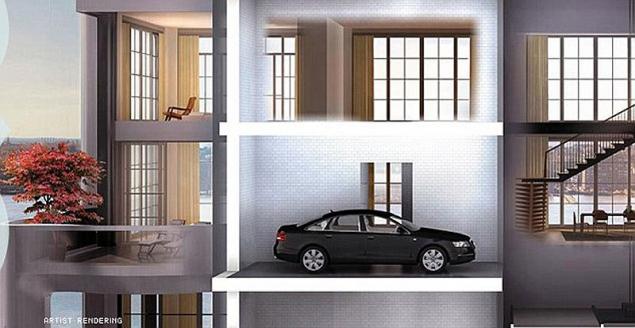 2. This cut shows two of the upper floors and a garden, which is on the roof. The system of "heavenly garage" novelty even for New York, and this house - the first, which used this technology. Actually own garages are in a special tower where a system for emergency exits and ventilation is very powerful. The area of ​​the garage, which is used by Nicole Kidman is 32, 5 square. m., and to get it out of her apartment through the kitchen can be. To the car ended up in "the apartment" the driver has to drive to the rear of the building and to drive the car in a special elevator, garage attendants. At the elevator car rises to the desired floor and simply enters the garage. To go to the street, all you need to do the same thing, only in reverse order. At the same time out of the house calls in the elevator car in reverse.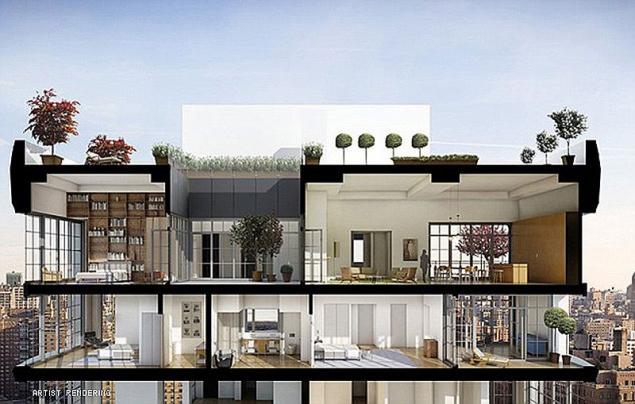 3. Walk-in library. To host these shelves, you need to be on a special ladder. The total area of ​​the apartment elegant Nicole Kidman is 302 square meters. m. It hosts three bedrooms, two terraces, a library, and a two-level lounge, and both floors have access to the common room. The apartment has a wonderful view of the Hudson River.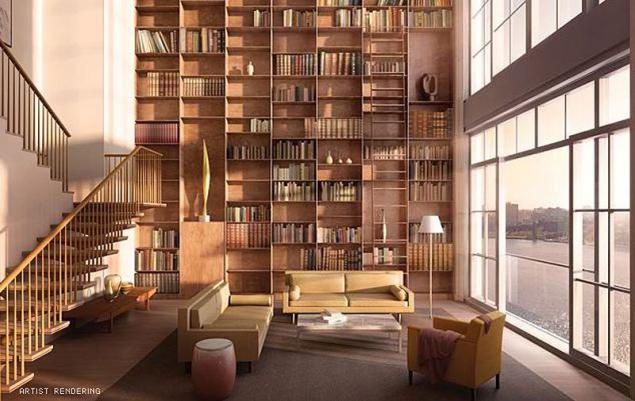 4. Today, in the Chelsea neighborhood home to many famous artists. Celebrities do not skimp on expenses, furnished his home here. The total cost of such "star apartments", from the design stage, ending with a fully prepared home, often amounts to several tens of millions of dollars. For example, when Nicole Kidman with her ex-husband built a house in Beverly Hills, the construction cost them 35 million. Dollars.