While the press in full discusses privacy Jennifer Aniston, the actress has remained silent about the affair with Justin Theroux, but quite frankly speaks about her best friend Courteney Cox. For example, in a recent interview with The New York Times reporter's question, "Who would like to see Aniston next to him in the happiest moments of his life" (an apparent reference to Thera), Jen said, "My best friend Courteney Cox!". Stars are people too and they have the best of friends. We offer you the best overview of the most stellar friends whose relationship has been tested by time.
Jennifer Aniston and Courteney Cox
And since I started with Aniston and Cox, it is worth adding that their friendship began in 1994 on the set of the television series "Friends" and continues to this day.
Jennifer Aniston and Courteney Cox together since the "Friends»
Courtney has previously said that the secret of their friendship is trust:
"I think the reason that I love Jennifer so much that I feel calm beside her - always! And if I need to call someone, even at night - I dialed the number Jen ».
In turn, Aniston prefers to spend holiday is Courtney, describing her friend as "ridiculously loyal and fiercely loving».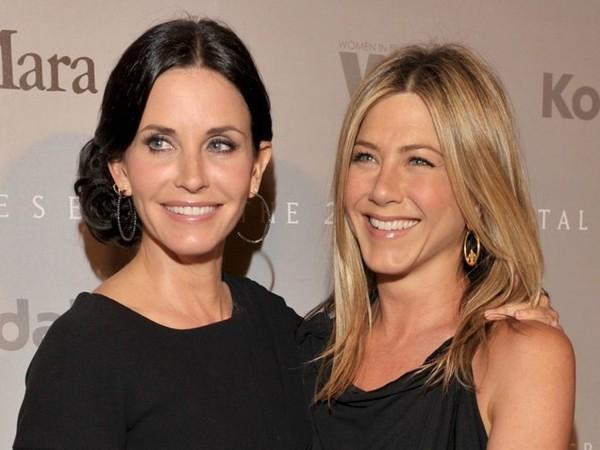 As they are best friends in the whole support each other
Ben Affleck and Matt Damon
This is an example of this strong male friendship. Ben and Matt friends since childhood. They met when Affleck was 10, and Damon 8 years in the casting, which resulted in their mothers. And while the ladies were discussing the merits of his sons, the guys managed to get to know themselves and to put a button on the chair harmful secretary, who still can not cause them to view. Actually, this ill-fated button, as well as joint "sticking", which they then received by mothers, and brought together little boys. Moreover, it turned out that they have lived through one street Q2 apart.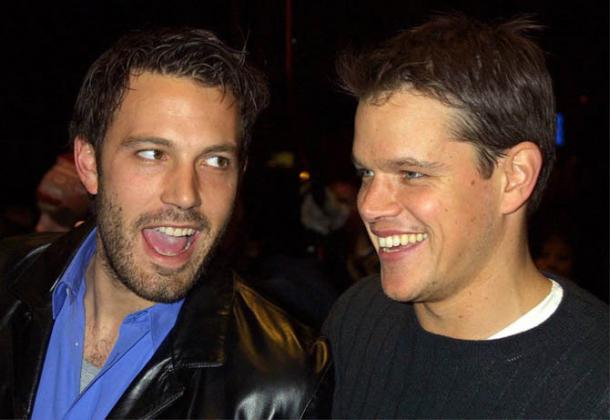 Ben and Matt are always ready to make fun in a friendly one above the other
Later, their paths diverged a bit: Damon went to Harvard, and Affleck, was ringing the University of Vermont, dropped out and went to Hollywood. However, when Ben called Matt to Hollywood, he immediately responded to the call of another. Then the guys and have decided to come up with a good movie. Wrote the screenplay tape "Good Will Hunting", they woke up famous. The film won the "Oscar" and "Golden Globe" for best screenplay, and the boys have discovered the way to a great movie.
And to this day they are together, they are not separated neither time nor ... Jennifer Lopez. It was rumored that Lopez Affleck put before a choice - or she, or Matt. I chose Ben, we already know. Now fellow actors as a child living on the same street with their wives and children.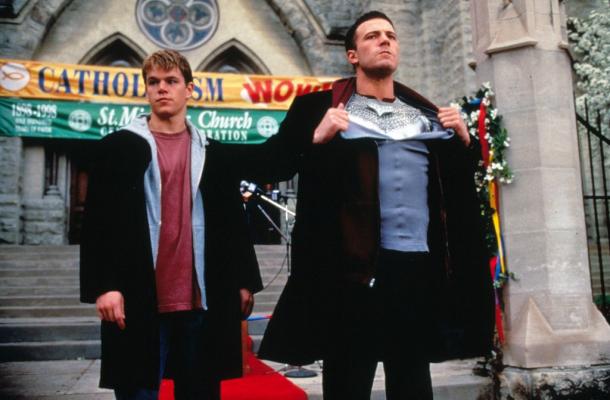 Still from the film "Dogma" (1999), where the actors played together fallen angels. If you have not seen - highly recommend!
Brad Pitt and George Clooney
Pitt and Clooney brought teamwork in the crime comedy Steven Soderbergh's "Ocean's Eleven." Then together they were engaged in charitable activities in support of the victims of the Sudanese province of Darfur. Clooney, always honest opinion of people (which are his statements about DiCaprio), a Pitt says so:
"I not only respect his human qualities, his talent, but I also support his desire to help the world. Not enough nice words to convey how much he is working to make the world a better place. I am proud that I can not call him a friend ».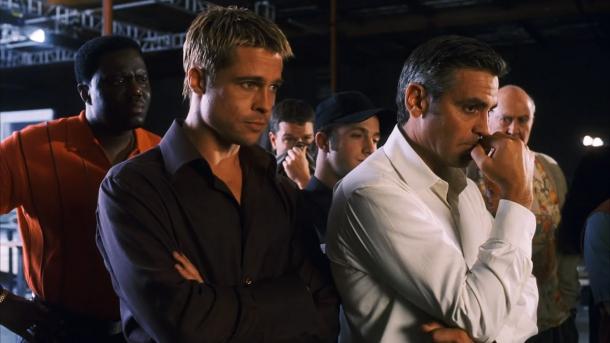 Brad and George in the movie "Ocean's 11»
The only problem is their friendship - wife of Brad, Angelina Jolie. According to rumors, she does not like Clooney. That, however, pays reciprocate by inviting a couple of guests on the condition that their children stayed home.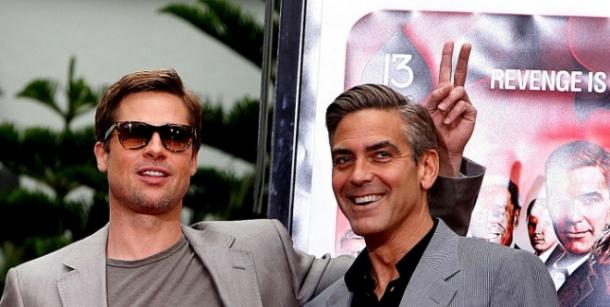 Clooney and Pitt made a real fights drawings of each other
Jennifer Lawrence and Taylor Swift
Lawrence Swift and friendly yet very long. However, it seems, their friendship will grow stronger. The girls are the same sense of humor, and they went to Olympus almost at the same time. Girls often exchanged SMS-kami, such as Jennifer sent heartfelt lyrics support his girlfriend on the CMAS (Country Music Association Awards - Annual American Music Award of the Association of country music). And Taylor, meanwhile, sent a wish Jennifer, hinting at the Oscars:
& Quot; Good Luck! I believe that the reward will be yours! & Quot;
Jennifer Taylor and support each other sms kami
Nicole Kidman and Naomi Watts
Nicole and Naomi became friends before fame in Hollywood. They met back in Australia, coming to a casting for the film, which Kidman starred. Then, when Nicole moved to Hollywood, it is often advised to take a friend to the producers in a given film girlfriend Naomi. Perseverance paid off - Naomi noticed and she too moved to Hollywood, the first time she lived in the house Kidman.
"The door Nicole was always open for me. She always greeted me with open arms and with a willingness to listen, "- says Naomi about her best friend.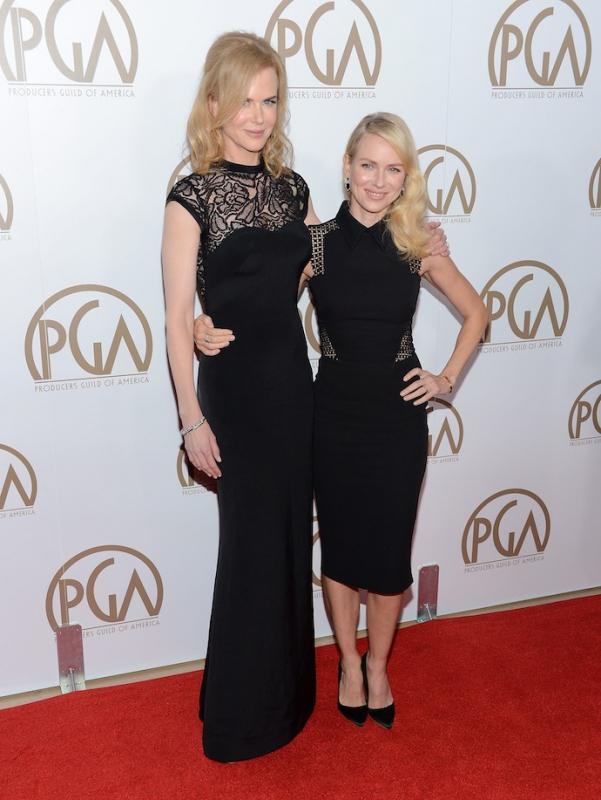 Nicole Kidman and Naomi Watts at the presentation Producers Guild of America Award in 2013
Rihanna and Katy Perry
Rihanna and Katy Perry brought together ... handbag. Once at a party, Katie noticed in the hands of Rihanna studded handbag:
"The first thing I noticed was this cool studded bag from Valentino in the hands of Rihanna, and she looked amazing," - said in an interview with Katie Elle - «I praised her purse, and Riri has offered to send me the same gift. And when a week later, she sent me a really bag from Valentino, I thought: & quot; Wow, this girl - a man of words & quot; ».
By the way, Rihanna Katy suit bachelorette party before the wedding to Russell Brand, and comforted her after their divorce.
"I'll tell you, you will not find people like Katie in the industry," says Rihanna on Perry. - "She's gorgeous, charming and so unpredictable, but I trust her - it's weird. And that's what intrigued me most when we first met ».
The organizers of various ceremonies already know that it is better to put the girls together, still peresyadut closer to each other. Grammy 2012
Ryan Reynolds and Sandra Bullock
Who said that the friendship between a man and a woman does not happen? Proof - Ryan Reynolds and Sandra Bullock. According to the actors themselves - they are really friends and nothing else ever had. They met at a difficult time for Bullock - she divorced her husband Jesse James. Ryan was the first who supported the actress. Then there was the joint work in the film "The Proposal" (2009), which seriously strengthened their friendship.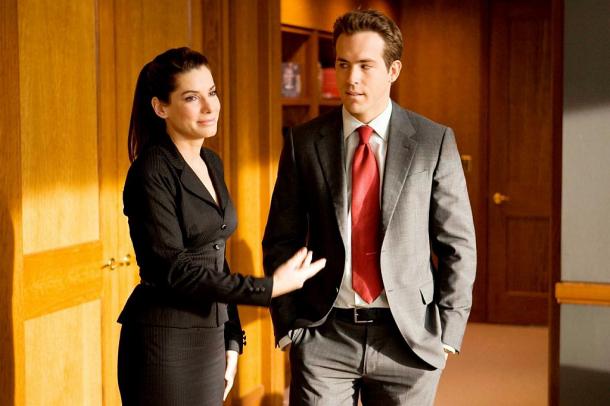 Sandra and Ryan in the film "The Proposal»
And now also supports Bullock Ryan, for example, coming at the premiere of Reynolds.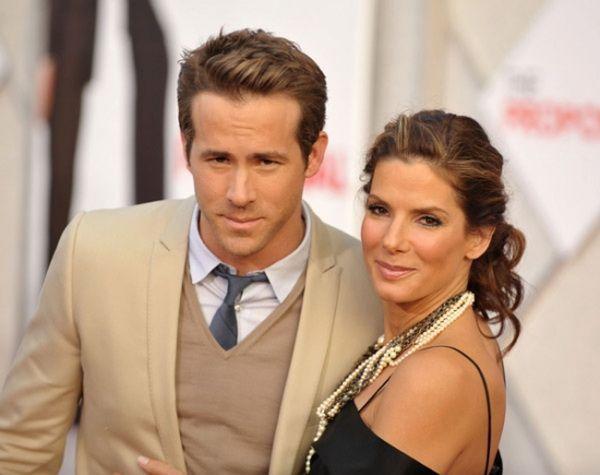 Sandra and Ryan often come to the premiere together
Salma Hayek and Penelope Cruz
Salma and Penelope did not just speak the same language. Salma about friendship with Penelope expressed as:
"The phrase that" one - this is one soul and two bodies "just about us».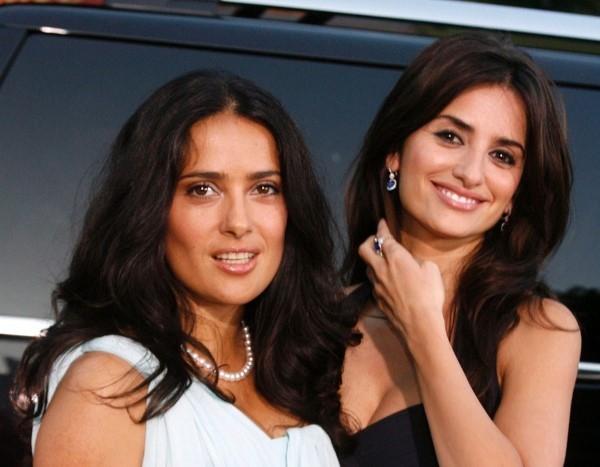 Salma and Penelope often call up to discuss their children
And Penelope recalls the time when they starred together in "Bandidas". One day, while working on one scene, the plane almost crashed into the girls are together.
"We almost died then," - said Penelope. - "That's when I had the idea that if I die at that moment, then at least I'll die with my best friend & quot ;.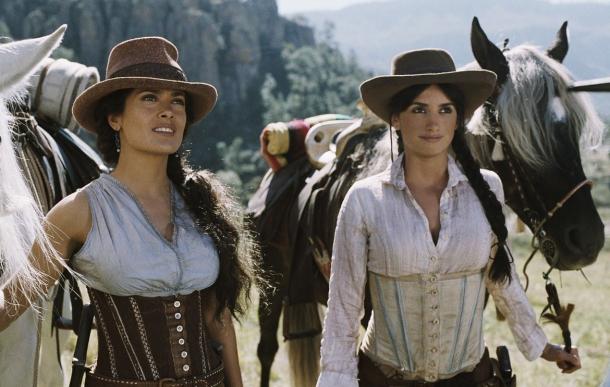 Salma and Penelope in the film "Bandidas»
Leonardo DiCaprio and Tobey Maguire
Leonardo DiCaprio and Tobey Maguire became friends on the set of "The life of this boy" in 1993. Then, there were other collaborations - "Roseanne", "Cafe" Dons Plum "," The Great Gatsby. "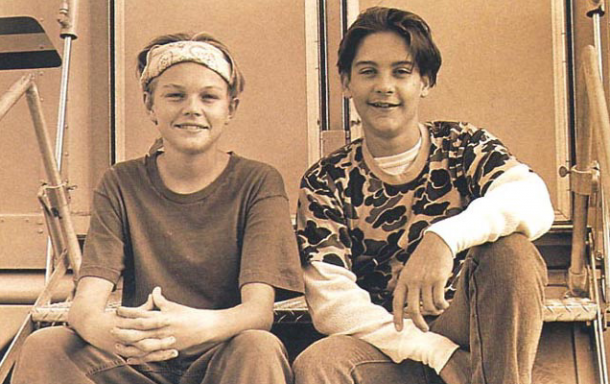 Leo and Toby in the film "The life of this boy»
Pals like to spend holidays together, go to games and play. Goes the story of Leo, Toby and Ben Affleck and Matt Damon for a few years playing at the same table in an underground casino in Beverly Hills, while the casino was not covered.
Rest Toby and Leo together also prefer
Bradley Cooper and Gerard Butler
Gerard Bradley and "found" each other not so long ago. But guys like to arrange a purely male gatherings, as well as with visiting Tennis Championships at Wimbledon. By the way, there have caught them once and paparazzi in almost identical in color costumes.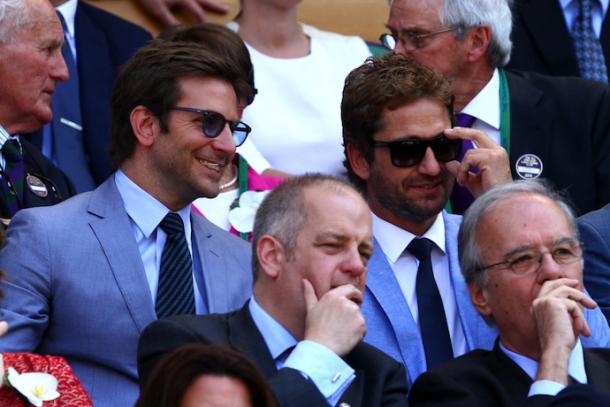 The same joint march to the championship tennis
And yet Cooper and Butler want to stay together in one film, and, from a story by Gerard:
"... Or in a comedy or an action film. But if the latter - in the role of enemies, so that you can heartily pomutuzit each other ».