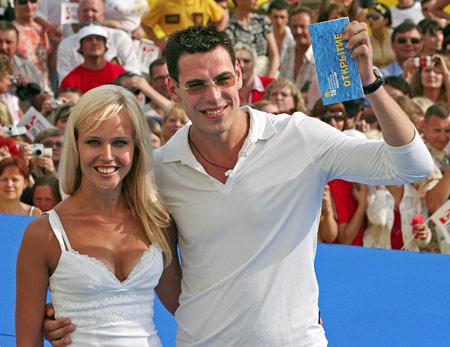 The popular actor Dmitry Dyuzhev Valentine's Day married his beloved Tatiana Zaitseva. February 14 will sign a couple in one of the Palace of Marriages capital, informs "Your day".
To arrange a magnificent triumph of the young are not collected. "Yes, I'm getting married tomorrow, it will be an important day for me, but it's a very personal event - admitted Dyuzhev. - The wedding will take place in private. "
29-year-old Dmitry met with Tatyana, an employee of an oil company in one of the private parties. Dima did Tanya marriage proposal in July at the festival "Kinotavr". If at the beginning of the festival, he represented all Zaitsev as his girl, in the end announced that henceforth his bride Tanya, and soon they were married.
Although the marriage to take place on Thursday, Dima has not yet decided who will witness from the groom. "Dima has not decided, but perhaps they can be and I - said the 25-year-old cousin of actor Vladimir. - In summer, when I got married, witness at the wedding was Dima. " Another contender for this responsible role - a close friend and colleague of Dmitry on the series "Brigade" Paul shirt.
Yesterday, relatives of the actor left the home of his Astrakhan to Moscow. As of 76 health-year-old grandmother Dmitry Tamara Petrovna could not personally congratulate beloved grandson.
A source