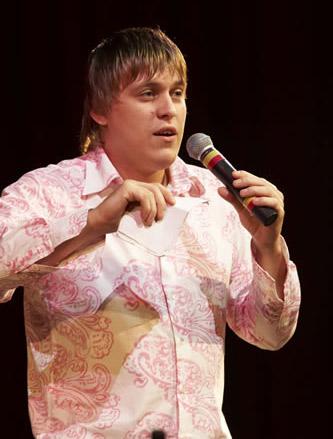 According to the poll the leading authoritative research company TNS Gallup Media, a resident of Comedy Club Alexander Nezlobin entered the list of top 50 broadcasters and media persons of the year.
Total channel TNT presented in this short-sheet thirteen telepersonaliyami. It placed third host of the show "The Battle of psychics," Michael Porechenkov Anfisa Chekhov in the 29th place, and leading the project "Ex-Wives Club" (Lera Kudryavtseva at the 36th place, Aurora - 39 th place).
However, all records of popularity on TV beating residents favorite Comedy Club. It is significant that in 2006, according to a poll in the top 50 included only those of its brightest representatives as Garik Kharlamov, Garik Martirosyan, Paul Will, at the moment the list includes: Timur Batrutdinov Alexander Revva, Timur Rodriguez and, for some time, Alexander Nezlobin.
Based on that, we can summarize that on the format the decimeter channel TNT overtaken in the "national" ranking of all major TV broadcasters, except for the permanent leader of airtime First, where residents also did not fail to shine.
A source