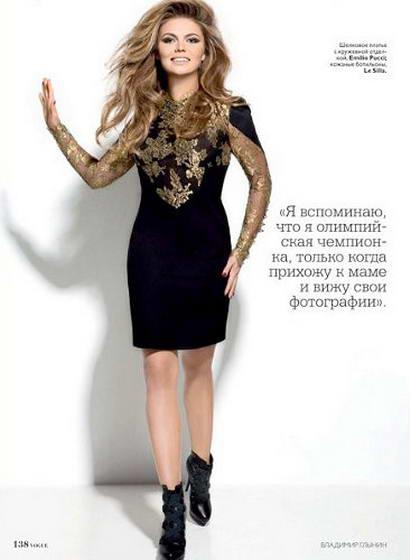 Marat Kabaev: "If my daughter marry this guy, it will be very good" "With Kabaeva must be handled carefully
"On Saturday, April 12" Moskor "published an article" Putin and Kabaeva combines the Trinity? "She caused a flurry of responses. Therefore, "Moskor" decided to find out that it might be the sensation of the XXI century have loved ones Alina Kabaeva.
Alina Kabaeva glad for everything, including her coach Irina Viner
Its like a mirror I see
In the "Year of the Family" channel NTV on a social advertising displays videos in which famous people of Russia to talk about their loved ones. In these commercials about their families have already said director Andron Konchalovsky, cosmonaut Georgy Grechko and other celebrities. And then on Sunday in a video appeared Alina Kabaeva. The famous athlete and politician admitted that he wants to get married and would like to see her future husband was like her father.
Great guy
"Moskor" father found Alina Kabaeva Marat, a former winger Tashkent "Pakhtakor" at the stadium of the city of Almalyk in Uzbekistan, where he spent the next training local football team, which is now headed.
The question of how it relates to the future wedding of his daughter, Marat Kabaev said that is very positive, but this is the most Alina. He also until the wedding is not known. But if that happens, he will know about it first.
- How do you react to the fact that her husband could be president? - Asked "Moskor."
- Putin or Medvedev? - Asked the father of Olympic champion and heard in response to Putin's name, was delighted. - If she marries this guy, it will be very good. He really looks like me.
And I'll be glad. But let Vladimir Vladimirovich knows that it must be handled carefully. After all, she's so sweet.
Sports family
The famous player of "Pakhtakor" Marat boar. 1982
Alina Kabaeva grandfather on his father at the time was president of the National Federation of the national struggle kuresh.
Marat wild boar - a professional footballer. In the 80 years he was well known to all football fans: more than a decade played for Tashkent "Pakhtakor", then moved on to coaching. According to his former teammate, now a well-known businessman, President of the Foundation "Russian football" Alimzhan Tahtakunova, wild boar was a good winger.
Mother Alina Kabaeva Love - a former player of the Uzbekistan national team in basketball.
Enviable bride
MP from the "United Russia" Svetlana Khorkina:
"I later find out all the news»
The very same Alina Kabaeva has immortalized his name in all the world encyclopaedias as an outstanding Russian athlete. It is enough to mention it in the present - State Duma deputy from the 5th convocation of the party "United Russia", Olympic champion in 2004 and bronze medalist in 2000. In addition, it is - five-time European champion and holder of two Orders - "Friendship" and "Merit for the Fatherland» IV degree.
Behind them can be happy
The first thing that came to mind our colleagues from other publications and people personally familiar with Alina Kabaeva - is confident that the news of this wedding - a rumor launched specifically to the Congress of "United Russia".
- This is something new, - said of a possible upcoming wedding Vice-Speaker of the State Duma, Olympic skating champion Svetlana Zhurova. - I first heard about it, so I can not comment on the news. I personally do not see anything romantic in the relationship State Duma deputy from the party "United Russia" Alina Kabaeva and Russian President Vladimir Putin. But if this is indeed the case, for it can only rejoice.
One of the prominent "United Russia", the triple Olympic champion Alexander Karelin admitted that he does not like to discuss rumors.
- Let's not discuss it under the counter and wait for official information. And if that's true, then congratulate these people.
- I have not heard such news. When read, and then be able to comment - with irritation answered the question "Moskora" MP from the "United Russia", unmarried Olympic champion Svetlana Khorkina. - I do nothing about it know. Apparently, I later find out all the news, despite the fact that I - best friend Alina.
Indeed indifferent
Several delegates IX Congress of the Party "United Russia" interviewed "Moskorom" too surprised to rumors about a possible wedding Vladimir Putin and Alina Kabaeva. However, many of them admitted that they did not just notice that Putin did not indifferent to the athlete and may have had an affair. However, to believe that the president proposed gymnast hand and heart, and could not. "