A source close to the commission to investigate the causes of the incident, told the unknown details of descent from orbit Korablin "Soyuz TMA-11».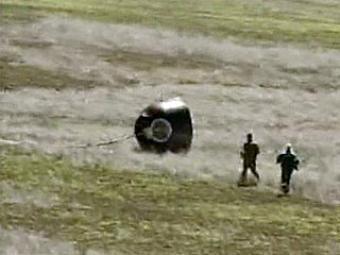 Deorbiting ballistic space Korablin "Soyuz TMA-11" last Saturday could
ended tragically, said "Interfax" -AVN & quot; in the Russian space industry.
"The fact that all crew members were safe and sound - a great success. Everything could have ended much worse.
The situation has passed, we can say the razor's edge, "- said the official close to the Commission on
investigate the causes of the incident.
On Saturday in Kazakhstan landed spaceship with Russian Yuri Malenchenko, American Peggy
Whitson and Korean Lee So-yeon. Descent machines are not normal, but on a ballistic trajectory, with
Congestion 8-9 units.
The agency's interlocutor said that upon entering the atmosphere re-entry capsule Korablin 'Union »
first flew to the ground upside down, where the heat shield and the forward hatch.
"As a result of large thermal overload hatch significantly burned. At the same time melted antenna
transmitter, whereby communication with the machine stopped. Burned part of the valve alignment
pressure that is outside "- a spokesman said.
According to him, this could lead to decompression device at high altitude. "Besides, if
burnout occurred hatch and damage close containers with lids braking parachutes, the crew
would not have survived, "- a spokesman said.
He recalled that six months ago there was a freelance descent with a Russian spacecraft "Soyuz TMA-10»,
the crew which included the first Malaysian astronaut.
"Judging by the fact that an emergency situation repeated itself, there is a clear drop in the technological discipline in
preparation of space technology for the flight. There is no guarantee that the same test does not expect the crew
Korablin "Union", which should land in Baikonur in six months, "he said.
In turn, a source at the Baikonur Cosmodrome informed "Interfax-AVN" that find lander,
that landed more than 400 km from the design point, helped the US military.
"Observing System US Department of Defense reported the alleged landing area, analyzing
infrared radiation from the plasma trail lander. In the area indicated by the Americans flew
plane, and found that the device lying on the ground, "- said the spokesman.
He noted that the relationship with the lander was absent for about one hour. "After
landing, the crew managed to get yourself out of the machine, and then Yuri Malenchenko got in touch with
using US satellite system "Iridium" - said the source.
"Interfax-AVN & quot; have not been able to get an official comment on the matter in Roskosmos.