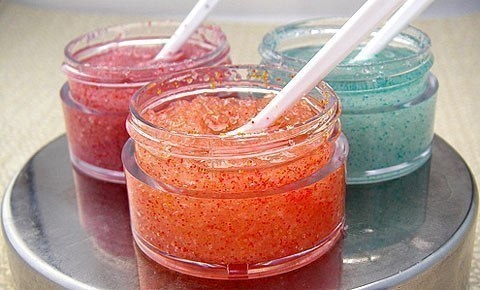 Some recipes require quite strange ingredients for we are sure that you will find them easily at home.  
Ingredients:
 - 2 cups sugar (or salt)
 - ½ cup of your favorite shower gel
 - ¼ cup oil to moisten (olive, baby moisturizing oil, you can add vitamin E)
1. Mix all the ingredients in a bowl until a paste.
2. Add more sugar if watery paste, gel, and more if it is dryish. Scrub consistency should resemble wet sand on the beach.
3. Apply the scrub 1-2 times a week in the shower. Gently wipe the skin with a mixture - do not rub violently, sugar and do all the work without additional effort, and you can damage the skin. If you're going to apply the scrub on your face - do not forget that the skin there is very delicate.
4. Wash all is well with warm water
5. Pat skin with a towel
6. Apply a moisturizer
Tips:
Sugar preferred salts, because if there is a cut on the body, the salt will cause pain.
If you want to add vitamin E, you will be able to find it at the pharmacy, it is quite inexpensive, sold in capsules and capsules.
The remaining mixture is stored in a cool dark place.
If you have obtained a good scrub, you can package them in their beautiful container and use as gifts.
Even if a part of the scrub was a very good moisturizing oil, then after a shower anyway, it is desirable to apply a moisturizing cream.