Uzbek boxer once again asked for the postponement of the fight with Russian giant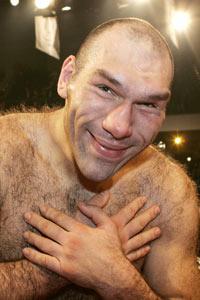 The rematch between Valuev and Chagaev was to be held on 31 May. Kohl is actively preparing for a fight, I went to Japan for a month. And recently I moved near Berlin, to have to hold matches with sparring partners. And then like a bolt from the blue it was reported that representatives of the Chagaev fight was asked to move due to the illness of their fighters.
 - Kohl yesterday morning was going to fly to Hamburg at the traditional press conference before the fight - admitted the manager of boxer Boris Dimitrov. - But in the evening we got a call from the Sauerland and said that the fight is postponed. We immediately phoned to Don King and asked him to find out. It turned out that Chagaev asked to postpone the fight of July 5.
Not so long ago there were rumors that the Uzbek boxer has hepatitis C. Since this disease is not something that go into the ring, it is difficult to live. But the rumors do not seem confirmed, and in between times Chagaev once already managed to defend the title of champion of the WBA heavyweight title. But a new disease - some infectious disease.
 - The sick Ruslan - is unclear, - said Boris Dimitrov - but the disease probably serious, since he is almost a month before the battle recognizes that not have time to recover.
While Chagaev ill or "pretend" Valuev representatives learn the rules and want to achieve the purpose of the fight against WBA interim champion for the title of the organization. Kohl will meet with someone from the top boxers, and they decide between themselves who will be the interim champion. And then the interim champion will defend his title. In other words, "forever ailing" Chagaev want to leave without a belt. Uzbek boxer has repeatedly asked to be transferred fights with Valuev, and even wanted to start a couple of times with boxers fight easier, but by the autumn of 2008 is to meet with the Beast from the East. But to fight with someone other than Valuev, Uzbeks banned. And now may even deprive belt.
Valuev himself remains in Germany and in a few days will return to St. Petersburg.
 - Of course, I was very upset - admitted to us Kohl. - Still, I gets off the whole process of preparation. If need be, then I Chagaev and 5 July will fight and prepare for this fight normally could. But now the whole training process, which puts, compromised.