Heroes of the final match of the UEFA Cup came to congratulate Governor
Matvienko, President of the Board of "Gazprom" Miller.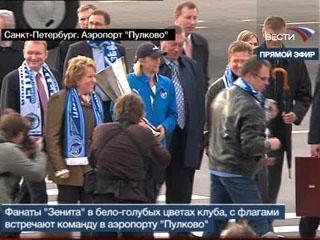 At the Sport-Concert Complex "Petersburg" in anticipation of the winners of the UEFA Cup (PHOTO) gathered thousands of fans who want to share the triumph of the team and congratulate the players of "Zenith".
Near the sports and concert complex there is no person who has with him would not be of any attribute of the club. On the square reigns festive atmosphere, live music. Football players of "Zenith" came with the Cup on stage to the sound of a military band, the crowd chanted "Thank you!", "Ole-ole-ole!".
Flight from Manchester, where St. Petersburg returned to the UEFA Cup team "Zenith", landed at Pulkovo airport at 19:13. Arrival of the UEFA Cup in the northern capital of a live broadcast channel "Vesti". At the airport, in addition to the "ordinary" fans of "Zenith", the team met with St. Petersburg Governor Valentina Matvienko and the head of "Gazprom" Alexey Miller.
"Dear friends, fans, St. Petersburg, it is difficult to convey emotions and feelings that overwhelmed all of your favorite team that defended the honor of Russia, St. Petersburg, - said St. Petersburg Governor Valentina Matviyenko, speaking to the crowd. - They are not only champions of Russia, this is the best team in Europe ».
Teams and fans congratulated the President of the Board of "Gazprom" Alexey Miller. "Last autumn, the capital of the Russian Football moved to St. Petersburg, and now our city has become the capital of European football. UEFA Cup is ours! He received a Russian residence "- quoted Alexei Miller« Interfax ».
"We are very proud of our victory, and we are especially proud of the fans that have in Peter. I want to say the simple words: we are the best, "- said the coach" Zenith "Dick Advocaat.
Then, all together we sang the hymn "Zenith". During the anthem of the sky released dozens of blue-white-blue and purple balls of smoke that quickly cleared the square.
Traffic on the surrounding roads blocked, the order on the square and near the metro station monitors a large number of police officers.