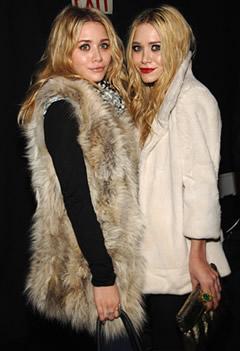 The most stylish young representatives of Hollywood Mary-Kate and Ashley Olsen (Mary-Kate and Ashley Olsen), known for his extravagant outfits and love to the most fashion trends, announced the release of the book «Influence» (in the lane. From English. - "Influence") dedicated to fashion.
Beautiful deluxe edition, printed in one of the most prominent American publishers Penguin, will be available this fall. In the book, 21-year-old Mary-Kate and Ashley, recently founded his own fashion label The Row, promise to tell the history of the most interesting and creative people to influence their tastes and outlook, as well as tell about their favorite designers and artists, including Bob Kolachello (Bob Colacello), Terry Richardson (Terry Richardson), Jack Pierson (Jack Pierson) and Christian Louboutin (Christian Louboutin). In addition, the volume will contain exclusive pictures of girls authorship of the famous photographer Rankin (Rankin), as well as a huge number of unique biographical material and interviews.
"We are filled with Mary-Kate" influence "the most interesting facts and photos, expressing our pride familiarity with the most creative and talented representatives of the fashion industry of our generation," - said Ashley Olsen at the press conference dedicated to the release of the book.