One person died as a result of serious
Accident in the south of the capital. Opel at full speed
rammed standing at the curb trolley.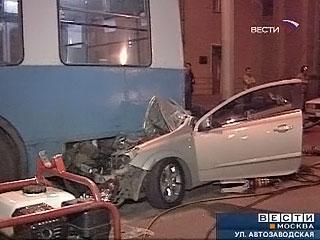 Foreign car was moving in the right lane on Avtozavodskaya Street. According to witnesses, the car was traveling at high speed, and the girl sitting behind the wheel, did not even try to brake.
"Trolleybus stood. A car was traveling at a speed of 120 kilometers I was standing in front of, on the corner. In my eyes it happened "- the story of one of the witnesses.
"Bounce. Mirror salon even flew down. Braking distance at all. If not for me, they would have entered into a pillar of this "- says Anna Pavlova, trolleybus driver.
Arrived rescuers had to cut the mangled body of Opel. Passenger foreign car died on the spot. A woman driver was hospitalized with serious injuries.