Vintage car "Ferrari California Spider»
British bought for 10, 9 mln.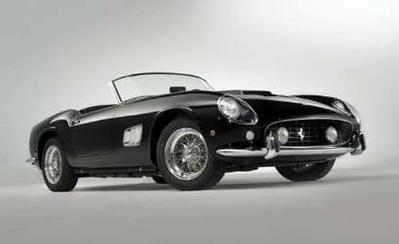 Trading house "Sotheby's" auction at the traditional annual "Ferrari" set a record in the classic car - "Ferrari California Spider» («Ferrari California Spyder»), released in 1961, was sold for 10, 9 million.
The results of the auction are available on the official website of "Sotheby's".
Sold at a record price of the car at one time belonged to the famous American actor, Oscar winner James Coburn. Name the actor with the image of "tough guy" probably also has a price, the more so since childhood Coburn knew a lot about cars. His father owned a garage and doing repair service.
According to media reports, a vintage "Ferrari" has bought British, disc jockey Chris Evans, overpaid twice the pre-auction estimate of experts.
For 18 years, it remained unattainable price of «Ferrari 250 GTO» 1962, that "Sotheby's" sold in 1990 in Monaco for 10, 75 million dollars. A modern car, according to the magazine Forbes, the most expensive considered the "Bugatti Veyron» (Bugatti Veyron 16.4), the price of which in 2006 amounted to 1, $ 2 million.