Russian national hockey team brought to Moscow the chief
Trophy World Cup. Charter flights from Canada Quebec
our hockey players landed at the capital airport "Vnukovo".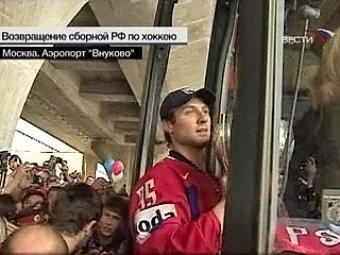 Around the airport complex champions met more than 250 fans. They held balloons colors of the Russian tricolor, flowers and flags. Fans accompanied combined orchestra of the Moscow Military District performed a song for the victors of war "Katyusha".
In the arrival hall of international airlines athletes, for the first time in 15 years dobyvshih for Russian hockey championship title, with dozens of journalists waiting for cameras and microphones, as well as fans. Traditional bread and salt triumpher prepares to bring a delegation of the Don Cossacks.
The most exciting meeting with the athletes, it seems, would be for the young players who have yet to take steps to victory in the sport. "In our gym we have chosen only a few who have taken today to meet the winners" - not without pride, admitted in an interview with ITAR-TASS 12-year-old Daniel from Elektrostal.
As expected, immediately after his arrival in Moscow, the players and the coaching squad will go to the reception to Russian President Dmitry Medvedev. Honoring hockey victors in the Kremlin as two drops of water resembles a festive ritual last Friday, when he won the UEFA Cup, the players of "Zenith" on the day of returning home were invited to the Head of State.
The Russian national team became world champion in ice hockey, the stubborn fight winning team in the final hosts of the tournament - the Canadians - with a score of 5: 4. The Russian national team, giving the course of the meeting with the score 2: 4 after the second period, Team Canada, was able to stabilize the situation and turned the game into overtime - 4: 4, in which the winning goal scored stunning cast Ilya Kovalchuk.