The new car, take a picture
during the tests, dubbed V3.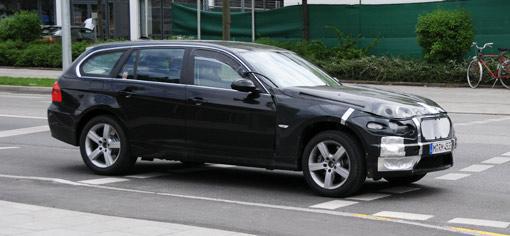 In the Internet there were espionage photos of new crossover BMW, which will be called V3.
The pictures, published site Motor Authority, the car, whose prototype is based on the versatile '3-Series', a body which is labeled E91. Judging from the photo, the front of the machine will be different from the wagon. In particular, clearly visible new falshreshetka radiator. V3 get back and four-wheel drive, as well as six- and four-cylinder engines.
According to rumors, BMW is currently developing two new crossovers based on platforms of the "third" and "fifth" series. They will differ from existing wagons increased cabin space and clearance. With their appearance, the model number of the Bavarian company will be a new series of «V».
The idea of ​​creating a line of crossovers has appeared at BMW in 2004, but their development has been delayed due to lack of resources, which were sent to other key models of concern. Norbert Reithofer, who became CEO in 2006, was against the penetration of a new segment for the Group. However, the increasing demand for crossovers in Europe and the United States seems to have changed his opinion.