Cannes Film Festival is not only an outstanding event in the film, but also a great reason to gossip about stellar outfits. No wonder that celebrities spend thousands of dollars on their "red-carpet" costumes! 61 th Film Festival once again brought together world-famous actors and actresses. Outfits many of them are really worth your attention.
In all its southern splendor appeared at the premiere of the new movie Indiana Jones ("Indiana Jones and the Kingdom of the Crystal Skull") Salma Hayek. Their new-found mother clothed in elegant dress to the floor of Balenciaga aqua embroidered floral patterns below and enlarged jewelry from Chopard. Noble, but the bright colors always look a winner, so Salma Hayek was simply irresistible.
Her workmate on "Bandidas" Penelope Cruz decided not to divert the gaze of his magic and smiles at the premiere of film "Vicky Cristina Barcelona", orchestrated by Woody Allen, chose to wear a dress of white color in antique style, with a long train and a wide open back. In choosing jewelry actress was in solidarity with his girlfriend - on the wrist and in the ears of the stars were shining diamond jewelry from Chopard.
Tiered organza dress by Armani peach-colored emphasized an excellent figure Cate Blanchett, which, surprisingly many, not the least bit damaged after the recent birth of his third son. But as Julianne Moore, representing the movie "Blindness", its output is hardly extravaganza: In our opinion, the actress has chosen not the best outfit from the collection of Christian Lacroix, who already catchy golden dress with gathered in the "blind" upper skirts decorated with roses and bright green black and orange feathers.
Despite a long period of pregnancy, did not miss the event and Angelina Jolie. She voiced a tigress in animated film "Kung Fu Panda" and the premiere came in a beautiful bog-green silk dress brand Max Azria Atelier, under which American fashion designer Max Azria sews expensive evening gowns.
It was impossible not to notice Eva Longoria in a dress by Versace with a fluffy skirt gathered in numerous folds of tulle fabric and very long "wedding" train, because of which the girl nobody could get closer than three meters. Just like Angelina, Eva took part in articulating the movie "Kung Fu Panda", but unlike other actresses Eva sure that Cannes - is not a place where you need to be modest.
But the popular British actress Mischa Barton, no matter how hard, against the backdrop of the leading beauties movie somehow lost. Moreover, she never learned, it seems, choose clothes for her figure, resulting in his Cannes dress dark purple color with a cold gleam more like a reptile than a movie star. However, the other two actresses had a confusion worse.
American stars Natalie Portman and her colleagues in the film "Another kind of Bolleyn" Kristin Scott Thomas at the meeting on the red carpet had to make every effort not to fall into the paint. 26-year-old Portman and 47-year-old Scott Thomas came to the premiere of "The Silence of Lorna" virtually identical dresses. Both dresses were blue, pleating and had been decorated with large ruffles. Like stitched from one curtains, clothes differed from each other only by the length - Natalie Portman got a slice of a smaller one. Well, we hope that the actress reacted to the situation with humor, because these excesses so rarely pleasing fashion critics!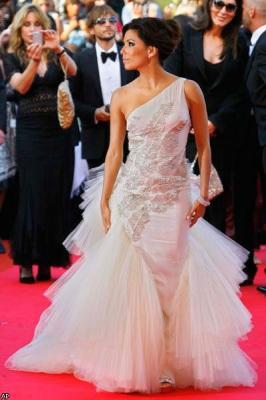 Eva Longoria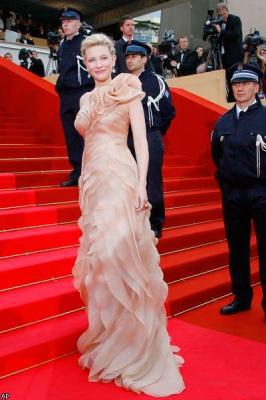 Cate Blanchett
Angelina Jolie
Angelina Jolie and Brad Pitt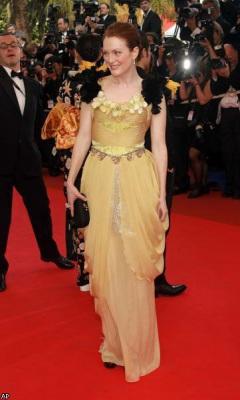 Julianne Moore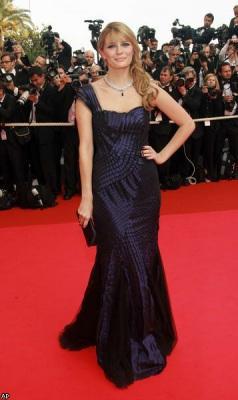 Mischa Barton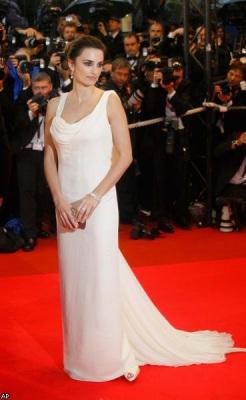 Penelope Cruz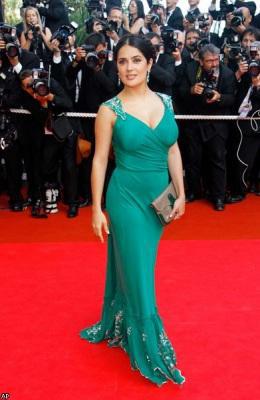 Salma Hayek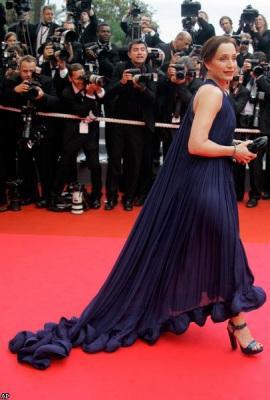 Kristin Scott Thomas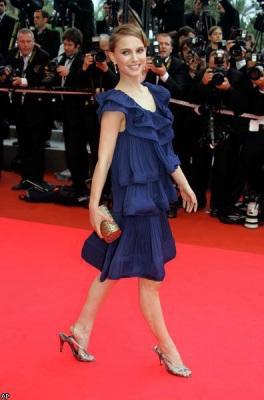 Natalie Portman