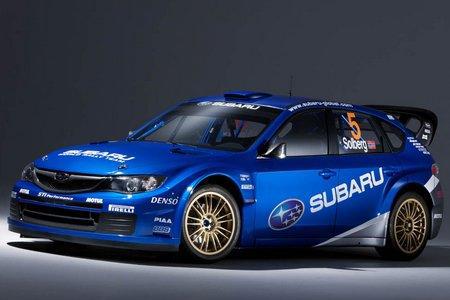 This information is extremely popular all over the world rally car appeared a few days before the official debut of the car at the "Rally Acropolis (Acropolis Rally)» in Greece, which will be held May 29. The first car team Subaru World Rally Team (SWRT) will combine the design of a hatchback with the new silver-blue (instead of yellow) colors.
The car got a longer wheelbase, shorter, in contrast to previous modifications, front and rear overhangs, and the rear wing, in accordance with the spirit of the race car, the door is integrated into the trunk. The latest Impreza WRC 2008 features familiar to us 2 0 L 4-cylinder boxer turbo engine, maximum torque of approximately 224 kW.
Recall that the legendary team SWRT won the world title among producers (World Rally Manufacturers Championship) in 1995, 1996 and 1997. And the title of world champion drivers (Drivers Championship) in 1995, 2001 and 2003. The list of participants of this year the number of Australian Chris Atkinson (Chris Atkinson) and Norway's Petter Solberg (Petter Solberg).
Full information on the technical details of the new rally car from Subaru will appear May 29 in Greece for the next stage of the World Cup.