On tuning SEMA show in Las Vegas master Vermont SportsCar demonstrated 400-strong version of the legendary Subaru Impreza WRX STI, but instead of wheels specialists tuning studio dressed in cars caterpillars. "Snow tank" tested the legendary American rally driver Ken Block (Ken Block).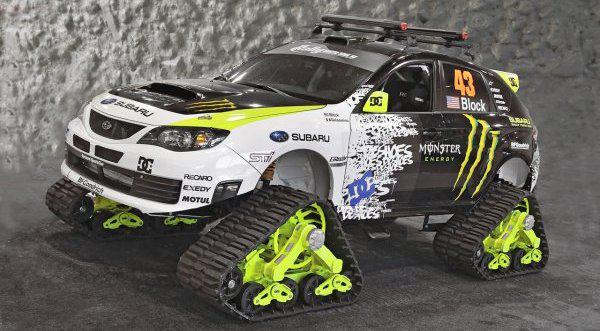 Car-tank, designated Subaru WRX STI TRAX, based on the rally version of the Subaru, and its construction (especially for Ken Block) engaged in tuning studio Vermont SportsCar. As a result, despite the presence of trucks Mattracks, the machine is almost a complete copy of the racing STI, where Ken Block takes part in stage rally championship SRT USA.
Master tuning Vermont SportsCar started with, remove all unnecessary interior of the factory Impreza WRX STI, then eased body and put a steel cage security. Just installed in the interior racing seats RECARO SPA ProRacer, replaced the door panels on carbon and installed an autonomous fire-extinguishing system. Among other amenities are available for snowboard rack Yakima FatCat, outdoor playground Yakima Landing Pad and set snowboard DC Shoes XFB-C.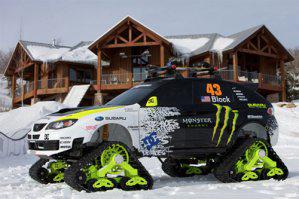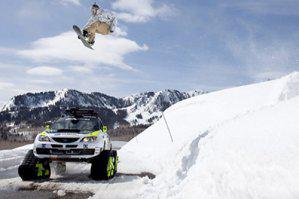 As the driving force acts turbocharged 2, 5-liter four-cylinder engine with 400 horsepower, equipped with electronic engine control unit MOTEC M800. Torque at this power unit reaches - 542 Nm. In addition to the improved engine, engineers studio installed on the machine with a five-speed transmission KAPS closely matched gear ratios, a programmable center differential, made their own efforts hub and shock EXE-TC, the relevant requirements of the rally the group N.