Fundamental changes in the appearance of the Porsche was not oh so long ago. But this restyling has not brought with it a revolution in the design of the brand ... Much more work got dvigatelisty. But, first things first.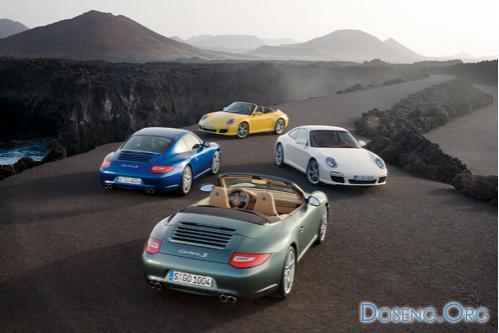 LEDs finally got up to here - now of them have made the Porsche 911 and taillights, and turn, and parking lights. Also slightly modified the side air intakes, united with a strip of "daytime" LEDs. But taillights receiving bevels connector bonnet, now look alien among soft and rounded shapes. Actually, that's all that now features a new exterior 911 of the old. Oh, and also new wheels - 18-and 19-inch.
But the Porsche 911 has got a seven-speed robotized gearbox Porsche - Doppelkupplung (PDK) double-clutch, which replaced the "automatic» Tiptronic S. With such a box car accelerates to "hundreds" of 4, 7 seconds (it's faster by 2 tenths of a second the previous result) . Also for the first time engines have received direct fuel injection, and 3, 6-liter engine was the 20 hp more powerful (now his power - 345 hp). Per 100 kilometers 911 will "eat" 9, 8 liters of fuel on the combined cycle and carbon dioxide emissions have been reduced by 15%. 3, 8-liter engine is also "fully grown" to 30 "horses" and its stock has 385 horsepower. The maximum speed is 300 kilometers per hour, and acceleration to 100 km per hour takes 4, 3 seconds.
Sales updated Porsche 911 will begin from July 5 to the price of 69,600 euros for the Carrera, 78,000 euros for Carrera Cabriolet and Carrera S, but for the Carrera S Cabriolet will have to pay 88,000 euros.