Portuguese national team defeated the team of the Czech Republic with a score of 3: 1,
and one round before the end of the group stage almost
provided a way out of the group.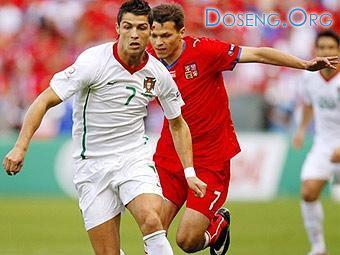 Thursday's Euro 2008 matches began the second round of the group stage. In Geneva, on the "Stade de Genève" met prefabricated Czech Republic and Portugal. Both teams won their first meeting in the tournament and win in today's game is practically guaranteed any of the teams reaching the quarter finals of Euro 2008.
The score was already opened in the ninth minute. Peter manages to reach the ball, not allowing himself to circle Cristiano Ronaldo, Deco but the first time to the finishing and the second attempt ball net - 1: 0
Czechs rushed to open and succeeded after eight minutes. After a corner from the right flank Sionko was quick all in the penalty area and the Portuguese head hammer the ball into the goal - 1: 1. Team has created in the first half for a couple of dangerous moments, but the goals scored before half-time was no more.
The second half, as the first, held in equal fight. At 61- minute Czechs went forward a large force, had a good chance, but substitute Vlcek failed to reach the ball after rebate Plašil in the penalty area. Worked immediately known rule "Do not forget - scoring you." The Portuguese had a quick attack, which in the end Deco down the right wing and gave a pass to the center by Cristiano Ronaldo. He burst into the penalty area and the first touch sent the ball into the goal against the Czech Republic - 2: 1
In the remaining time the Czechs attacked more, but the real moments to level the score, did not have. Already in stoppage time Cristiano Ronaldo and Quaresma came together at the gate Cech, and the last after a great partner set the final score of the match - 3: 1 in favor of the Portuguese national team.
Thus, now only a miracle can prevent wards Luiz Felipe Scolari to reach the quarter finals of Euro 2008. If Turkey today take points from the Swiss, the Portuguese official will be the first tournament quarterfinals