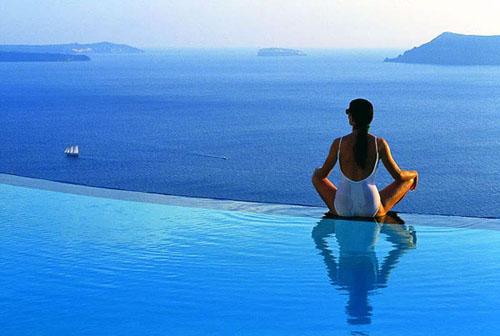 On a hot summer so I want to plunge into the cool waters of the pool, and if at the same time you will have also the opportunity to enjoy unforgettable views, just the pleasure is no limit.
Where is this wonder of the world? There already existed where the majority of man-made wonders - in Greece. This pool is located in a complex at the Perivolas Hotel in Santorini. The whole complex is a stepped amphitheater, descending to the sea, the lowest level is just the same above mentioned pool, ending cliff. On this cliff you will discover an amazing view of the Aegean Sea. Around the hotel, a huge park of 14 hectares, among which are the symbols of Greece as grapes, olive trees and fig trees. Sami rooms at the hotel will allow you to plunge into the historical past, because each of them resembles a small cave of white limestone, it is possible in similar caves once inhabited by the ancient Greek shepherds. And of entertainment facilities include a sauna, massage service, various types of active recreation on the water, cruises to Santorini with its rich history, a jacuzzi in the open air, a fitness center with professional trainers, as well as many bars and restaurants.
If you are looking where to spend your summer vacation, then here's another tempting option in your piggy bank, but that's defined, probably more and more difficult, because so many tempting paradises on the planet.