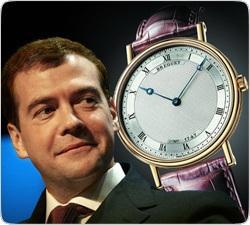 suffering from uncontrolled lust for power only people envy the presidents, monarchs and other first person states and nations. In today's world to the description of the president, in our opinion, is best suited quote unforgettable cinematic plumber Athos Borshchov: "Yes, what glory there? Is he a hockey player? Worries mouthful, and one salary! ".
Indeed, it is ridiculous to compare the salary of the president of Russia (about 1, 5 million rubles a year), with an annual salary of our young hockey star Alexander Ovechkin and Evgeni Malkin (over $ 8 million + benefits and bonuses), and even more so with an annual income of President kakogo- oil and gas, or any of metallurgical monster. Therefore, in normal countries the presidency are only those who sincerely and strongly wants to change the life of his country and its people better. And I am willing to sacrifice so many: family, profession, health, and even taste preferences in everything - from food and clothing to watches and cars.
However, becoming president one day, the person ceases to think about things anturazhnye. Firstly, as he said Athos, and really cares mouth full, and secondly, he was not supposed to think about it. For this is protocol service. All the same, after all, no matter how fond of Vladimir Putin 21st "Volga" (he had as many as two), and ride it, he can force a couple of times a year in the country. In the remaining 363 days Protocol commits move in an armored Mercedes, and the passenger. This armored monster difficult to love, but can not be helped ...
Same thing with the clock. Perfect, classic, but reserved to asceticism watch Patek Philippe Annual Calendar, as well as some of the models Breguet Classique can respect, admire the hidden mechanism under the dial or, finally, invest in them, but they are hard to love. Just as it is impossible to love a ceremonial or formal tuxedo suit. Well, not in their aesthetic perfection Cartier, sporting luxury Audemars Piguet, charm and humor Corum, cheerful glamor Zenith or grotesque power and charisma Panerai. But if the president of the largest country in the world rely on the status of wearing such a watch, he is forced to wear them. Well, at least Patek, and not, say, $ 10 Timex, which throughout the twentieth century had the title of the official hours of US presidents, and they wore them as pretty as they symbolized the economic patriotism and closeness to the people. Similarly, she is wearing a gold watch "Flight", Boris Yeltsin. Only the first and last Soviet president, Mikhail Gorbachev, to try to maintain the image of a progressive western counterparts a new wave of politics, allowed himself such liberties, such as the signing of the agreement in Reykjavik fateful end of the Cold War in an elegant ultra-thin Longines Les Grande Classsique.
Putin was very lucky that he led the country at a time when the hour culture in Russia began to develop rapidly and formed a definite etiquette hour. This allowed the second president of Russia, not really who liked to watch that in the end love them. Starting with the classic protocol Patek Philippe and Breguet, Putin soon discovered A.Lange & Sohne - German brand upmarket with a purely German (read classic) design. Starting with again with the most low-key model of A.Lange & Sohne 1815, he soon became the proud owner of a remarkable model Tourbograph (winner of the Grand Prix of Geneva 2006). The company from the German town of Glashütte is famous not only because it produces watches exclusively in the case of precious metals, but also amazing decor and careful treatment mechanisms. The Germans even attached to each his powerful magnifying glass clock with a multiple increase in the owners can watch at your leisure to admire the hand-decorated platinum and bridge mechanism, and at the same time ensure their integrity. I think that Putin once, but still followed the advice of the Germans. And, of course, what he saw he could not help but admire his, and indeed every man, indifferent to perfect the technique. From that moment, perhaps, Putin became interested in the clock really.