As stated in a famous Russian proverb, alien soul – darkness. And it is really so, because each person is an individual; everyone has their own unique set of personal qualities and characteristics; each person has their own tastes, interests, desires, worldview. And today to explore the individual characteristics of the person there is a huge number of various tests, questionnaires, questionnaires and other tools. They may have a completely different focus, to learn the identity of every individual with the maximum number of angles. However, if you do not bind to any specific field, we can say that the most popular and interesting are surveys and questionnaires that characterize the inner world of man, reveal the specifics of his world view, etc.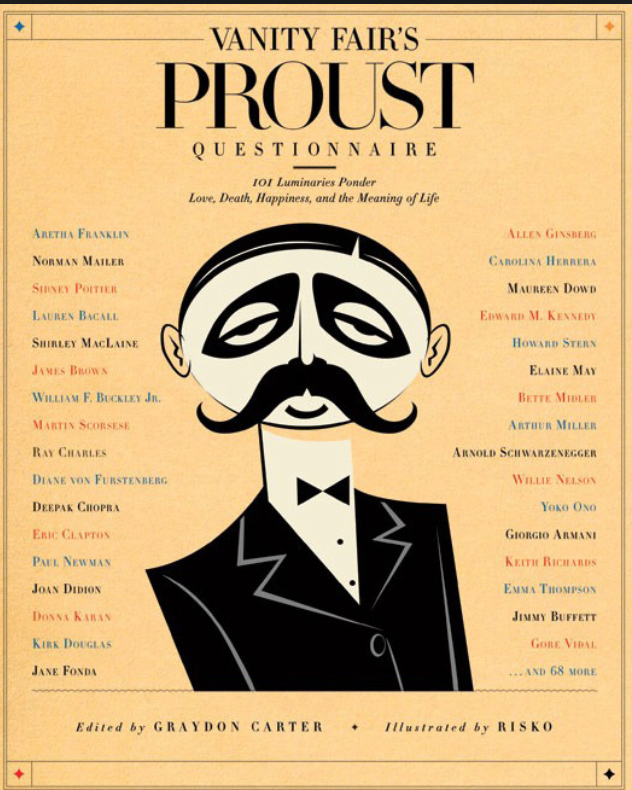 Know what sets the other person from the rest, always interesting. And always has been. It is possible, do you remember the time when friends of the boys and girls (and maybe even you) have invited each other to visit and were asked to fill in a self-made questionnaire, representing a conventional notebook, on each page of which were written different questions. To answer these questions, it was quite a fun pastime, and familiarization with the results of this "survey" brought a lot of fun and positive. But, of course, it is also allowed to learn about my friend a lot.
But such questionnaires were popular not only in Russia but also in other countries of the world. A special attention among all these forms deserve the questionnaire or as it is called, the questionnaire of Marcel Proust. And next, we'll tell you why, but first let us say a few words about the man named Marcel Proust.
Who is this Marcel Proust?
Marcel Proust was a famous French writer, novelist and critic, one of the brightest representatives of modernism in literature. It gained its popularity thanks to the seven-volume epic titled "In search of lost time", which gained fame as one of the most significant works in world literature of the XX century. Many people think of Marcel Proust's a truly brilliant man. However, in addition to his literary works, also contributed to the history, linking its name and form, which he filled and about which we are talking in our article.
A brief history of the Proust questionnaire
In the Victorian era (1837-1907) in England began to gain popularity unusual parlor game, the meaning of which was to answer some questions in a special album called "an Album to record thoughts, feelings, etc." This game quickly spread throughout Europe and for a long time remained relevant among the representatives of different social strata. Among people who responded to the questionnaire, it can be noted German philosopher Karl Marx, the French actor Gerard Philip, the American writer John Updike, the Soviet Director Andrei Tarkovsky, American scientist Arthur Heller and other famous people.
But the questionnaire certainly be forgotten if not for Marcel Proust, famous for her own answers. In the late nineteenth century, when Marcel Proust was still in his teenage years, complete this survey he suggested his friend Antoinette, the former the daughter of Felix Faure, President of France, 1895-1899. And it answers hero of our article were considered and still are considered the most original of all, the questionnaire is, in fact, called "Questionnaire (or a questionnaire) of Marcel Proust", and also became famous around the world.
Marcel Proust answered the questionnaire several times in his life, and each time he did it with great inspiration and enthusiasm. Up to the present time, safe and sound came only two questionnaires that he filled out: one is dated 1886 and, therefore, were filled with Marseille at 13 or 14 years old, and another in 1891 or 1892 year (no exact data), that were filled with short-story writer when he was 19 or 20 years.
To date, the questionnaire of Marcel Proust does not lose its relevance. Answer it was offered and invited a huge number of people, although agreeing on this is not all, considering it is simply inappropriate and stupid or even calling these activities a "spiritual Striptease." But most people certainly do not see in the questionnaire nothing wrong, and happy to answer her questions. This may say at least that in 1969, was even created a special album answers "a Hundred French writers answer the "Proust Questionnaire", the originator of which is a French literary critic, Lyons Paar. And here's another interesting fact: almost every Russian resident well-known TV program "Pozner", the leading of which is Vladimir Pozner – at the end of each issue the facilitator invited guest to answer some questions from the questionnaire of Marcel Proust.
The answers to the questionnaire help to know not only the tastes, aspirations and beliefs of other people, but also their own. For this reason, we invite you to answer the questions of the questionnaire of Marcel Proust.
Below are two versions of the questionnaire: the first version is dated 1886 and contains 24 questions and the second 1891/1892 year and contains 31 question. These are the questions answered in their own time Marcel Proust.
The questionnaire of Marcel Proust, 1886 (24 questions)
What virtue do You value most? Quality You value most in a man? Quality You value most in a woman? Your favorite hobby? Your main feature? Your idea of happiness? Your idea of misery? Your favorite color and flower? If not yourself, who would You be? Where would You like to live? Who are your favorite writers? Your favorite poets? Your favorite painters and composers? What are the vices You feel forgiven? What are Your favourite literary characters? Your favorite heroes in real life? Your favorite heroines in real life? Who are your favorite fictional female characters? Your favorite food, drink? Your favorite names? What are You disgusted? Which historical figures cause Your the greatest antipathy? Your state of mind at the moment? Your favorite saying?
The questionnaire of Marcel Proust 1891/1892 year (31 issues)
Your most characteristic feature? Quality You value most in a man? Quality You value most in a woman? What do you value most in Your friends? What is Your greatest weakness? What is Your favorite activity? What is Your dream of happiness? What do You consider the greatest misfortune? How would You like to be? In which country would You like to live? Your favorite color? Your favorite flower? Your favorite bird? Who are your favorite writers? Your favorite poets? Favorite fictional character? Favorite literary heroine? Favorite composers? Favorite artists? Your favorite heroes in real life? Favorite heroine in history? Favorite names? What do you hate most? Historical characters You despise? What is the point in military history do You value most? The reform that you appreciate highly? The ability that you would like to possess? How would You like to die? Your state of mind at the moment? What are the vices You feel forgiven? What is your motto? You can continue, so to speak, a tradition started in the late nineteenth century in England: create a personal "an Album to record thoughts, feelings, etc." and offer to fill it to your friends, acquaintances, work colleagues. You will surely learn about the people around you. And this, in turn, will help you make your interactions with them much more efficiently. Besides, the answers to the questions of the questionnaire of Marcel Proust is a fun and unusual activity that can lift your mood, create a positive atmosphere and favorable emotional climate. published  
P. S. And remember, only by changing their consumption — together we change the world! ©  
Join us in Facebook and in Vkontakte, and we're Classmates    
Source: /users/1077