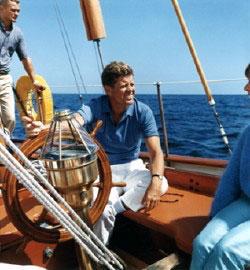 62-foot yacht the 35th US President John F. Kennedy "Minato» («Manitou»), which served for him, "the White House on the water" right up to 1962, put up for auction. The stated price is $ 1, 95 million.
A sailing vessel was built in the state of Maryland (USA) in 1936 and was used as a Kennedy on official occasions, and personal purposes. For the command of a yacht requires three experienced sailors and two other men to regulate the sails and tracking engine.
Along with having experienced at the time of communication equipment, the ship is also equipped with a furnace and a diesel engine. The boat is made of Philippine mahogany and is suitable for making the voyage, as well as for high-speed movement. Often, the former president traveled to the "Minato" with his family and foreign dignitaries, as evidenced by the many photos taken by paparazzi.
After the assassination of John F. Kennedy in 1963, the yacht was sold to the museum. A few years later it tried to buy out Aristotle Onassis and give his beloved Jacqueline Kennedy, however, the attempt was unsuccessful. In 1999, the sailboat has undergone restoration, and it was decided his future resale. We can only guess who will be the holder of such a valuable object of American history.