Today, even in St. Petersburg, the cultural capital of Russia, to meet a man with a book almost as hard as a bear with a balalaika. Worried about this fact Petersburg writers of creative group "sugar, 1kg" found almost the last remaining specimens of a rare species "man reading» (homo litteratus) and applied to the Zoo of St. Petersburg with a request to take under the protection of the rare social animals.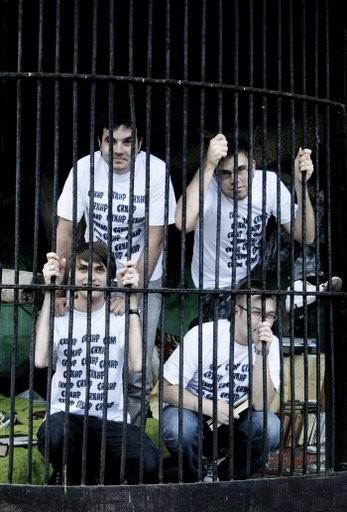 Zoo administration has met Petersburg intelligentsia, resulting in over the weekend zoo visitors were able to see firsthand the four people who read for bars of the cage, courtesy of the temporary use of a bear baribalom.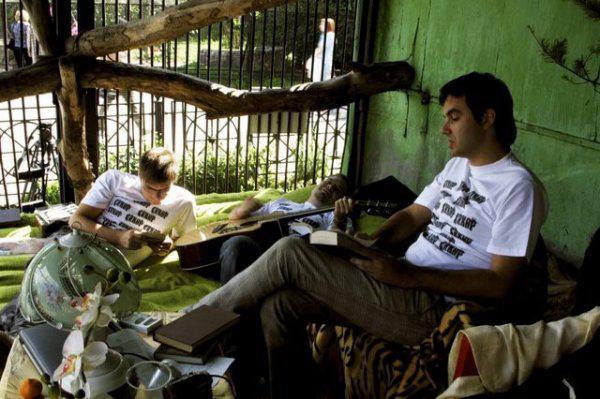 During the two days spent activists in the cell, there were many interesting events, public readings from the works of Kharms, Averchenko, Taffy, Dostoevsky, Blok and many other authors, and ending with the vocal and instrumental improvisation on the theme of famous literary works, and just any topics proposed zoo visitors, who, by the way, do gladly participated in various competitions and interactive entertainment, he proposed "voluntary zatochentsami." The most active participants were children. They were told by heart poems by Pushkin, Nekrasov, Agnes Barto, but it happened that, and of his own. Adults are fed up sitting in a cage writers bananas, biscuits, homemade cakes, Voznesensky, Tyutchev and Nekrasov in his own performance, and promised a must-buy on the way home some new book in the home library.