In addition to the cloning of foreign aids Chinese manufacturers produce and self development.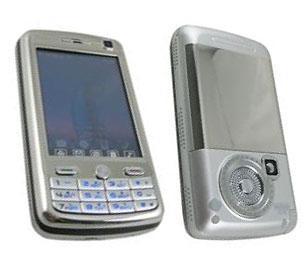 The device with index F838 is a side-slider with QWERTY-keyboard, but unlike clone XPERIA X1 this unit boasts an "independent" appearance. F838 is equipped with a 3-inch touchscreen display with a resolution of 320x240 pixels, 1, 3-megapixel camera and FM-tuner. The phone can play audio in the background and display the lyrics at the same time playing. Built-in memory can be increased up to 2 GB using a card format microSD.
The dimensions of the device are 114h40h22 mm and weighs 180 g per battery charge lasts for 3-5 hours of talk time or 150-350 hours of standby time. It is worth noting an interesting feature that allows password-protect access to text messages. Worth F838, as well as other traditional Chinese phones cheap - only $ 168.