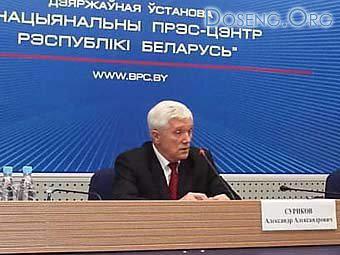 Alexander Surikov. Photo from belarus.mid.ru
Russia does not understand the position of the Belarusian authorities in the Georgian-Ossetian conflict. This, according to "Interfax", said Tuesday at a press conference in Minsk, Russian Ambassador to Belarus Alexander Surikov.
"We do not understand why the state authorities of Belarus kept modest silence", - Surikov said, adding that for the time of escalation of the conflict with the Belarusian side took place only "proposition minor official Foreign Ministry." "The more clearly we must be expressed on such issues, the more allies, "- said Surikov, noting that Russia has always supported Belarus, that when there are difficulties in the international arena.
The ambassador also expressed his regret that the Belarusian side has not yet received proposals for humanitarian assistance. In this regard, Surikov reminded that Belarus and Russia are building the Union State. Thus, the "Russian citizens caught in a humanitarian catastrophe, they are also in some way the citizens of Belarus", - believes the Russian diplomat.
His attitude to the latest developments in the conflict zone, unlike Belarus, has already expressed by many countries of the former CIS. In particular, its support for Georgia, said Ukraine, Latvia, Lithuania and Estonia. They have accused Russia of aggression against a sovereign state.