Submitted by phone SUV Motorola Renegade V950, which passed all tests for compliance with warriors - 810F. Now there is an official confirmation of the fact that the gadget is really not afraid of rain, instability, vibration, shock, dust, and so on. D. Motorola Renegade V950 uses Qualcomm QChat, converting CellPhones into the radio.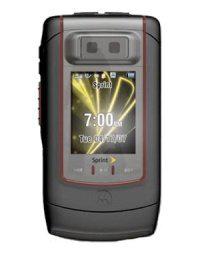 There is also support for Sprint Mobile Broadband service and Nextel Direct Connect. Provides access to Sprint Navigation (3-D maps, voice control), Picture Mail (photos and videos - receiving, storing, shipping network), Sprint TV (watching movies, clips and movie), Sprint Radio (access to more than one hundred radio), Sprint Music Store (download tracks). Against the background of shockproof looks all good.
The new model, Renegade V950, having a camcorder, camera (2MP) and Bluetooth, will be sold only in stores with Sprint for 123 dollars, subject to a 2-year contract.