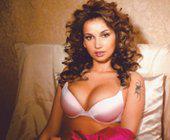 Actress and TV presenter Anfisa Chekhov very surprised, having received the other day from his aides pack photos with your own image. And everything is nothing, but only telediva imprinted on them in the nude, writes "KP».
It turns out, candid shots were printed from one of the Internet sites. The pictures aroused great interest among Anfisa, which paid tribute to the skill of "photographers».
- Everybody wants to see me naked, but because I did not show, people start to dream and make these pictures in the "Photoshop" - said Anfisa.
Admittedly, some "works" have been carried out at a very high level and it is difficult to believe that this is just a collage. However, after looking closely, you can find differences between the fake and the original.
In recent years, the Internet flooded pictures of naked celebrities. Most of these "masterpieces" - fake, made by a variety of computer programs (usually in such cases, use frames with popnosaytov to which "glued" the head of celebrities).