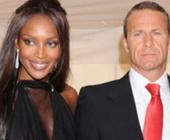 Yesterday evening, "Black Swan" (the so-called Naomi Campbell in the West) sailed to Moscow. Together with her fiance, handsome tycoon Vladislav Doronin famous model to celebrate the birthday of his daughter's godmother. The best opportunity to meet with the relatives of the bride before the wedding to come not come up with would seem, God himself.
Relationship
Over the past year, Moscow has become a second home for Naomi. Two years ago, "Panther" Russia knew of the cobblestones on Red Square and down pillows, in a hotel, now she knows the Russian capital as their own. Thus changes in her life, she is obliged to wealthy fiance Vladislav Doronin. Every month they prove conclusively that will soon become one family. Yesterday tycoon decided to introduce tall friend with relatives. The historic meeting took place on the birthday of his daughter Lisa's godmother.
Restaurant
Festive party was held in a cozy little restaurant in the heart of the capital. Usually imperious Naomi behaved like a submissive captive. Captive charm Doronin, which melted the ice in the heart of Campbell's final.
Despite the fact that the guests celebrations spoke in Russian, the model was able to find a way to express themselves and to be "on the same wavelength": Naomi, along with all got up when he says toast, laughing, even if you do not understand a joke, but I saw that it was time to laugh and in general, he was in his element. Probably the ideal atmosphere in the restaurant created heroes "Our RUSSIA», who attended the birthday party as guests of honor. Jokes and Ravshan Dzhumshut translated for Campbell groom.
Holiday
While the adults had fun, birthday girl Lisa enthusiastically sorting out gifts. "Aunt Naomi" gave the young lady a Barbie doll, and how she did it! Looking at how the 38-year-old fashion model looking at the baby, it became clear that her statements about a possible addition to the family is not just empty words. Stars do not just accept that she really is ready for family life and finally wants to have a baby. But - after the wedding. As it became known LIFE.RU, it should take place in the summer of 2009. For Vladislav Doronin to put on her ring finger ring, it agreed to change the model of faith in the future to become Orthodox.