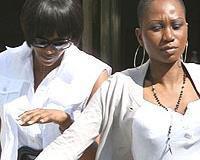 former assistant Naomi Campbell, supermodel that drove the scandal, committed suicide by jumping from a bridge in London, according to Sunday Mirror.
The body of 28-year-old Jade Bien-Aimee Sutherland was found on the bank of the Thames near the bridge Albert Bridge in south London last week. Last year in Los Angeles drove Naomi Jade, sending it back to the UK.
At the same time friends believe that the tragic step Jade also came death from pneumonia her best friend, 24-year-old Andrew Richardson. In an email she wrote: "Now he is gone, I'm all alone, my heart is empty, my life is empty. I do not think that is worth living after the loss of a loved ».
Jade was born on the Caribbean islands. Previously, she was a man, but then he made a sex-change operation. After Naomi threw her out in one of the blogs Jade wrote: "I was happy before you start to work for you, and now I have broken out of a job. During that Naomi? »
At the funeral of Jade Street Piccadilly Circus in London, along with hundreds of people who attended Sharon and Kelly Osbourne.
Naomi Campbell was repeatedly summoned to court for insulting and the use of physical force against their assistants and staff. A year ago the supermodel pleaded guilty to assaulting a housekeeper Ana Skolavino and was sentenced to a fine and community service, reminds NEWSru Israel.