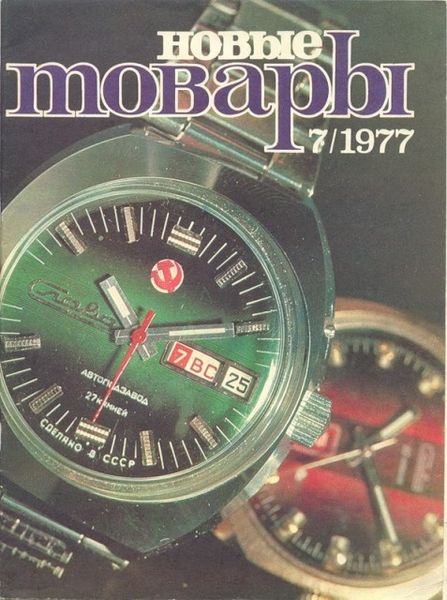 During Soviet times, advertising catalogs is not advertising as such.
They are available in a greater degree in order to show the citizens that we have made good quality items comparable with Western counterparts.
Catalogue 1977. On the cover of the clock & quot; Fame & quot ;.
Particularly ironic touches the hammer and sickle, and check whether Libya whether Jordan over it)))
Even the type of shit, to be honest. 27 stones. A lot or a little, good or not so few people understood, but usually joke that is missing two - one to put, and another swat.
The dream of the Soviet people were Seiko. They could not afford the coolest. Not only teneviki and crooks, but also laborers who worked in the North, who built the BAM ... A little less than quoted Sitezen and Orient ... But for most Japanese clocks were a whim something transcendental.
Attach the clock on the gnarled branch of a tree - a controversial decision))
Colour TV at the time were luxury pricey, but still in the free market did not linger. Deficit) Many people sincerely believed that the color TV watching is bad for the eyes, and in general more familiar black-and-white and pleasant.
These TVs can not display decimeter channels, however, in '77 they had never existed. This is now the 80th craftsmen soldered a special fee, and then you can watch several channels in addition to the two central. When the video appeared in the TV had to embed more and PALovskie decoders)
It is not bad GDRovskie cameras)
Students enjoyed shifts and Viliyami more advanced FEDami and vigilantly, very very steep - Kiev and Zenit ... Practice fotkali professionals who do not have enough money for Nikon and Canon ...
The shoes were disgusting quality. (However, as it is now)
Even Saratov))
I remember this fashion! As a schoolboy he wore purchased on the market are blunt, platform shoes and high heels, with the effect of fray. It is interesting that they are not sewn in the state. factory, and in which the shops ... I do not know what kind of organizational and legal form was. Maybe under the auspices of kombyta, which included the studio recording ...
They look much like the ones at the bottom
And here is one more fashionable feature - folding umbrellas. To pull or speculators could buy real Japanese - & quot; rose & quot; or & quot; Three elephants & quot ;.
Soviet just appeared, were not terribly reliable, instantly broke, and cost is also not cheap - 20 rubles. State price. This is currently two thousand ...
Portfolios diplomats were terribly scarce commodity. In fact, it was a dream ... At school they stole ... I remember my brother begged student-diplomat, and a few days went to school with him ... The main thing was out of his hand not to release)) They were made of leather or plastic. And that, and the other species were its fans. Inside the covers are often pasted photos of half-naked women or Vysotsky. Sometimes Dahl. Sometimes that Belmondo)
Source: soviet-life.livejournal.com.