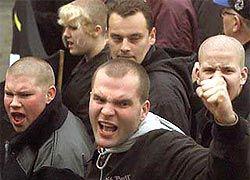 Russian pogrom going as found "MK", ​​arrange May 5 Nazis and their sympathizers. If you believe applies to their sites calls on this day not only planned the murder of foreigners, but also burning the Interior Ministry, the Federal Security Service, state institutions, offices of "United Russia".
"Kill them, blow up, destroy, smash, beat, mutilate, write on the walls of the calls, do anything that you see fit, but for the supporters is not idle !!!" Such a call spread members of the "Russian faith" - the initiator of the day pogroms. Date was not chosen by chance - this day is the 40th day since the death of the leader of this group of Maxim Bazyleva (Adolphe), who died under mysterious circumstances in the IVS at Petrovka. His colleagues want to bring to the streets of right-wing nationalists, football fans, the Cossacks, "single autonomy and other NAC projects and groups", so as to honor the memory of all those killed and other Nazi skinheads. And the Nazis are encouraged to violence not only in Russia, but also in Belarus, Ukraine and other "Aryan republic." "These things have recently taken away one, and for that we one day will take away a thousand! We have exactly 40 days to sharpen knives, dig and get the weapons to do more improvised explosive devices, prepared Molotov cocktails, to prepare mentally and speak with one wing for all supporters! You do not have to think about my future ... Russia will be Russian or lonely! "
One calls the nationalists are not limited. At the same time sent and instruction, how to choose the weapons and clothing, how to behave during the arrest and how to avoid it. How to hide if you were declared wanted in what part of the action to go ... According to the authors of the messages written Bazylev this benefit, but they did little add. Bazylev, incidentally, was involved in organizing the riots in the markets in Yasenevo and Tsaritsyn.
Information about the "day of vengeance" actively discussed and distributed among skinheads and nationalists. But it provoked a mixed assessment. Some leaders of legal organizations believe that such acts of violence are not necessary and will only hurt. Especially since there is no clear organization and purpose. On the streets, in their estimates, could only come drugged youth (indeed, this is enough for the mass riots), and those who called for terror, and then say that they had been betrayed, and even appoint the perpetrators failure.
Of course, aware of the upcoming stocks and security forces who have already begun preparing for the performance of nationalists.
Actually this statement is more like a provocation.
There is only one question: who needs this provocation and for what? Especially now, when taken numerous decisions on combating extremism and created the special unit in the power structures.
Maybe by the "right" is also time to look around and see who is playing with them in their games in the Internet space, fueling count the lively passion? Virtual soldiers are brave only in their blogs. A fall in the prison or those who simply have nothing to lose and are due to make heroes of the younger generation of skins (same Nikola Korolev or Arthur Ryno) or simply inexperienced boys.
So who could turn against the day of wrath? We've already had enough revolutions to understand what they bring.