Our road - the most road roadster in the world :))
In Vladivostok, on the site of the federal highway road builders "sealed" butt asphalt sheet metal bands.
Yes, what! Look further.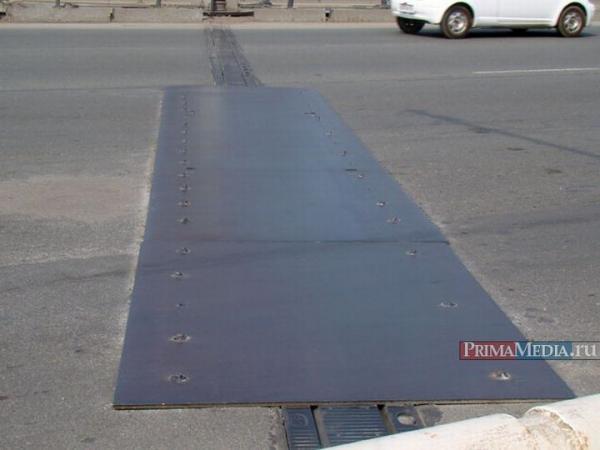 One of the sites Nekrasov overpass in Vladivostok became dangerous to traffic. Innovation continues seaside Road is not just a surprise, and frankly to hit motorists: whether schfignya departing from the coating, or "crumbling" concrete median barrier, or laying asphalt in the winter cold ... But another "new" threatened to "beat" all records ... (not I want to write "idiocy" because it is contrary to the standards of data journalism, but come to mind only the words interchangeably - Approx. Ed).
On the eve of road builders "sealed" butt asphalt strips on Nekrasovskoe overpass ... sheet metal. All anything, but only here Sheet "attached" to the roadway long bolts, with their "cap", seems to have remained at the bottom of the bridge. Nuts twisted top. Voznosyaschiesya above the nut part tried to cut off, but somehow very unfortunate. As a result: the sharp ends of the metal strive to break the wheels of cars. It should be no time to slow down - you have the perfect "opportunity" to break the wheel at least, at most - fly to lifelines.
Those who are already familiar with the "novelty" is located right side of the overpass in the direction of the city center, slows down, or riding an iron structure that instantly dubbed the "bed-cops" (by analogy with the American police). Such a fate awaits all bands or novelty will test only one? It is still unknown.