This is such a terrible tragedy occurred in our city.
When firefighters arrived, the building was completely on fire, an eerie sight.
According to the inspector, "the cause of the fire in the building of" Europe "was a violation of work safety regulations when drying of a heat gun, running on gas from cylinders, concrete floors indoor concert hall on the second floor." As a result, leak of gas from one cylinder. "The first explosion of the gas-air mixture explosion provoked others were in the room at least three gas cylinders, eight cylinders unexploded had to extinguish the fire brought to the street" - said Latypov. The explosion issued outside masonry building, which is almost completely burned, the supporting structures prevail, he said.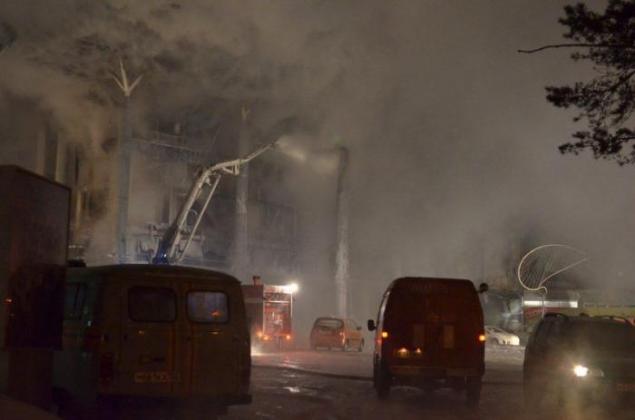 "When extinguishing a fire in the entertainment center" Europe ", which was awarded the third category of complexity on a four point scale, all services worked harmoniously, peacefully, their actions are evaluated positively," - said also participate in the briefing, First Deputy Head EMERCOM of Bashkiria Valery Khisamutdinov. He noted that the construction work, which led to the fire, were unauthorized. The leaders of the republican Ministry of Emergency Situations reported that in view of the need to ensure the fire safety of people in all entertainment centers in the region, despite the frequency of change of ownership of these objects, they are going to "decide together with the Prosecutor's Office of Belarus on measures to oversee this aspect».
Fire in the entertainment center "Europe", located at the intersection of Prospect and Shafiev October occurred in the evening on Saturday. During the suppression of the body was found 35-year-old man, according to preliminary data, one of the builders. One of them was taken to the burn center. The second victim of the fire was 17-year-old schoolgirl. Total medical help turned eight. Upon the death of two people Main Investigation Department of Ministry of Internal Affairs of Bashkiria criminal case.