Twenty one million two hundred thirty thousand one hundred forty one
Person production hunting and fishing, Hiking and airsoft/paintball and appreciate the convenience of not restricting the movement of clothes, even in the rain, perfect rain coat raincoat military brand HelikonTex. Being a famous manufacturer of tactical clothing, developed in Poland, Helikon Tex since 1983, supplying uniforms and equipment to the armies of the state and the UK security services, police, security structures and those of other countries. All manufactured brand clothing is manufactured in strict compliance with APCU (specification of the US army). For some time, given the high demand, Helikon Tex extended range due to the line for active rest and tourism.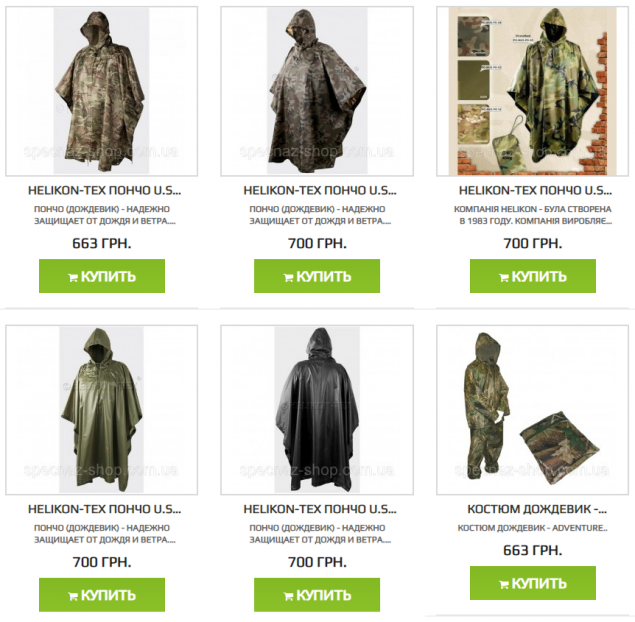 Reliable and versatile protection from dodecanesulfonyl in the form of a poncho raincoat rain cover military Helikon Tex has a number of advantages, consisting of:
reliable protection from rain and wind;
the versatility (using the strong buttons to make the sleeves or use as a small tent with parameters 210 x 145cm);
compact (14 x 22 cm Packed in a special pouch) and the lightness (weight manipulatearray);
eligibility for shapes of any type.
Full impermeability and protection from moisture of rain gear-a poncho is achieved by careful prodlennost seams, equipping the hood with cord-tie allows you to adjust the size of the openings to the face of isei. Ergonomically placed buttons allow you to achieve practically to the solid construction of the sleeves.
In addition to use in a tent, raincoat, due to the rectangular design and the presence of corners brass grommets can be turned into an individual tent.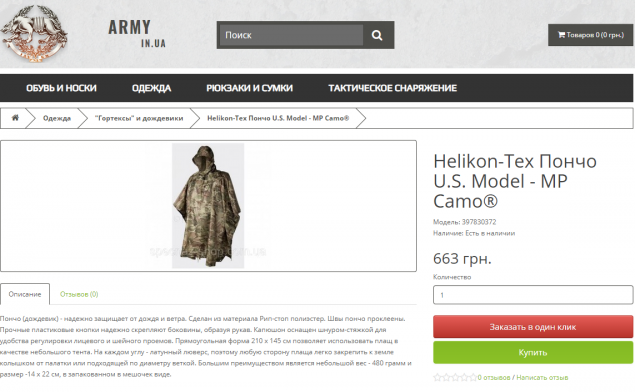 Material with unique svojstvima good design, the rain coat raincoat military in the form of a poncho differs from another, and the manufacture of ripstop, fabrics of combined weave on the basis of polyester reinforced with durable nylon thread.
Developed at the time by the order of NATO, ripstop features:
exceptional strength resdir(even appearing on the canvas hole not spreading, not growing in size);
water resistance (moisture doesn't leak, dries quickly);
resistance to deformation, abrasion resistant;
breathability;
immunity to UV light;
fire resistance.
In addition, the ripstop does not rot, the development of microorganisms that raincoat is very important. The fabric is resistant to dirt, chemicals.
Unlike their American counterparts, standing in 2-3 times more expensive rain gear-poncho, produced by Helikon-Tex is characterized by a quite reasonable price, adequate to its quality characteristics. His purchase will be a rewarding and profitable purchase, allowing you to feel comfortable in any weather.