Three million seven hundred fourteen thousand five hundred thirty six
If we talk about bathroom, then it is more other rooms may be exposed to moisture. But, the bathroom should be kept clean. Bath is the place where we carry out hygienic procedures. Before beginning repairs, you need to do waterproofing. This is an important step that will protect walls, floor and ceiling of the fungus. When planning a bathroom design, the first step take care of technical aspects, and only after that, think about the interior. If we are talking about bathroom design 5 sq. m, it is especially important to consider not only waterproofing, but also good ventilation.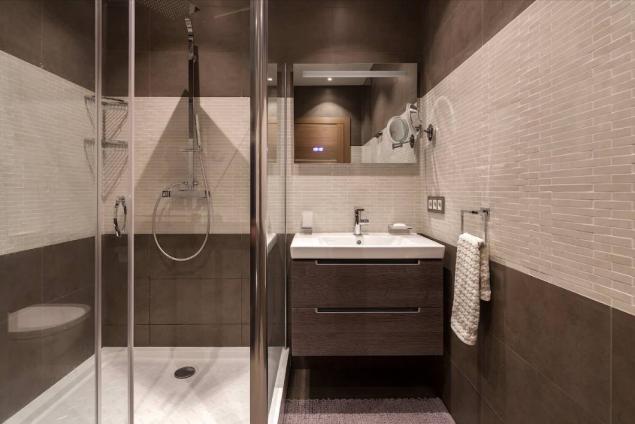 Waterproofing the bathroom: everything on the shelves
After removing the tile, the surface of the walls to make smooth. Then, decide which material for the cladding you'll use. It can be tile, drywall or simply painting.
The next stage is the purification of stains from paint, varnish and dirt. Now, start priming the wall surfaces. Before you put the waterproofing layer should be applied as a wall primer. Note the junction between the wall and the floor. Glue the sealing tape or nail strips that will close the gap. Now you need to prepare a mixture based on cement. You can buy a ready mixture. Waterproofing mixture should be applied quickly, the solution does not dry.
There are certain rules and regulations for application of waterproofing. In the bathroom should not be too cool (below 15*C, With a humidity of 60%. Bitumen waterproofing does not look very presentable, but it is best to work material. It is sold everywhere today. After applying the sealant, wait until dry. The excess cut off with a knife and sand.
Once you have finished working with the walls, you can go to work on the floor. If you are going to oblitsevat bathroom tile, then you have nothing to fear. First floor should be aligned. If you want to fill the entire surface, you can use a self levelling compound. They contain special additives. These floors will dry out already 45-60 minutes. Before laying the tile install waterproofing. Before heading to the store for tiles, it is recommended to glance at a review article https://www.gd-home.com/sovremennyj-dizajn-plitki-v-vannoj/, which features photos of finished projects. What does it do? In order to clearly understand what kind of interior you want to see the result. The ceiling in the bathroom also need to be put in order. A veneer ceiling tiles. But, there is another option is painting the ceiling with latex paint. Latex paint is well washed, and the ceiling will always be in order. Before that, zashpaklyuyte all the seams. For this it is necessary to use a spatula.
The bathrooms are two kinds of waterproofing: waterproofing and pasted. Covered look is better. After you have applied waterproofing, you can continue to repair. When you have completed all repairs to the walls, ceilings and floors, you can install plumbing.