If Tony Robbins told you to jump off a bridge, would you do it? Marc Benioff did. He jumped.
Benioff first discovered the self-help guru at the age of 28. The budding entrepreneur worked in a large Corporation, when I started to watch tapes of Robbins and attend his seminars. In the end, a few years later he gave Robbins its decision about the launch of Salesforce, a large company in San Francisco worth $ 6.6 billion.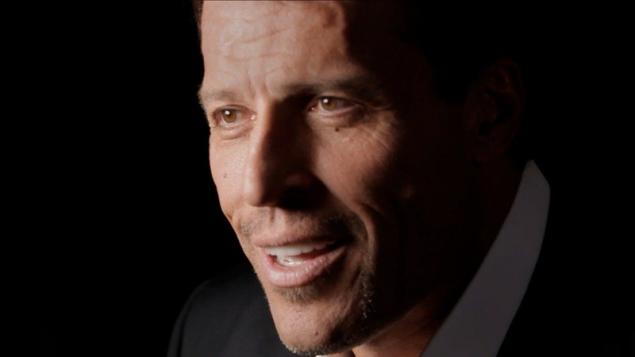 It is not uncommon. Robbins boasts a network of celebrity clients, and some of them, including Benioff, has outgrown the relationship of teacher and student and became friends.
In July 2012, when Benioff was vacationing with four friends at the Robbins Namale resort in Fiji, Robbins decided to show them something in the middle of the night. He dragged them into his jeep, drove to the bridge and then sharply slowed down in the middle. Downstairs rumbled the river. Robbins said that they all jump to face face to face with their fears.
"I was afraid and nervous. recalls Benioff on how looked down on the raging torrents of water. – I do not understand what is happening". But he still jumped.
Robbins waited until they were in the water, to warn them of poisonous snakes. Soon after, Benioff saw one of them swimming next to Robbins.
"It seemed that Tony didn't care about snakes. says Benioff. – But not for me".
What for some might be a reckless game on "low", for Benioff, it was a learning moment.
"Tony turned that night in the workshop, he says, explaining why high-ranking leaders, politicians and stars retain the Robbins room at the top of your contact list. Tony realizes
the only thing keeping you focus on what you want is fear."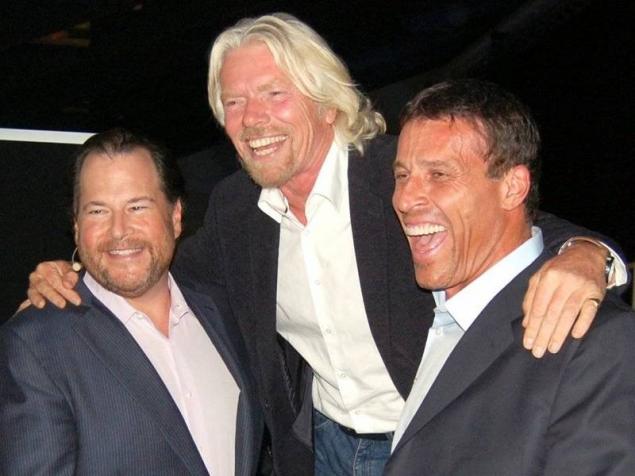 This was the main message in a long career of Robbins. It can be one of the most ancient wisdoms of leadership, but when Robbins says, people listen to it and have been doing it for 30 years.
"When no one is sure what to do, and there's someone who knows exactly what everyone will pay attention to it,
says Robbins. –
One who is full of confidence, even if wrong, will lead other people."
An extraordinary power of persuasion Robbins and the rapid development of the brand with a popular campaign developed into a company Robbins Research International, the Empire of life coaching, which includes an impressive publishing business (sold more than 15 million books worldwide), the business of publishing audio courses (sold more than 50 million programs), certification life coaches and seminars for which participants have to pay 8,000 dollars to be in the room with people the same as they are.
However, his business Empire is hardly limited to self-development. He effectively used the significance of his personality and relationships to create a diverse structure of business, construction and extensive investment in the company for asteroid mining, credit card, hospitality, food additives, private equity, sports teams, prosthetics by using 3D printing, and recently in asset management.According to estimates Robbins, he was involved in 31 the company, 12 of them are actively managed, and they bring the total annual income of $ 5 billion.
In late July, Robbins was in Traverse city, Michigan, at the film festival to attend the screening of his latest project, a new documentary from Netflix called "Tony Robbins: I am not your guru." Back full two meters tall (204 cm) on the couch in the hotel room, Robbins shares the most important part of the business advice he gives clients, he became a master.
"There are always two of the business, must be able to manage,
says Robbins deep baritone. –
Have a business that you are doing now and have a business that you develop.
If you only manage the current business, then you will be demolished by the new technology or new competition. But if you consistently run these two businesses, you will not need to go or to turn, because you have always something to invent or change, or improve".
In other words, the man never stops.
But many people do not stop. Many people successfully do business. Many people offer sensible and insightful response. But none of them can force the General Director of a multibillion-dollar company to jump in the middle of the night in a river full of snakes.So why is it Robbins?
The whole business Robbins constructed on its persistent assertion that everyone can learn to be confident, but in fact confidence will be his native element. In 15 years in Glendora, California, he decided to write about sports, when not managed to get into the basketball team. But instead of taking lessons on the letter, Robbins printed business cards, calling himself a sports journalist. By the 10th grade, he made interviews with the prominent figures of the sports for the local newspaper, including sports commentator Howard Cosell, football coach Ohio state's woody Hayes and baseball Hall of fame Tommy LaSorda and Leo Durocher.
It was clear he was created to be a source of daring antics. In 1975, Robbins wrote in the newspaper of The Azusa Herald article
"PRIDE!
":
"The word that symbolizes the strongest emotion known to man. It's proven to be nothing like it. It can change everything!".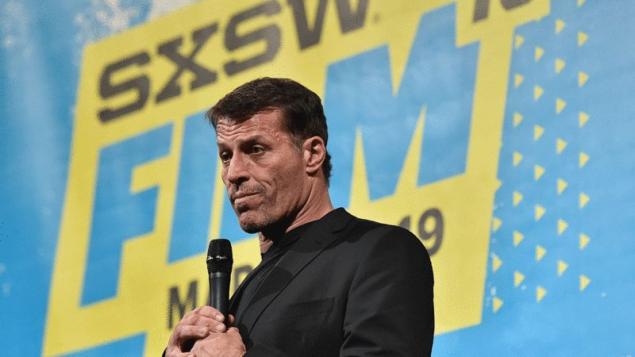 Robbins said that at 17 he attended a seminar lecturer on motivation Jim Rohn. Soon he got a job selling seminars Rona, and it was then that he realized his professional calling. His difficult childhood, which included an endless stream of stepfather, an alcoholic mother who ran after him with a knife in his hand, and the period of homelessness, creates a fascinating origin story, the story that he is still emotionally lashes out at his seminars, after decades.
One of his first clients, who praised Robbins, was a young swimmer who won gold at the Olympic games 1984 in Los Angeles. Mike O'brien was presented to 24-year-old Robbins after he came to the us swim team. The swimmer and his teammates met with a number of sports psychologists, and sessions with Robbins as he spoke, not so much different, except that physical physique Robbins.
"My height is 198 cm, and I felt tiny next to him, says O'brien. – He exuded so much confidence that even without words he seemed to say: "I believe in you. You have the potential to succeed". And you start to believe it." However, in our days, O'brien is more restrained in his praise of Robbins: "I would Describe his influence on me as a cause for winning me a gold medal? No. I would describe it as a useful tool? Possible."
However, it doesn't matter to Robbins. It is more important than their own state. His morning begins with a swim in the small pool at a water temperature of 13 degrees. Before you go on stage, he jumps on a mini trampoline and also performs another ritual for 30 years: "I'm a little warming up to get my body in good physical shape, and then say to yourself: "I now command my subconscious to guide me to today to help the greatest number of people."
All it's important to Robbins, because the monitoring status is the basis of his training, which he taught for three decades.
Many of his most-quoted "spell" laid out in the same main message:
the fear of holding back.Confidence forces you to go forward, to live life fully, to act passionately and to make an effort.
This message has attracted big businessmen who pay him a stunning million dollars a year for personal coaching. His clients include Peter Guber, Chairman and CEO of Mandalay Entertainment Group, and talented financial trader Paul Tudor James. Huber, who was trained by Robbins in the course of two decades, and which became one of his closest friends, calling his advice the revelation. "I had a lot of devastating and painful setbacks in life," says Huber, noting that Robbins "helped to overcome them and then move faster and more efficiently. I like the fact that I will not face the uncertainty, as it was before."
Robbins continues to expand its business environments, transforming high-profile clients in business partners. How he did it, is a method to create and desire for strategic partnerships.
"My first question is simple:
"How can I help?"
, explains Robbins your relationships with other people. –
When you do it all the time, it creates the relationship because you do not ask. All the time you give".
Customers who became friends, telling endless stories of meeting him at the end of one of his 12-hour workshops. Robbins had by this time tired of giving the same amount of energy that a nuclear power plant in a room with thousands of listeners, because he wanted to help with a project or problem, even at 2am.
"The secret to Tony that he recognizes their innocence-to-business transactions, says Huber. He works in business relations."
Ultimately, Robbins has created a profitable and efficient environment: the growth of his business and personal connections, he gained access to new ideas, opportunities and relationships. Since then, he and Guber had become investors in the franchise football League of the United States. Jones figured prominently in the recent book Robbins "Money. Master Of The Game." (Money: Master the Game).
Joe Berlinger, a documentarian, who was nominated for an Oscar, which typically exposes social injustice, was invited by Robbins at one of his seminars. Shortly thereafter, Berlinger made the film "I am not your guru", as a tribute to Robbins.
"When Tony's working with someone, he was glad of this, or wants to spend time and energy, or to invest their money, says Benioff. – It became to him an excellent financial strategy."
Tim Ferriss, expert self-development from Silicon valley and another fan, who became a friend, says that Robbins has lasted longer than other life coaches because he doesn't just give advice, he actually takes risks. "Most of them have no experience, says Ferriss. They never created real companies and not had to deal with senior clients at high rates". In the end, most of the guru it is easy to tell someone to jump in the raging river that is infested with snakes.
Another thing is to jump right in there with the others.
published  
P. S. And remember, just changing your mind — together we change the world! ©
Source: //vk.com/anthony_robbins_ru?w=wall-53757050_1037