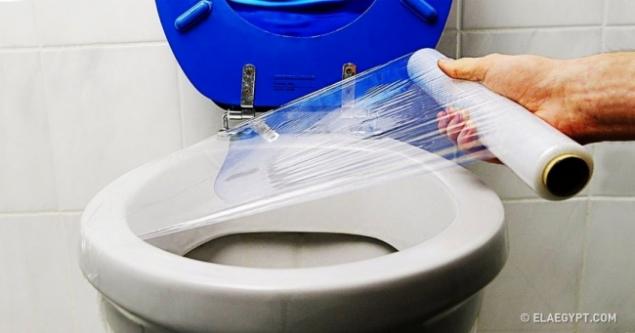 If you love to make fun of others and are waiting for April 1 to do it "legally", then this article is just for you. However, it will be useful to those who do not like: you will learn what you should avoid in Day of laughter.
So,
the Website
has found for you 13 pretty harmless, but funny pranks that you can do at home, at work or in the company of friends.
Caramel shower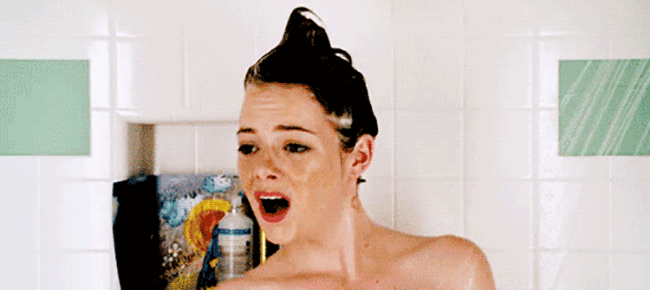 For this prank you'll need hard candies without filling. Early in the morning while your "victim" still asleep, Unscrew the shower head, enclose the candy and carefully screw them back in. Unsuspecting people will take a sweet shower, after which you will have to clean up again. But please do not practice this against those who are prone to allergies.
Apples surprise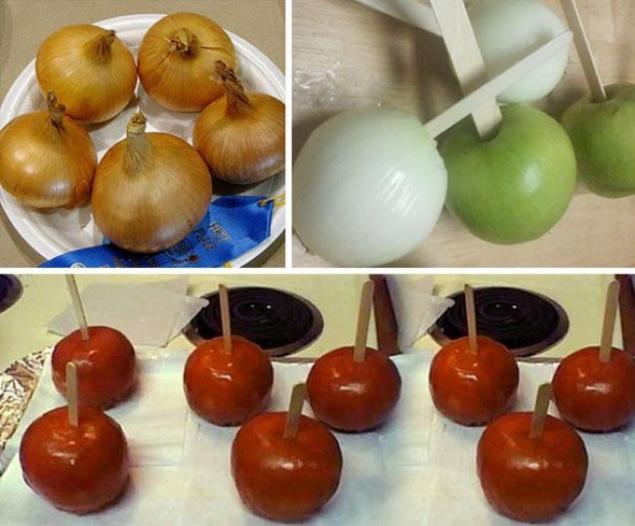 Bulbs, covered with caramel, the kind difficult to distinguish from apples. So, if someone on 1 April will offer you a "treat", it would be wise to politely refuse it. And if you're wondering how to make such "apples" themselves, here are the instructions.
Aquarium desktop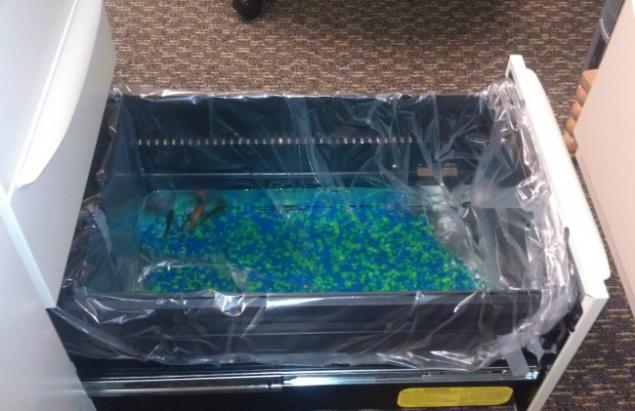 Your colleague dreamed about the aquarium? Help him to realize that dream — make up the aquarium directly into his desktop. To do this, wrap the drawer waterproof tape, put back the stones, add water and start a toy or even live fish if you are willing then to take care of them.
"Crash cake"
No, no, no, no firecrackers instead of candles or anything like that. For "explosion cake" will need a box of cereal, a balloon, duct tape and a generous portion of whipped cream or cream. All of this constructed a plausible-looking "cake" (how to do it, you can learn from this video) and ask the "victim" to cut it.
Donuts with mayonnaise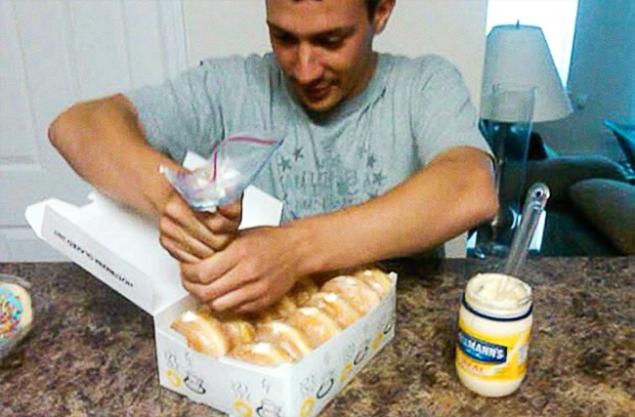 If your roommates like to enjoy your food without permission, April 1 — day to wean them from this habit. Buy delicious donuts without the filling and a jar of mayonnaise, and then with a cooking bag or syringe, fill the doughnuts. Leave the decoy in a visible place and wait for the greedy hands of fans of sweets will be drawn to the sickening delicacy.
The Bank with a drink which does not open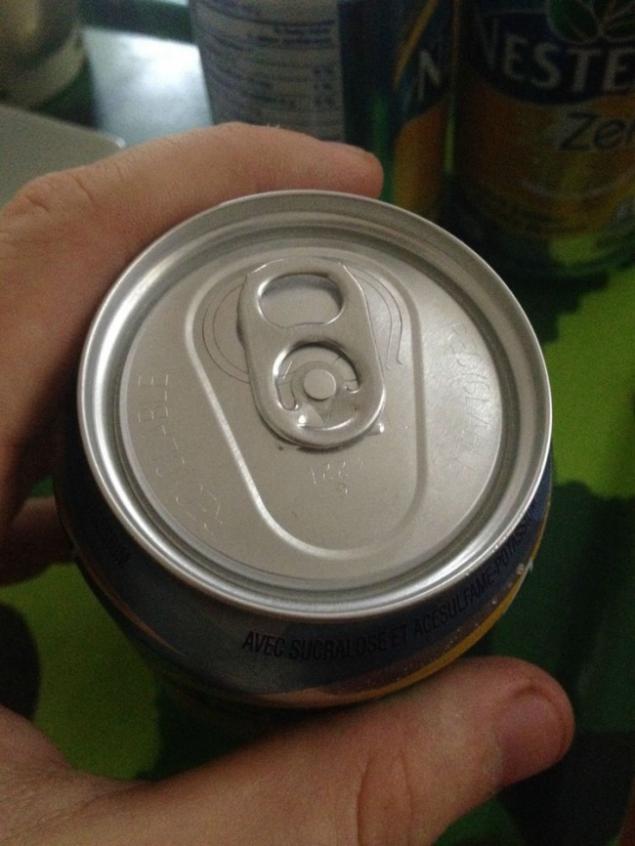 Buy a friend a coke or something stronger, tentatively turning the key so that the Bank would not open. Of course, the observant person will quickly guess what it is, but a bit of hard time still have.
Fake stash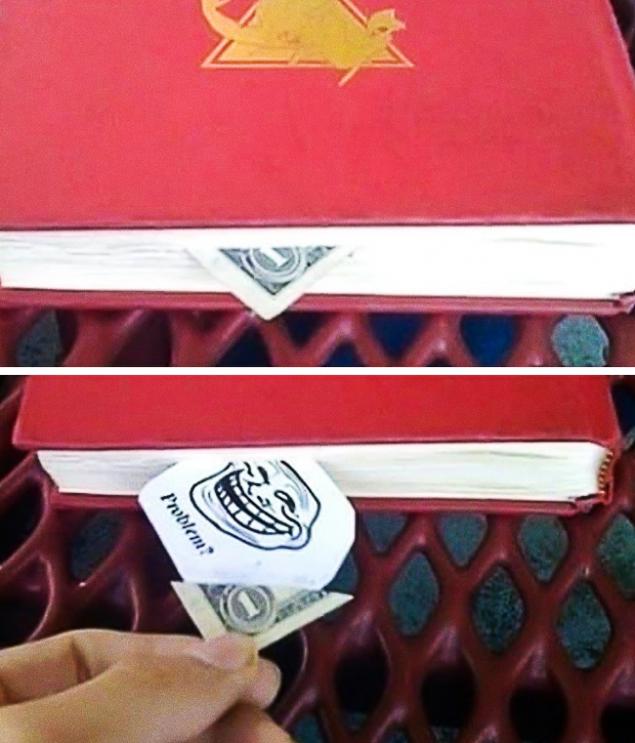 Know someone who has a habit of taking everything that is bad? Play it. Cut the corner off a bill (do not have to spoil these, you can use the "money" of the game set), attach to it a funny picture or a note put in the book and leave in a conspicuous place. Someone will be very disappointed!
Painted spider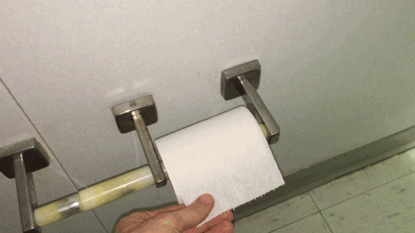 These creatures are afraid of most of us, so toilet paper with realistically drawn spider will certainly cause short-term horror of those who use it.
Nightmare on the ceiling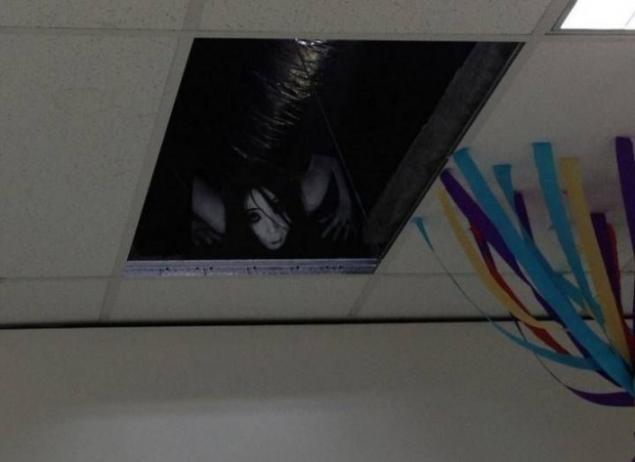 Many offices use hanging ceilings is the perfect opportunity to scare colleagues. Replace one of the ceiling tiles a terrible picture from the movie "the ring" or "the Curse" and wait for the cries of frightened "victims". But don't be surprised if you then beat the — we warned you.
A toaster with a "voice control"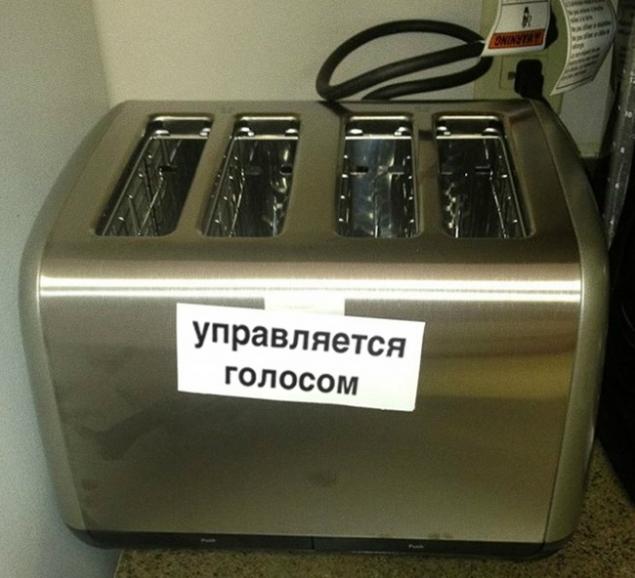 How it works: 1) Stick to an office toaster or coffee machine is a sign with the information that the device is voice-controlled. 2) Spend a fun morning watching those who fell for your bait and began to shout at the affected unit.
Animated printer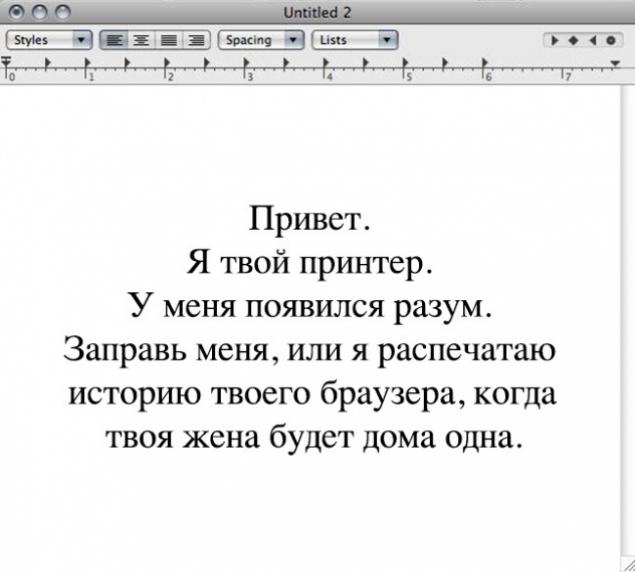 If your neighbor has got a wireless printer, but not thought about how to defend it from your intrusion, then send him on a print document will look like the author of the letter was himself a printer. Don't know about you, but we'd be surprised if peacefully standing printer suddenly "came to life" and printed this message.
A chair for the busy
If you for one reason or another there is an extra toilet and a colleague who constantly complains that he was "on the job go to the toilet once", then this drawing can be very useful. Do not forget about such details as toilet paper, air freshener and a toilet brush.
The toilet, which is impossible to use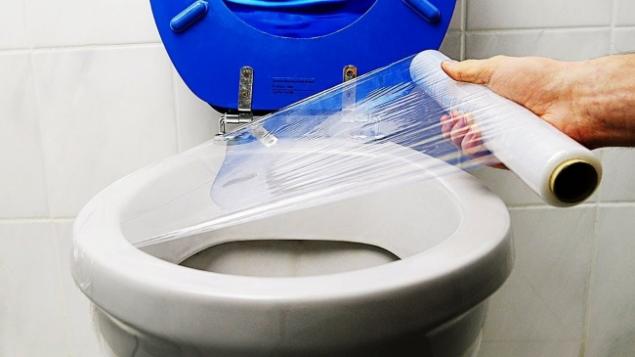 And finally, one of the classic "toilet jokes", which you can try at your own risk. For this you will need food film and, of course, porcelain friend. Fold the seat, wrap the bowl with foil, in several layers, back seat, and not the most attentive wait "victim". The result of the lottery will be a puddle on the floor and other clutter, to remove which, most likely, will make it for you.
Photos on the preview elaegypt.com
According to the materials of Bored Badger/ youtube
See also
15 brilliant jokes on April 1
20 brilliant pranks for April 1
10 pranks that happened on the set of cult movies
via www.adme.ru/tvorchestvo-kino/10-rozygryshej-proizoshedshih-na-semochnyh-ploschadkah-kultovyh-filmov-1397615/