As marketers have experienced an excerpt of people in the past year.
Absolute trend of advertising draws in 2013 has become a game on fear. Nobody asked whether you want to be scared of horror or not, and to avoid participation in the event was not possible.
Another popular way to attract attention was the presentation of the item as a prize in the difficult, but absolutely harmless test.
And last, the most enjoyable kind of drawing, which became especially popular in preddeverie Christmas and New Year - is the giving of gifts in the most unexpected circumstances. Surprises were obtained so touching that brings tears to the eyes.
Here are the top 15 advertising draws the passing year, each of which - a masterpiece of its kind.
15 video via adme.ru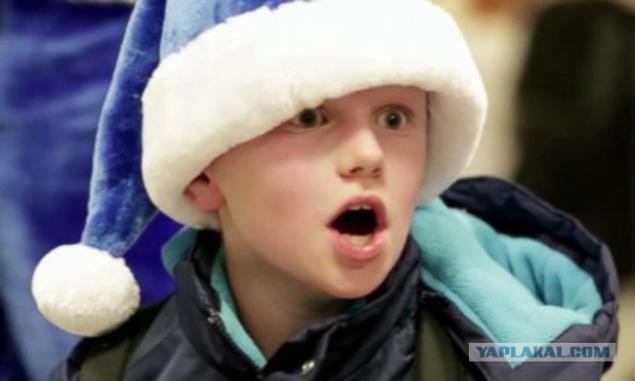 1. To promote the film "Telekinesis" (a remake of "Carrie" in 1976) in a coffee shop in New York staged a macabre joke. Visitors cafes, going in the morning with a cup of coffee, obviously did not expect to see there furious medium, creative real magic.
Posted in [mergetime] 1387950455 [/ mergetime]
2. LG in his drawing decided to move all the boundaries of the possible, create a real end of the world. Imagine, you come to get a job, quietly sit down on a chair and then the world begins to crumble before your eyes.
Posted in [mergetime] 1387950501 [/ mergetime]
3. In the run-up to Christmas airline WestJet has presented its passengers an unforgettable surprise. Maybe you will cry with joy and emotion
Posted in [mergetime] 1387950548 [/ mergetime]
4. The PSA safe driving can kill a man before he sits behind the wheel. The British Ministry of Transport and London agency Leo Burnett used shock tactics in the campaign against drunk driving. Scarecrow called Pub Loo Shocker, that is, "Shock in the toilet bar».
Posted in [mergetime] 1387950597 [/ mergetime]
5. Applicants wishing to participate in an internship in one of the departments of the company Heineken, instead of answers to common interview questions had to do incredible things
Posted in [mergetime] 1387950720 [/ mergetime]
6. Marketers beer brand decided to see what people are willing to go to help your best friend in trouble. Party raffle at three o'clock call his / her best friend and tells the shocking story. Allegedly he happened to be in the underground poker club, losing to the nines, and if one in a couple of hours will not bring 300 euros, the poor thing cover.
Posted in [mergetime] 1387950767 [/ mergetime]
7. The Agency viral marketing Thinkmodo arranged random people real test "for lice." To promote crime thriller "One less» (Dead Man Down), they rigged the murder scene and hidden cameras filmed the reaction of people.
Posted in [mergetime] 1387950799 [/ mergetime]
8. Visitors to World Fashion Centre in Amsterdam go to the men's room is clear for what purpose. Above the urinals installed multiple monitors with a harmless advertising. When the victim unzips his fly, the image on the monitor abruptly gives way (as if it tore from the inside), and the screen appears a beautiful girl who behaves as if he really is behind the glass and sees everything. "Do business" in such a situation - not an easy task.
Posted in [mergetime] 1387950837 [/ mergetime]
9. The manufacturer of funds for the care Nivea believes that the protection needs in any situation. Especially if, at the airport, all of a sudden you see your picture in the paper, then in the "special edition of the news", and then on the speakerphone Airport hear their signs. To top it all suddenly collapsed troubles appear cops ...
Posted in [mergetime] 1387950875 [/ mergetime]
10. The driver of the American racing series NASCAR Jeff Gordon (Jeff Gordon) disguised in shabby boom and goes to the store to choose a car and allegedly accidentally agrees to test drive a supercar, taking jar Pepsi with hidden hidden camera. Company in this test drive it is the unsuspecting seller who will remember this day for a long time.
Posted in [mergetime] 1387950908 [/ mergetime]
11. In the next drawing from the brewery all like a dream: a luxurious girl at the bar who loves beer and football, she starts a conversation with you. A few minutes later you see the offers along with it the Champions League final. In London. Flight 2 hours. Ready to quit?
Posted in [mergetime] 1387950948 [/ mergetime]
12. In the hall of the train station in Zurich installed machines that are able to win the smartphone Samsung Galaxy S4 or a substantial discount on it. To do this it was necessary for 60 minutes without taking his eyes to look at the smartphone in the machine. Thanks to Smart Pause the smartphone immediately gave to know if people look away from the screen.
Remain calm and focused was not so easy. Test constantly provoked sharp sounds and happening around, arranging for some integer representation.
Posted in [mergetime] 1387950980 [/ mergetime]
13. In advertising Adobe Photoshop famous photographer Erik Johansson in real time to edit pictures of people waiting transport. Funny experiment results are displayed on screen mounted in the billboard.
Posted in [mergetime] 1387951022 [/ mergetime]
14. Without performing boring taste tests, Coca-Cola decided to check whether people will notice the difference between Coca-Cola and Coke Zero.
After passer bought a jar of Coca-Cola in the machine, around the world began to change color from red to black. Few subjects noticed a difference as long as the jar in their hands, not too surprisingly turned black.
Posted in [mergetime] 1387951080 [/ mergetime]
15. Beer brand again experiencing people, figuring out whether they are ready to give up everything for the sake of a free trip to any country of the world.
Imagine you are at the airport, ready to go on a long-planned route. Suddenly, you are offered a free trip, but in an entirely different direction. What should determine roulette. And there is one condition: you have to go there right now.
All of them!
Source: