For 20 years the famous literary critic and public figure Marietta Chudakova deals with a special case, more precisely, makes the feat – delivers the necessary books for school libraries, meets with teachers, librarians and students in the most remote villages, lectures.
In Yekaterinburg Marietta Omarovna recently held a meeting with intellectuals and talked about whether to read to children about the persecution and why the boy at the age of 12 should know that it depends on the fate of the country.
Mariette Chudakova 80 years.
As war has helped education
– It was 1996, I was a member of the Presidential Council and a member of the Commission on clemency under the President of Russia. Was the election year. I was that was elected for a second term of Yeltsin, and not the Communist Zyuganov. Asked the assistant of Yeltsin, Georgy Satarov, telling him: "George Aleksandrovich, at me such idea: time is such an active presidential campaign, it would be good to members of the Presidential Council went to those remote places of Russia, where the President obviously will not fall, and something to help people." He said: "Great idea! And You know, what would You like to do?" I said, "Absolutely know. You know that since 1990, the rural schools have not sent any books, picking stopped. And for the last five or six years published what we, the intellectuals, had dreamed all his life: Mandelstam, Akhmatova, Pasternak, everything. I want to take these books to rural school libraries".
He started to do very well: I called the Ministry of defense, so they helped me – delivered me to the military Board. I chose site – Samara, Tyumen areas and the Republic of Altai. And I flew to Samara oblast, distributed to the book, flew to Tyumen, where I took books and in the military, abandoned deep in the birch forest, where no human foot tread. Then I Commissar called: "Come, we can't allow anyone – here birch trail rug, come get me mushrooms!"
Then I arrived late in the evening in Novosibirsk, and then to go to the Republic of Altai. Why in Novosibirsk, and not to Barnaul? Because the Barnaul did not take military aircraft. This was my third item, and I was on Board the last third of the load – 300 kg... it is clear that I could only work with the military Board and the Ministry of defence. I was met by a government Jeep, and I the entire night – 9 hours – went to the Altai mountains...
I was warned Satarov: "Keep in mind, Marietta Omarovna that your position – member of the Presidential Council above the Governor". I said, "I'm still, I'm always the same, to inflate the cheeks don't know how." But there before me was the Chairman of the local government was rolling because I noticed the town square was only a red flag; everything in government was for Zyuganov, but had to disguise that for Yeltsin. All were Stalinists (the farther in the boonies, so it was more).
And here we sit with the then Prime Minister, discussed the Protocol of my stay in the country. Suddenly reopened the door, there is a desperate young man's face: "You are the member of the Presidential Council?" "Yes." – "Are seventy of the Afghans." And this Petrov, he shouted: "Andrew, come on, we not that busy here, we draw up a Protocol!" I looked at the desperate eyes of the young man (and it was the Chairman of the Independent Union of Afghanistan veterans), all realized in a second and said, "Andrew, sit in the hallway and wait: we will make a schedule, and today I will meet with your Afghans." The Prime Minister did not want me to have met with "Afghans", but could not against me to go. One cheered, slammed the door, waited and then took me. So I met Andrew Mosin, with whom we travel since then in the country for twenty years. Later I learned that he was the best intelligence officer of the 40th army in Afghanistan.
This Union was then has its own room. When we arrived there come in was impossible, it was possible to choke, so full of smoke, and they drink, of course (I waited an hour and a half). Hands on the Desk with clenched fists...
Their first words were: "Marietta Omarovna, you are a member of the Presidential Council? Here are some commies in the government! Give us the guns, we have them crumble – and that's the end."
...When I got home and told my husband, he was horrified: "I can't imagine what you could answer?" Say, "Yes, well said, "Guys, you have the Supreme Commander?" – "Of Course – Boris Yeltsin!" – "Now – when the Supreme Commander will tell you to take the machines, then you will take them! And yet – peacefully!" And banged his fist on the table for emphasis. And they calmed down, these words on them quite worked.
Then they tell me: "You don't go with the government – they will show You a Potemkin village, come with us." And for three days I traveled to the Altai Republic on their machines with the prepared sets of books for schools. I almost didn't sleep: we have around forty schools. If I sleep, we traveled would be twice less. Go there only by car, there is no railroad. The farthest district, Kosh-Agach in the 300's seems to be kilometers away from the capital. One city – the capital. And only village...
But I saw amazing things (I'm sure we have in every city, if not in every school, there is a very good work with words, at least one): the teacher took the books and hugged them to her chest, tears on the cheeks of slovenic very real:
"Oh my God, I can't believe I'm holding Mandelstam! Don't believe that Akhmatova kept! I can teach Pasternak's books, but not for University books!" It was something incredible.
I then sat with them in the staff room, talking. It was the 96th year, they were not paid salaries for months, not textbooks, notebooks – wrote almost on the paper. And they told how the school started a new course, dreamed of your whole life some kind of teacher – a special type embroidery or lace, as it was introduced on the initiative of different classes and thought, and manual. They were detained salary. And I always asked them the same question, in all forty schools: "just imagine that tomorrow everything returns to normal: you have to be on time salaries, textbooks and notebooks you will be provided, but no extra electives, one program all over the country and just like before, you write a monthly report to the head teacher, the head teacher in RONO, RONO in the education Department... What would you choose?" I told them there was no boss, explained that I volunteer, from the President's Council, their life doesn't depend on me. And everything, absolutely everything, a little thought, replied that no, no... They didn't want to come back. Here is the answer about the Soviet regime and the attitude towards it. I saw it in the most difficult time (in Moscow was established, and they have been so).
After I saw what kind of impact are these my "supplies" for teachers, school librarians, I realized that this must continue. And began to think on how to do it.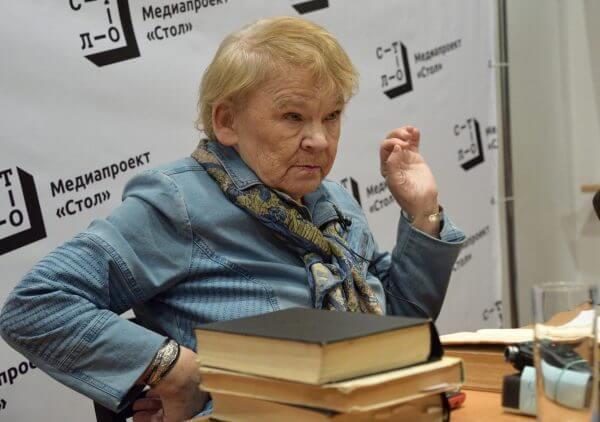 Books for teenagers – for their money
Eight or nine years ago formed a single project: professors-historians, teachers of the HSE faculty of history Moscow state University, thought that now the most difficult time for teaching history at school is the nineties. And they decided to help teachers and published four little books in one design – project "lessons of the nineties", "teacher's Book". I am switching from teachers to librarians. I was sure that out of a hundred teachers, these kits will use twenty, eighty others will be in the homes of the dead load: it is necessary not to distribute the kits without discrimination to all teachers, and give them to libraries. And there will come only one teacher who wants this book to use.
I began bringing books in the car for the district libraries, but I certainly didn't want to carry them only these books – their needs were broader. About me learned granddaughter Chukovsky (now, unfortunately, deceased), Elena Cesarevna, the heiress, said to her from every publication brought the copies, and she would be happy with my help to give them to the Russian libraries. Each time before the next trip I had a suitcase such perfectly published "Tarakani" and "Moidodyr," which she would read. Now the family Chukovsky continues.
In Russia much can be done, a big country, a lot of good and active people, but we each other all poorly bonded.
A literary Agency that worked with the books by Chukovsky, also decided to give us books, including literature in translation – Hemingway, Dreiser, Fitzgerald, sixth-seventh edition, and the heirs of the translators, of course, they did not take. Periodically I get a call Tatyana Sokolova, the head of the Agency and says, have compiled for you a books, three boxes. They were brought into my little apartment, I in the corridor is scattered, spread out on a few suitcases because I usually travel to two places trying effectively, time not necessary and its science to do.
Found out a wonderful man, the old man, the son we all know Alexander Volkov ("the Wizard of oz"), and says: "I know that name – Marietta Chudakova, I trust her, she'll pass the books just don't tell anybody to me did not climb". And he sends me wonderful books Volkova: and "Yellow fog" (which I didn't – loved "the Wizard of oz", and this is after my childhood was), "the Mystery of an abandoned castle".
But this is not enough, I also bought: coming just so freshly, and his books – not scientific, those, I believe, to whom it is necessary – to buy one myself, and I wrote a number of books for teenagers: for them, and wrote that they came to teenagers, and I see no other way than to buy and carry, because not all libraries have the money, and most importantly – it's not allowed to choose the literature.
Several years ago I wrote a biographical novel for Teens. Wrote on kontrtitule: "For smart people 10 to 16 years," the book is called "Egor" – about Yegor Gaidar, today is the third reprinting. My principle is: not to take the publisher a penny for it – I wrote it from a purely moral considerations, to restore justice, because to sling mud at such a beautiful person that can say that gave life to his country in the difficult years, is deeply unfair and a bad example to children. And I carried on Russia – according to city and school libraries – about two thousand books, with his own money.
Love the librarians in my book "Not for adults". Although I wrote it for teenagers, but they say, "Well, we give them with their explanations, for us it is a recommendatory bibliography". I write essays, they come out small booklets: "the Regiment first", "second Regiment," and then the publisher has collected the full book, three volumes and have also three printings, and there about the best masterpieces of world literature for children.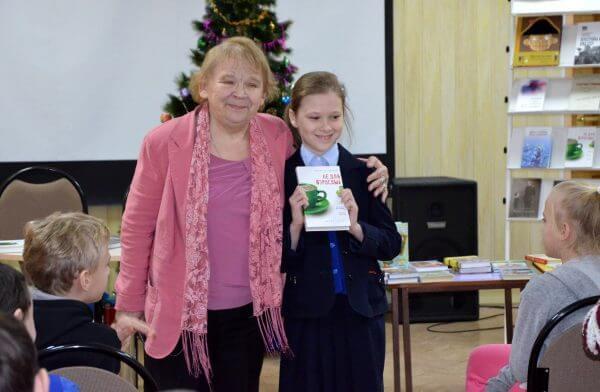 Twelve years is a very serious age
I believe that no books of world classics, who read earlier, I am a categorical opponent of these"6+", "12+" – this is unwise, because a clever child needs to get ahead of your age, this is the whole point – it needs to reach out to the owner, he even earlier: what is wrong if an eight year old child through "Anna Karenina"? Look, you will see that it's something grown-up, shrug their shoulders, but he could memorize it and then it will appeal. So
no books, write I read before, exclude those who do not read never
.
The second act, which I introduced:there are the books to read later
. Any will agree with me, this is no great mind is not necessary to understand that if we are in twelve years did not read "Tom Sawyer", as they say, "we soap not overeat" – to sit down to read for the first time in forty years! Here to read can, remembering childhood experiences, with great pleasure, in the summer in a hammock. But hardly anyone will even of the same "Gulliver", "Robinson" for the first time to read in forty years.
I wrote a detective story for teenagers "Case and the horrors of Zhenya Osinkin". The whole detective part is based on real material, I'm all too familiar as I read seven years working in the Commission on issues of pardon – was this under President Yeltsin, over the years – I'm scared to pronounce this figure – tens of thousands of sentences...
For example, I have in the story acts the boy, Victor, who served three instead of seven and a half out on the presidential pardon decree, he is older than the other characters. The basis – a real story, who I met in one sentence: adult children, twenty-two or twenty-three years old, decided tourists to steal a motorcycle and ride it, and then return. Fourteen-year-old boy put on the lookout. And this boy heard the screams downstairs, and when he went all the way down there were already two corpses, because tourists didn't want to give the bike. And the village was not going to kill anyone, but in violation of the law and the normal order of life, there is always great danger that I'm trying in this book to Express. As a result, they piled on him that it almost it, and the boy went to camp for seven years because the day before he turned fourteen. Although we have criminal liability begins from the age of sixteen, but for serious crimes, murder – excuse me, fourteen.
And I had a dispute to the Commission on this topic. Men said, he had to immediately leave the scene to go to the police and report what he saw. I say: what are you talking about, he wouldn't got there yet, he was the main witness: the same guys who were with him a good relationship, but when it comes to murder – they would have it on the way sewed. He was not able to do anything. And here I am in the book this story was told.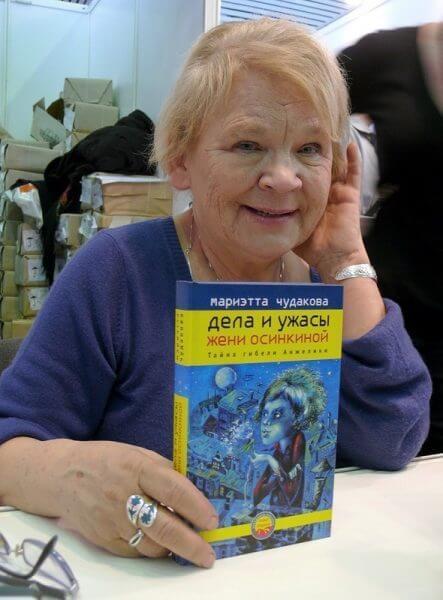 My main character, his Wife, for twelve years. Some believed that it is not enough for such meaningful action. I perfectly remember myself at this age is a very intelligent age, very serious. I took twelve years several important decisions, followed by still. One of them this summer I saved a life.
I decided then no matter what the circumstances, every morning to do exercises. I generally liked sports, was rassadnitsa in rhythmic gymnastics in the post-graduate years, seriously for the sport since childhood, treated, and then maybe the husband is already influenced (he was in the top ten in our University, swimming), ski loved to run, and run now. And religiously – with the exception of the tragic events, which was enough in life – exercise for countless number of years: five or six minutes, five to six exercises, I have no more time, but I can't sit down to drink coffee without doing that. So, in the summer my yard was hit by a car going in reverse. The blow was very strong, but breaks only contusions. And the doctor, after this, said that the role shock has played a muscular corset...
I'm twelve years was driving his sister (she's five years younger than me) from Gagra to Moscow, mother had us in the train (and then he walked for three days) she still stayed there, but we elders had to meet, but not met, an error occurred and I got myself from Kursk station to the Sokolniki with suitcases and little sister. Mom had no doubt that all three days will be fine and I will take it.  
Family album opened with a photo of his grandfather, of the king's officers
My grandfather, a native of Dagestan, was the Royal officer. In 1917, he said to his eldest son, my father, "the King renounced my oath removed – your destiny is in your hands now, you can act as you think fit."
And it so happened that my father was in the civil war with the guerrilla group. He was not going to be red, it happened: there was national riots, they wanted independence, and got some kind of Communist smart or clever, and he my father explained that in fact he is not anti-Russian, but against the whites. In his eighteen years, my father became interested in the idea of social justice, began in Dagestan, commander of the guerrilla unit, in twenty years, joined the party, and then entered the Timiryazev Academy, became an engineer, worked in the fishing industry – designed fyke nets, married my mother, and student. Then he went to work in their Republic, but this is a special story – he was forced to take my mother with three children back to Moscow because she didn't want to get rid of tropical malaria, and the doctor said: "See, the us is not valid, the Dagestanis immunity, and Russian sick: leave, or I'll lose my wife."
And he went to Moscow, and after two years in his homeland to the terror. Began with his uncle, one of the then Dagestani people's Commissars and a member of the Central Committee. Killed all the men with his surname – Khan-Magomedov, one and all.
Arrested my grandfather in 1937-m to year, and dad thought it was a tragic mistake. But, as a Communist, believed his party believed that if the sentence says "ten years without right of correspondence" – it means that somewhere his father is sitting in the camp. He didn't know what it meant to be shot. In 1956, the year he was given a rehabilitation scribble with the words that his father died in 1942, the year in camp from pneumonia. My father, although fool wasn't, again, believe clear – the southerner, caught pneumonia and died.
Through the years after my father died when I was already a member of the Presidential Council, I from Makhachkala has discharged the investigative work of his grandfather and learned that he was shot two months after his arrest. But – a rare case – there are reports of interrogations, each page signed it with nothing agreed, nothing was taken, denied all that he lied, and signed a firm hand. I really saw a lot of Affairs in the archives of the FSB, and has always been seen as page after page of handwriting changes completely from the torture. My grandfather stayed until the end.
We have long been aware that only took in the place, and if the person lived in another town or in another region – where it has not searched, just have not had the personnel to do this. But we know this retrospectively, but then did not know!
And my father after the war, when a new wave of arrests and executions, of course, was ready to start every day as a son of an enemy nation. I am amazed and admire that house wasn't fear. We knew that our father isn't afraid of anyone...
There was even physical evidence of this – our family album of my childhood was opening consistently (and even older to remember it before the war) – a photo of his grandfather-an officer in uniform including his family. And the father never took it out! And people are not what destroyed the pictures – ash from them is destroyed.
Of the three hundred is back one...
Father volunteered to the front, leaving four children and his wife, pregnant for the fifth, went through the war as a private. And then I left my brother, 1925 the year of birth, call-up two months of his Moscow taught to second Lieutenant.
The father returned immediately after the victory over Germany, at the end of June, will never forget this moment. We expect him this day or tomorrow. I stand in the yard with his sister, whom he had not seen (her three and a half years), and screaming mother: "Mama, Mama, now entered the porch of the uncle, very much like our dad." Mom had, of course, doubt that I am the father of the Dagestani found out, she screams from the fourth floor: "So run after him!" And we run, I dragged my sister, so she didn't fall, run into our dank, dark staircase and stopped dumbfounded (will die, will not forget) – do I hear an incredible woman scream, and I realize that it screams my mom like yelling in Russian villages for the dead, a heart-rending. She met four years after the war, his father there, on the platform of the fourth floor, where he is no Elevator took two minutes.
And then it was even more interesting, like literature. We had two rooms in a communal apartment, they went to his room, locked it, and then she went out to her son (my second older brother, the famous art historian Selim Omarovich Khan-Magomedov, the best in the world expert in constructivism) and said: "Listen, I don't know what to do."
We were on the floor sent once from Dagestan, a fully pureed Palace, and the father, not taking off his boots, lay on the Palace with the words: "Oh, I'm tired." And fell asleep.
She says to her son: "What to do? He sleeps a few hours so may still awaken?" – "Mom, let him sleep". He slept the day. On the floor, not naked, in boots. It Vanshenkin there is a terrific poem: "all Slept, and could not get through to Zhukov Stalin."
And the older brother returned at the end of September – beginning of October after the victory over Japan, as all the officers. He found his friend, still remember his name, Zaitsev, and together they went to the draft Board: "Tell me, who of our comrades 1925 year of birth, which are called at the same time with us from Sokolniki military, come back?" And they learned that of the three hundred boys to the mothers back three. These are the statistics: of one hundred and one. So who is Stalin still calls a great leader... you've got to remember Victor Petrovich Astafieva (the Kingdom of heaven, eternal peace), I can say that were friends, and he's ordinary, like my father, the war was fought. In a recent interview asked him: "Viktor, and who is better at war – the Germans or us? "Sure, the Germans". – "How do we win?" "How? I will never forget the look on his face. – We Germans threw the corpses".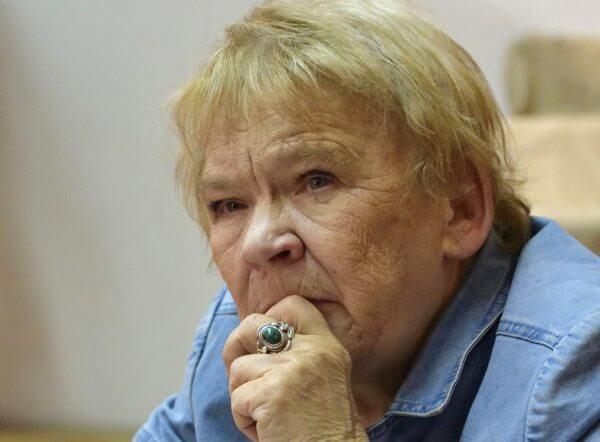 The justification of tyrants – this is our shame
, it seems to Me that people are not aware of what year we're in the century of October. I believe that all educated people must feel their responsibility to the younger generations, sorry for the preachy tone. Every person with higher education should consider how it will work next year.
If we are in the centenary year of don't put the i in the history of the twentieth century, that all adult minded people – a real shame. For almost thirty years after the end of the Soviet regime is not done the most important things. No one has explained the profound error of Marxism – we almost century considered the ultimate truth – it turned out that the class struggle is not the essence of human life, that sense of history is not that the workers took away the property from the owners of factories. No one explained that it can not be called a great thinker is the man who did, like Lenin, a crucial mental error: he was quite sure that after the revolution Russia is going up around the world.
And it is time to say that in the Humanities also have an axiom, it is time to enter them. For example, October was catastrophic for Russia, because he took her from the historical path in the historic stall for more than seventy years, or in a historical dead end, whose word is more like it. And for those who say: "But how hard it was in 90-e years" – asked question: we race on the highway the car suddenly stopped us: "where are You going, exactly? – "There and then". – "Then a dead end, you will not get there". – "How do we get there?" – "And here a dirt road, really bad road, but through it you will be." Then the question is: continue on the highway or on a country road?
I conducted such a test on the topic "What is happening to our teenagers?" with the help of the librarians of the Bryansk region, Perm Krai, Kemerovo and Sverdlovsk regions. The study consisted of the following: I asked the children some questions they had to answer in writing for language teachers. Why not historians? Because no historian of professional honor will not be released from the hands of the nonsense that his children will write. And responsible for the language and literature of Pushkin and Tolstoy, is another matter.
Everything went great – perfect in form, terrible in content. The first question is: "What happened in October 1917?" Second question: "What do you know about Lenin and what you think of him? What do you know about Stalin and what you think about it, what do you know about Yeltsin and what you think about it?"
Answers fourteen people were some hundred, exceptions – one or two. To summarize, the Lenin – "a good, kind, cared about people, formed the USSR", Stalin – "Yes, he had faults, some love him, others respected the dissenters, he was sent to Siberia, was repression, but strengthened the USSR, with him we won the war, he was Generalissimo, commander." Yeltsin through all the answers to one "drink, the USSR collapsed".
All these are links of one chain. The losers, the Governor of the Oryol region, convinced that Petersburg was in the SIXTEENTH century, says that Ivan the terrible is a great historical figure. Asked about Stalin: "Stalin is a great historical figure". Now wait for the eagle monument to Stalin – is I guarantee you.
I went to eagle and even trying to stop this madness, made up a booklet – I am not a Medievalist, so the brochure – "Russian historians about Ivan the terrible". I'm in this brochure with quotations from our best historians have shown that Stalin did everything he had to find a justification for terror, and he made Ivan the terrible. At his own expense, printed a hundred copies, brought them distributed there, but apparently are lacking something in our people... of this charge, which does not allow to justify the villains and tyrants.
I believe that we all should feel the deepest shame that a quarter century after Soviet rule have busts of Stalin in the European part of the country are growing like mushrooms.
The history is not the passive majority and active minority. Yeah would stand up, hands holding, and would not give it to put in the 70-ies – in a much worse time! – history students, holding hands, not allowed to carry in Moscow, the chamber of the XVII century. I don't understand it, to be honest. We're in the country!
Many here know that there is a village of Selanger in the Republic of Mari El? They put a monument to Stalin, the five-meter. Boots, with outstretched hand... What will happen to our children? If adults set – so he was a good man. This bunch we have in power: cruelty, terror can be justified and even to bring victory in the war.
Well I wander your cities, I also want to do their scientific thing, I studied the history of literature of the twentieth century, I have every year from 1917 to 1990 a separate file in the computer. I would like to finally sit down and write a conceptual history of literature of the twentieth century the Soviet era. And I keep it distracted. I urge you to help to some small part of you took over. Because with elders who have gone crazy and think that everything is correct, nothing can be done. But sociologists underestimate one thing: the electorate – the thing is moving: some die, others turning eighteen years. Here we must consider the upgrade of the electorate to those who are, were smarter than their parents.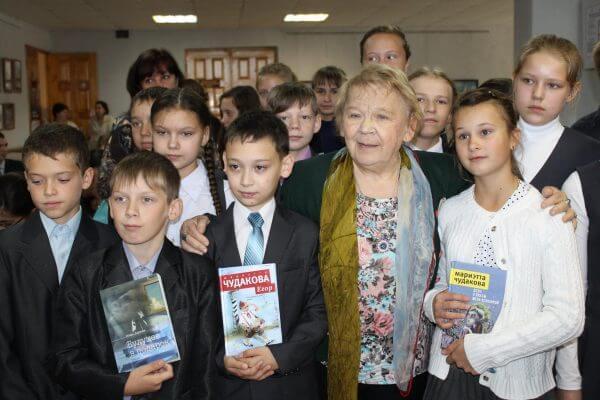 Children need to know that in our history were also cannibals
Many consider that with children it is impossible to speak of repression – will not be home to love. And I am absolutely sure that if childhood is not to foster children's sense of compassion, till twelve or thirteen, then all is lost. Or he sympathizes with a child – animals, innocent victims fellow citizens, or have never been, I guarantee it.
Those people who say that history should cultivate patriotism, see patriotism as a passive sense: sit and watch, as displayed, in its history, as Russia was victorious step from Rurik to Putin, and the deviation was in the nineties. Then for some reason deviated, and all was well. And I have to say that Patriotic feeling cannot be passive, it is only good when it is active. The emphasis should be reversed: not "look how we have a good history", and which among beautiful was terrible pages – depends on you (we refer to the students) so they are not repeated! It is only effective patriotism, and nothing more.
Why not tell us about the repression? We read children stories about cannibals! And they see that eater is bad. Let them know that we were cannibals, and they were bad.
This can be from early childhood to explain.
Whether you want Teens to read camp memories? Certainly. Tell about the wonderful writer that nobody knows, three books of which we Chapter the historical-literary society "Return" Semyon Vilensky from afar – Georgy Demidov. He is equal in talent Shalamov, it is the same krimchanin like that. Shalamov, who not only spoke a good word (hard was a man), wrote in a notebook: "I Never met a person smarter and more honest than someone Demidov". A terrific writer.
Semyon Vilensky was a plan to publish in the series "Memoria" best examples of prose and memoirs about the Gulag. Eight books of this series I wrote, at his urgent request – Preface. For example, one of the authors of the series – Olga Adamova-Sliozberg. Her book is published for the third time, and it should be in every school. When I read it, so it becomes clear to anyone, I think! – Stalin's time...
It tells the story of a woman who sits with her in the chamber. She stayed at home twelve-year-old son. He writes her letters. He was bad with one aunt, on the other, he dreams of when you get back mom. She writes that for the past period is over, we're almost there. There on June 22, 1941, it should release these days. And secret orders not to let anyone who ran out of time, until further notice. She writes about it son. It takes a month and a half, she writes: well I'm not writing. She goes to the head, he says: your letter is detained.
A few months a letter arrives from a stranger: you must be released and engaged in their lives, and your son, I found with high fever at some wayside station in Siberia – the boy went to find mom. I have it now lives, but then what?
It takes a few years and she meets his son in the camp of the criminals.
When I worked in the Commission on pardon (I've been there in recent years, the only woman), and advocated the dumping of the term, men sometimes protested: you have such a bouquet! And I said (the case at hand, lay on the windowsill): show me the first sentence. And I always saw what you expected: 1945-1947-th years. Fourteen-sixteen year old boy, it is clear that the parents out there, and he sits down for stealing, and then it is gone, and he has five or six landings.  
Tell the boy that everything depends on it!
The patriotism need to educate on the simple truth, encouraging children to be active, and I'm sure that we suffocate in children activity, and their natural properties. If you ever meet a twelve year old boy in a deserted place, and tell him: "Only you can help me, I hope only for you!" he will help you no worse and maybe better than an adult. He just needs to be sure that a grown woman not a fool, and she really needed his help. He will go out and help you. We need to appeal to the active sense of patriotism: "depends on you the fate of the country!"
And that they now hear in their families? We passed in 2007, Andrew Mosin, the "Afghans" – he was behind the wheel, drive the whole country from Vladivostok to Moscow, visited seventeen cities and towns. Everywhere I gave the book and led the discussion called "Contemporary literary situation" – what to read in this sea of books. And the librarians, and the readers were of great interest, but in the end was always purely social conversation: I, the Muscovite, asked questions.
Seventeen cities and towns, at least two of the audience each with about fifty people. And there was the audience – understand! – in which did not stand up to a man (and I'm sorry, antifeminists, I believe that God knew what I did, when divided humanity into men and women, moreover, lived as a child in a warm environment, surrounded by real men – father and two older brothers, they was not afraid of anyone, so when I look at the current wimps, I can't seem to me to hold men, I think courage, as the mind – secondary sexual characteristics male) and – Nekrasov – desperately waving his hands (as if one Director put it), I would not say to me, "because nothing depends on us!"
And when Andrey has arrived to Moscow, I said to him: "Well, you know now, what is the most common phrase in Russia?" "Yes, – speaks, – I have understood everything". I swear to you – no exception.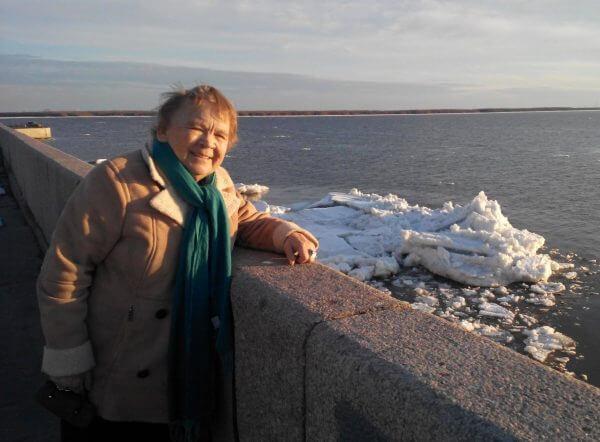 Every family sit adults mom and dad and to each other say, "Well, you know, from us depends nothing".
My opinion (who have boys, children or grandchildren, nephews, those with me, I think, would agree): if a twelve years old boy to suggest that nothing depends on him, he will not in the future need no wife, no old mother, no, sorry for grandiloquence, the Motherland.
The boy at twelve years of age must be sure that everything depends on them.
Then let them disappointed. Boy needs to convince that he can, it all depends, and the Motherland is waiting for him.published  
P. S. And remember, just changing your mind — together we change the world! ©
Source: www.pravmir.ru/marietta-chudakova-ya-dostavlyala-knigi-voennyim-bortom/