Fourth year living in the village Dubki of the Kirzhach district of the Vladimir region. Left, as we now know, permanently. Left Moscow for 75 miles and I only regret not leaving early.
Now live truly, freely. Live happily!
My family still wanders between the Moscow apartment and the village, moved gradually. Children learn in school, and living conditions do not end up established: the house is completed.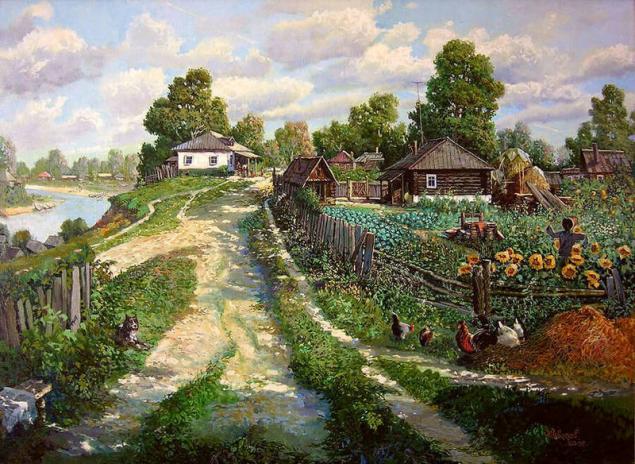 Come to the city in the winter for 1-2 days in a month and I can compare real conditions of life in the city and in the wild.
I am sure that there are citizens who are thinking of leaving, but do not dare to change the habitual way of life because of ambiguities and uncertainties.
Such doubts were me and I believe it is a reasonable approach every sane person on such an important matter as the change of the structure of all life. In the village there is a lot of time for reflection, comparisons and analysis.
Some time ago I was drawing up my family tree and found out our entire family, the last 9 (nine) generations lived in Moscow. Peasant roots are almost there. Why am I so like in the village, why down to earth? That's what I decided.  
Because:
no tedious and useless fight for a place to Park the car under the window and the senseless standing in traffic jams;
no need to worry about rent and its constant improvement in different new idea about the water consumption and the installation of meters and their further maintenance and inspections;
not worried about the noise near the house, beeping machines, alarms howling, drunken quarrels and cries of neighbors — it just is not;
no need to go across town to work — the working day begins at the threshold of the house;
stairs and elevators are not available, as it is unnecessary (in my old age I might go to the garden in a wheelchair, anything can happen...).
I'm not afraid of terrorists — there's no metro, and public transport is not particularly needed.
I never heard of homosexuals and other child molesters morality.
I have no way flood the neighbors and owe them suddenly.
I forgot what it's like to get sick with the flu or colds (but the children, clinging at school, viruses and bacteria, get sick regularly. Yet).
No fears to build a house somehow wrong and not to make alterations or something like that.
My shoes and legs of my dog in the countryside is not related to the salt and chemicals, and land on my street not full of rubbish.
In my village yard no broken bottles and cans of alcohol and any slops.
No fear to remain without interesting work — work is just a great deal and all.
There are fears that robbed drunk or drug addicts in the entrance — no hallways or drug addicts, and drunk in the villages are not so greedy to plunder up.
No herds of migrant workers — if rarely and you will see Asian, he is usually with a shovel.
And again, don't need to walk the dog. Dogs and cats walk by themselves. And their number is not limited.  
And that is:
Have solved the housing problem — the manor house, the family nest. Everyone in the house has his own room, a shared kitchen, living room. Grandkids — plenty of room!
There is clean air, sunshine, garden, vegetable garden, clean water wells, water well, sewer septic, natural gas, three phase electricity with low rural rate of 2.9 rubles per kW. In case of disconnection (sometimes) has a generator.
There is a Russian bath with a stove and firewood. There is a concrete swimming pool of 10x5 meters. There is a garage (dream more 20 years!), workshop, cellar.
There are 80 Hectares of land near the village and many plans for its use.
There is a UAZ, Gazelle, boat, tractor MTZ.
There is a river in 2 km from the house, meadows, forest.
The second year of trying to keep bees: bought four hives. And then I noticed bees in the village do not fly at all.
There are ambitious plans: barn, stable, poultry house, greenhouse, fish tank.
In the house hanging a TV, but look five times less than in Moscow. And in Moscow not often.
Phones take OK, the computer has fiber optic Internet, a 3G phone to communicate with the world.
Work in construction and earn more than Moscow. Along the way, selling land plots for construction in Shchelkovo area. For several years nzobadila to execute documents, expand the business.
Began to hire employees and what was it? Men who know how to work in the village is almost gone: all settled in security in Moscow: day/three — 18 thousand rubles per month. Booze and cigarettes enough, and the rest of these viewers are not interested. After a few months of work in the protection of man becomes bestial idiot, incapable of creative labor. Why so many in the village seasonal workers from Ukraine, Tajikistan and other corners of the world.
Not enough manpower, especially skilled workers. Crane operator employed earning not less than 60-70 thousand in a month, and with its own faucet — more than 150 000. Not enough electricians, masons, plumbers. Milkmaids, no!!! The shepherd receives 25 thousand!!! The mechanic at the service station on piecework no less than 40 000 rubles, the driver — from 30 000. Moscow — the small money, but for the Vladimir region is sufficient.
This is live in Moscow to work in the village and all the way around.
Products that are not your own, bought on the market: sellers know the names and sure as eggs, cheese, milk. Summer fish on the river or in the pond. With the father in autumn to collect mushrooms. In the garden of potatoes, cabbage, cucumbers, tomatoes, onions, greens, radishes, beets, zucchini, peas. Currants, strawberries (have a personal Strawberry Field). Wife continuously planting new flowers: the estate is large — more than a hectare. I put different conifers: more than 10 kinds and successfully planted grapes.
Children (11 and 16) their interests: paintball, football, bows-arrows, bicycles — mopeds, bonfires, Hiking in the woods, climbing trees, sawing something in the workshop, sculpt and paint. They constantly come to visit their friends, places and activities all missing.
Kids, coming to the village for the first time(!) see may beetle and growing turnips; for the first time taste the fresh milk and strawberries from the garden. Gathering blueberries and raspberries, St. John's wort and mint. The boys first take up arms, for the first time trying to drive a truck, mow a scythe, chopping wood with an axe and fix the bike.
I am well. And what's important — getting better and better. I live freely. I do what I like. I get pleasure from their work.
I have built homes people live in, and I appreciate it.
I also note a deep sleep, and the wife notes the increased appetite and everything else, I guess You understand me.
Living in the village understood why the village up at dawn: just sleep for 6-7 hours.
Living in Moscow I was continuously busy with something, ran around like crazy, with weekly and two mobile...
But only now, in 40 years I call a full life — a life outside the city cheloveinik.
I bet? Write. Want to travel from metropolis to jump out of the cage with a maze as I am?  
©Sergey  
P. S. And remember, only by changing their consumption — together we change the world! ©
Source: ok.ru/razgermetizatsiya/topic/66607900164192