Chicken
is perhaps not the most available product from which to prepare a lot of Goodies, such as a loaf! The dish is very original, extremely tasty and suitable for any occasion.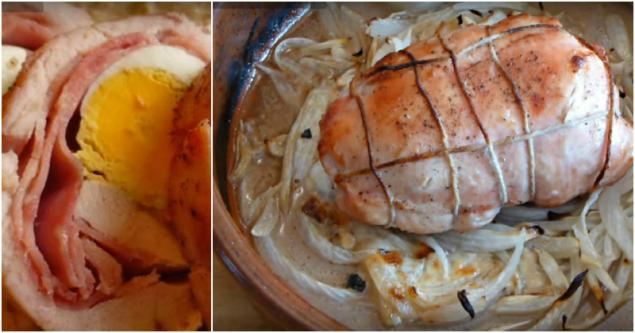 The recipe is simple, active participation is kept to a minimum, which is always appreciated. I advise you to make several of these rolls: painfully delicious they turn out!
Chicken roll with AutoIncrement for 1 roll
1 chicken breast (2 halves)
4 slices of bacon
2 slices cooked ham
2 slices of cheese
2 boiled eggs
1 onion
vegetable oil
200 ml dry white wine
salt to taste
spices to taste (rosemary leaves, paprika)
Cooking
Chicken breast spread on a flat surface, cover with foil, and lightly hit. Salt, pepper, pricipe favorite spices.



On top lay slices of bacon: they will give a fillet juiciness. On top of bacon, lay the slices of cheese and ham.




Place in the center of boiled egg and roll it in a roll, holding the edges, as eggs can easily slip out. Wrap the roll with string.




Onion cut into half rings and place in oiled baking dish. On the onion put the meat pillow bundle, pour the wine. Send bake for 40 minutes at 190 degrees, occasionally basting the meat produced juice.