Semi-finished products from meat
... We eat them almost every day. Sausages, meat rolls, balyk, ham and pork — this is an incomplete list of products that are perfect for cooking all your favorite sandwiches.
Often, manufacturers try to increase the shelf life of these foods, adding a lot of preservatives and stabilizers. Not to undermine your health, as well as to be sure of the composition of favorite foods is to cook them yourself. Today our editorial team will share the recipe of delicious of pork called "cold cuts".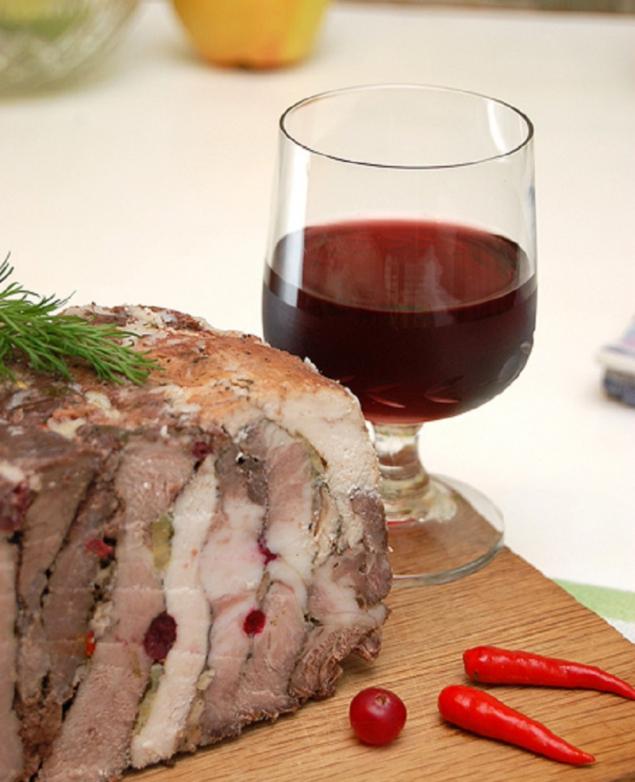 How to make home beginningwednesday
2 kg of pork (neck of pork)
0.5 kg beef tenderloin
400 g chicken fillet
1 pickled chili pepper
50 g cranberries
50 g walnuts
1 tsp oregano
1 tsp ground black pepper
1 tsp. salt
1 tsp cumin
5-6 cloves of garlic
100 g of dry red wine
100 g of olive oil
50 g greens (parsley, dill)
Cooking
Do several transects on hog neck, as shown in the photo. Beef and chicken fillet cut into thin strips according to the number of cuts in pork.




In a small bowl, mix oregano, cumin, ground pepper, olive oil, wine and salt.




Dunk it in the marinade strips of beef and chicken. With a silicone brush, apply the spicy mixture on the entire surface of the pork.




It's time to make stuffing for meats. Finely chop herbs and grind the nuts, chilies and garlic. Prepare 2 small plates. In one container mix half greens, walnuts and chilli and the other with greens, cranberries and garlic.




The incision on the pork lay out the filling with chili. On top put a piece of beef and cut it with another layer of spicy toppings.



Put in the meat accordion piece of chicken. As toppings now, use the mixture with garlic.



According to this principle, and then stuff the rabbit whole pork neck. At the end of cooking pull the meat and bind the accordion using cooking string. The remnants of the sauce again, put it on all meat design and put it in a sleeve for baking. Send the dish in a preheated 200 degree oven. Bake the pork for 2 hours.



With this set of spices the meat is a little spicy if you want, you can adjust the amount of seasoning.
Prepare
home baked ham
, your family will be pleasantly surprised! Also don't forget to learn the recipe for a fantastic dish called "Boar knee".
The author

Victoria Poplavskaya Believes that art knows no rest! Enjoys drawing, used to look at life with a painter's eye. Cleaning the house and cooking finds work, a pleasure after all to any business can be creative! Loves unorthodox methods of solving problems. Favorite book Victoria — "Three comrades" E. M. Remarque.